CENTRAL AMERICA - ON WE GO!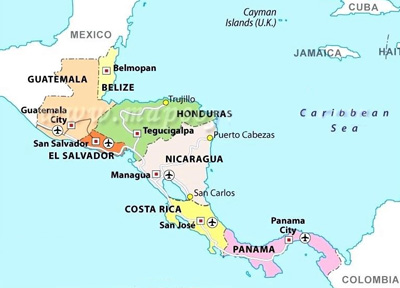 Tuesday 26/03/2019: Having survived the Panama trauma Cathy and I continued on our Central America circumnavigation, with some trepidation, and rode into the town of Jimenez. Almost immediately saw a guy staggering down a street holding his stomach. Turned out to be an American, David Chief, who had been robbed and, trying to resist, was stabbed. We spent the rest of the morning in Hospital with him and then went in search of a place to camp.

On a visit the next day we found that he had contracted septicemia. Not good news and so tried to contact his parents. We were anxious to carry on so after another wait we left to continue into the unknown but first a few words about Puerto Jiménez, a town on the Osa Peninsula, Puntarenas Province, near the Corcovado National Park. Nearby is the Golfo Dulce Forest Reserve, where sightings of scarlet macaws, toucans and trogóns are common. We camped under huge trees and by roots of a 'triffid' tree near a mangrove area where we saw iguanas, howler monkeys, caimans, eagles, giant butterflies, and lizards. Nature always supplies despite human frailties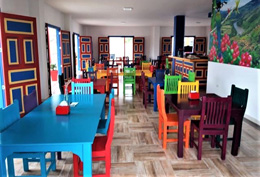 Thursday 28/03/2019: Our next stop was in Porto Negra, north of Jimenez, where we camped and had a peaceful night, and then headed to the Marino Ballena National Park. But not before we had a quick coffee in a 'crowded', colourful café.

Friday 29/03/2019: The National Park is a sanctuary for many species of birds and also marine life off the coast. Humpback Wales arrive here each year to mate and then disappear into the ocean. We set up camp but were disturbed by strange 'footsteps' in the night outside our tent. Next morning discovered that we had been close to bigger 'beasts' than iguanas as the pic below warns.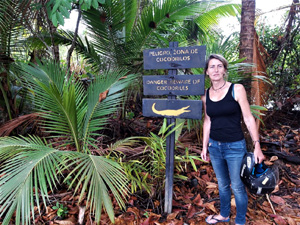 Sunday 31/03/2019: Heading to San Jose for bike spares. Still not feeling comfortable. Central America is of mixed vibes!

Update on Venezuela. Latest on Venezuela is that Maduro has got the High Court to issue a warrant for Guaido's arrest, on his return to the country, as he left to go to Brazil, when he had been banned from doing so. More power cuts in the country have caused further hardship and deaths as hospital emergency units shut down. Nearby countries, Brazil, Columbia and also Ecuador are feeling the effects of the refugee crisis and the problems of trying to support them as most are destitute. Such a pity for a lovely country.

A little behind with this diary as not been in wifi contact from where we are. Will catch up soon.

PANAMA NIGHTMARE!
Some of you may have been wondering why there has been a break in the Log entries but let me put you in the picture. Unfortunately Cathy and I had a rather scary experience in Panama. This is what happened...
We arrived at the Airport and were told to get a taxi to take us to Customs to pick up the bike but an argument broke out amongst the drivers. This seemed more than a little dodgy and we suspected that we had been singled out for some unwanted attention. We managed to make our way to customs, not far, and cleared the bike through all necessary checks and paperwork. Customs inspected and we were released from an international airport! At the gate a guy checked all four clearance documents. He disappeared into an office for some time, came out, handed me the papers and said, 'All is good. You are clear. Go!'

We rode out with many other bikers but we were stopped at what appeared to be a Police block. The only ones!!! We were asked for a specific document, not passport, and other bike papers which is the usual line. The requested document could not be found amongst the others!! More than likely it had been 'confiscated' by 'All is good'. My surmise is that he had radioed ahead and four guys started to hassle us. We could not leave without the 'missing' document which would cost us 3000 dollars!! They shut us in a room for six hours in 36 degrees without water or anything else. 3000 dollars or... what? I was taken into another 'room' where three guys tried to make me sign the bike over to them or pay the 3000. Told Cathy her husband would disappear.

I said I needed to make a call to the UK to see if I could arrange payment but it was made to my father to whom I managed to make a quick help message before they stopped me using the phone. The British Foreign Office was contacted who traced the call and made a call to that number. They became freaked out, cursing and shouting, and pushed us out onto the street knowing it was good 30 minute's walk to get to a 'hotel'. They told me to come back the next day to get the bike. They then tried to pick us up in in a car a hundred metres away. We did get to a safer place but they parked up outside where we were staying. I went to local supermarket but saw one of the guys who stopped me for shoplifting!!!. All on hassling us. Cathy now very scared and told me not to go the next morning to get my bike. But I had to go.

I went. No sign of the bike. Put in a room and 'asked' to wait. I was forced into making a ten page report - was told to give details of eye colour, hair colour, weight, height, age, medical history. Description of my tattoos, travel plans... blah blah. All a pretence. Asked for money again and suffered threats to me and to Cathy.

Fortunately it was then that the Panama Consulate managed to contact Cathy to ask what had happened and she told them I was locked up by the "police". They immediately got in contact with my 'Captors' and made the right noises to get my release and the release of the bike. Having been 'allowed' to go, I went to the hotel to get Cathy and to say we could get back on the road. We got into a taxi to get my bike as it had gone to a custom's lock-up - again a scam - where the official said all was in order and to take the bike and be on our way. We headed for the Costa Rican border accompanied by other bikers who had heard of our problems and also by Government Officials. We crossed into Costa Rica through both customs' checks without needing to show any papers. Relieved and recovering. I could add a few more unsettling details but enough. We are in Costa Rica and hopefully will continue through Central America without more problems as we experienced in Panama.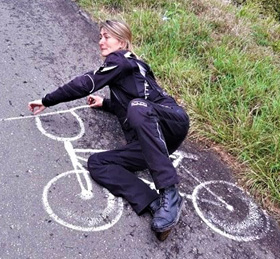 THE ROAD TO BOGOTA
Having stayed overnight in riverside shack we set off on our ride to Bogota. On our way Cathy decided to change her mode of transport and took to pedal power along the road.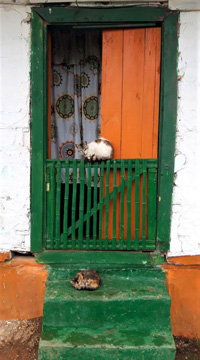 Realising that further road blocks were ahead I decided to plunge into the unknown in the general direction of the capital. I rode 90 kms of the most difficult soggy, mud-track ever, through Southern Cali territory with Cathy on the back and 100 kilos of gear. Orchids all along the route and orange clouds surrounding us, slippery red puddles on mountain slopes only frequented by suicidal goats. Phew! Eventually came across some habitation and pitched up by a house with a green door, actually a gate, guarded by imperious cats. Did not discover what was behind the green 'door'.



Muddled on for a couple of hours and decided to stop at a roadside 'Inn' for some food. Real Colombian take-away beats Big Macs by a jungle mile.

Not sure what we ate but very special. It was the chef's choice of the day. Truth be told there did not appear to be anything else on the menu.

We noticed that we have hit the headlines. The source of this news is unknown but pleased that we have been found alive and well. Is it the Darien Gap?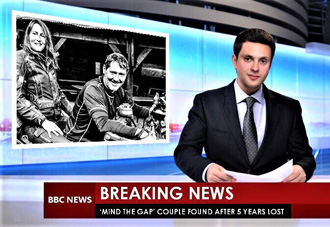 Thursday 21/03/2019: We are now only about a day's ride from Bogota and are constantly reminded of the troubles in Venezuela as more refugees can be seen in unexpected places. The local people are helping as much as they can. Just heard that Maduro has had Guaido's main supporter and activist, Roberto Marero, arrested by armed militia. Seems he has been incarcerated in Caracas jail, where former soldiers are also imprisoned for anti-Maduro actions. Recently President Bolsonaro of Brazil has had talks with President Trump at the White House to discuss measures to oust Maduro, but Bolsonaro himself is of doubtful credence. Trump has stated that if Guaido, or his family, are threatened in anyway action will be taken against the Maduro regime. Whatever transpires tragic events are occurring daily in Venezuela.

Friday 22/03/2019: My riding boots have now disintegrated. There is more tape than leather so hope that new ones sent from the UK, together with an essential spare part for the bike, arrive in Bogota soon.


Sunday 24/03/2019: Have reached Bogota and made contact with a really lovely lady, Veronica Oviedo of Cargorider who very kindly collected my boots and spares from customs. Thanks also to DHL for getting the package to Colombia quickly. My toes are no longer in danger as new boots offer full protection unlike the old ones that exposed them to road and bush!!


Our NEW plan is to continue north to Panama and start a circumnavigation of Central America. Look out for new map and details shortly.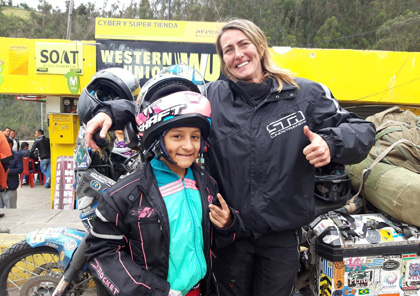 LEAVING ECUADOR
Visa regulations have necessitated leaving the country as impossible in the present climate to get residency but this fits well with our plans to try to cross the Darien Gap as contacts in Colombia are waiting in Bogota to brief us. Motocamp will be closed so sorry to those who were thinking of dropping in on us.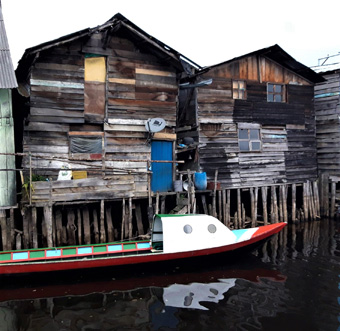 Have crossed the border and heading for Bogota. Good to be back on the road after spending six months static whilst sorting out the Motocamp site. Pity we had to leave but RED TAPE and corruption beat us!!! The atmosphere also a little unhealthy!!!

Stayed overnight in a 'luxury lodge', a wooden shack, built on stilts, over a river. Mode of transport usually by small colourful boats. Friendly people and interested in who we were and where we were headed. Shaking of heads suggested not a good idea.

Friday 15/03/2019: We have been travelling for four days and have found Colombia in some distress as Venezuelan refugees have flooded in and are travelling in groups heading south. Many Police and Army road blocks but we have not been hassled at all. We are dismayed and hope the situation doesn't deteriorate further. Venezuelans we have met tell us their country is in chaos. Power cuts and distress. People dying in hospitals as life-support machines fail. Crime increases every day. Maduro intransigent and blaming Trump for the situation.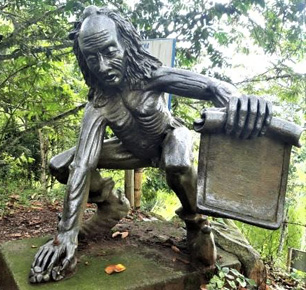 Saturday 16/03/2019: Made it to La Augustin but the road north is closed as riots have broken out so will have to go off-road to continue our journey. Will try to reach Cali near the coast and south west of Bogota. It is famous for salsa dancing but don't think we will join in wearing motorcycling gear and boots. Having some probs with the bike so will have to wait in Bogota for the part from the UK. Botheration. Had a meeting with another biker when we stopped for some food. Riding a 750 Kawasaki. No not this young lady although a rocket WOMan! See jacket insignia.

Sunday 17/03/2019: Off-road trails and some awesome riding to Cali. Escapee from the Hobbit warned of dangers ahead. Always take notice!!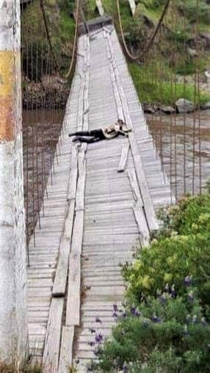 Nearly lost it on a little used wooden bridge, left Cathy clinging on to planks, as seen in the long distance pic shot from a safety point up the banking. The Hobbit told me!!! Not to worry, but may lead to a separation.
Made it to Cali and decided to stay for a couple of days. Wait for the next LOG for further news of our ride to Bogota, all being well.

MOTOCAMP UPDATE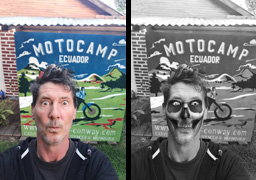 Over the last three days have had more earth tremors but none too severe to cause heart-attacks. Actually quite exciting to feel the earth moving under your feet. Dogs still anxious and ready to head for the hills again. Seem to be on the alert all the time with coats bristling. Local people predict some more on the way so let's hope not too severe.

These pics are the result of initial reaction to the first tremor.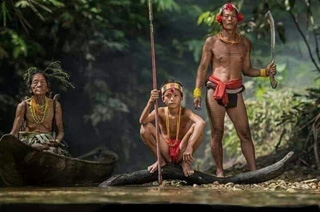 We have carried on regardless and are now looking for a more extended site where we can expand from where we can take bikers into the higher Andes over some very rough terrain. Head for the unknown into the jungle and seek out the indigenous tribes.

We have closed the camp for a few days as we have had to turn bikers seeking refuge away. Too many to accommodate. Pity. Into the interior we came across the small town of Huigra nestled in an Ecuadorian valley. Amazing.

Houses made of local wood with doors and windows picked-out in light blue which makes the village very picaresque. Really attractive as is Cathy below. And amazing Tenere loaded for the 'trip'. We made it into the Amazon along a track from Rio Negro and had an amazing ride on the souped up Tenere. Tell me more I'm all ears.



Update on Venezuela. Some military have deserted and have found refuge in Colombia but as yet senior officers remain loyal to Maduro. Aid has been prevented from crossing the borders into Venezuela and this increases the hardship of the people. Many are fleeing the country and risking their lives by attempting to cross the 'trocha', the unofficial paths through the border lands that are home to kidnappers, smugglers and armed gangs. No solution as yet to the situation.


Logo Competition. The selection of the winner of the LOG sticker competition has now been finalized. Below are pics of the first three. Runners up can be found on the gallery on the website.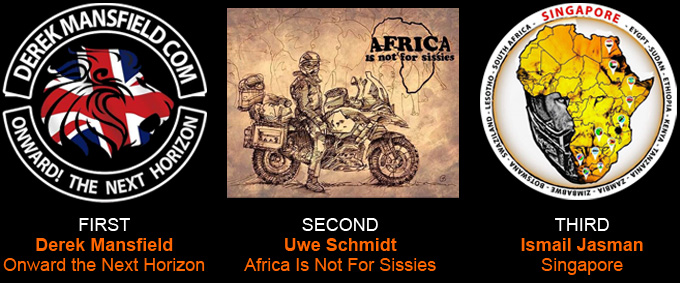 It was very difficult to choose from the many that were received but on the basis of clarity and impact, and the known history of the rider's exploit whose log it is, and how the logo embodies the spirit of adventure riding - thank you to all those who took part.

MOTOCAMP NEWS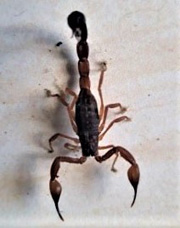 Shaking today!! Just had an earth tremor which shook the camp and made the cabin rattle. The dogs left in great haste and disappeared over the horizon heading for the high ground. They have taken refuge in the forest and don't want to come back to the 'abode'. Lasted a few seconds but felt as if we were on a craft at sea. Next will be Mt Tungurahua erupting, probably. Then we will head west, rapidly.

Second shake-up caused by a non-paying visitor who took up residence in my helmet. Tickled the back of my neck and dropped to the ground. Got a photo on the patio. Creature now somewhere in the bush. Watch your step,

Now in discussions with US Army personnel on a possible venture through The Darién Gap. At present this is just a wishful plan but if all goes well Cathy and I will attempt it next January as it is the best season to make the crossing.

The Darién Gap is a break in the Pan-American Highway consisting of a large area of undeveloped swampland, jungle and forest within Panama's Darién Province in Central America and the northern portion of Colombia. The gap begins in Yaviza, Panama and ends in Turbo, Colombia, and is 106 km (66 miles) long.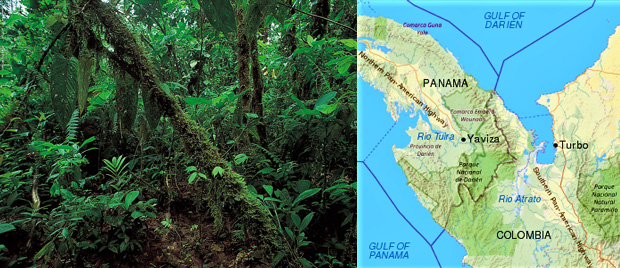 We will try to cross with the Tenere, but in places will need help from local people to cross the swamps.

Ranulph Fiennes describes it as 'The Everest of Land Travel'. It is both gruelling and dangerous to attempt this 'trip' and we need sponsorship to realise it.

For further information on four tough guys who made it through the GAP click on the link below. Very adventurous!!! Madness.

CLICK HERE FOR MORE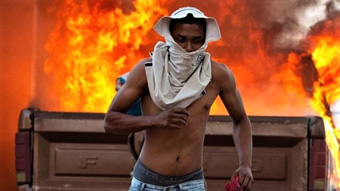 Update on Venezuela. Deadly clashes broke out in Venezuelan border towns on Saturday, as President Nicolás Maduro blocked humanitarian aid from crossing from Colombia and Brazil. Troops fired tear gas and rubber bullets at protesters who attempted to collect and transport the supplies. A number of people were shot with live ammunition, human rights groups say. At least two people were killed. The opposition wants the aid to go to people hit by the economic crisis, but Mr Maduro sees it as a security threat. (Press Agency)

It looks as if military means maybe the only option now available for the opposition to Maduro. This would be a disaster and cause even greater hardship and deaths to the population.

I am really dismayed by this and I am aware that some of my friends in Venezuela are suffering deprivation, like many others. It needs more defections from the army to promote a peaceful solution.

Logo Competition. Finally. The LOGO competition results will be published in the next few days with pics of winner and runners-up.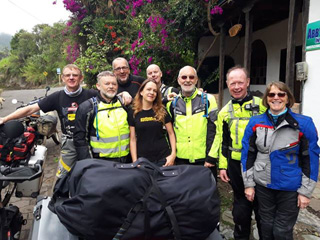 Motocamp Ecuador is swinging with arrivals of a weird assortment of bikers and hikers collapsing on site, and, after refreshments, experiencing the awesome surroundings, particularly the spectacular waterfall climb and river boating. A trip into the Andes on a variety of bikes and a sundowner completes the day. Irish bikers enjoyed their visit and are continuing on their trip through South America. See photo of their happy faces. Good biking to you, guys..

To continue with profiles of a couple of buddies this week I have included some info on biking friends who are both pioneers who I admire, Steph Jeavons and Derek Mansfield.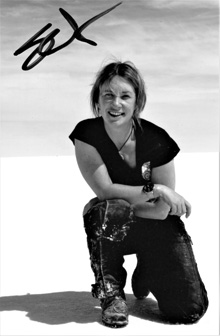 Steph Jeavons is an author, journalist, and adventurer who, in March 2018, completed a solo around-the-world (RTW) trip that took her to all 7 continents. A British first. The journey lasted four years, during which she logged up 54 countries and over 74,000 miles on a 250cc Honda.

Steph was born in Canada, but has lived most of her life in Wales and considers it home. She has always been unconventional and learned to ride a motorcycle at 21 and ran an off-road motorcycle school before leading desert motorcycle tours in Morocco. Being a restless person Steph is now planning to lead the first-ever all female motorcyclist trip to Everest Base camp in 2019 and a car rally in India in 2020.

Steph is currently writing her second book, this one about the RTW adventure. Watch out for altitude problems, Steph, when you hit further heights in the Himalayas!!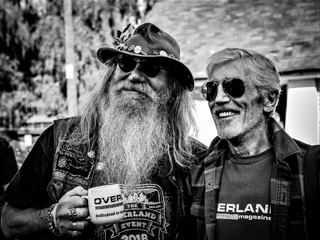 Now for , ex-reprobate and man of many parts, Derek Mansfield.

Derek joined the Royal Navy at an early age and was part of the Polaris missile programme and served in the Submarine Service. After many ventures in the world of work he set up a successful web and software agency which is now based in Kiev, but always searching for new ventures to satisfy his thirst for life he bought an oversized bike at the age of 54. He has seldom left the saddle since then. He's ridden 65,000 miles, on his own, through every country in Europe, bar three. He has experienced extremes in Russia, Siberia and Central Asia and continues to seek new horizons. For those who are interested in adventure motorbike riding Derek's book 'Notes From The Road' is a must read. Good on you Derek and see you soon. Spencer.

VENEZUELA

What can one say about this beautiful country. A tragic disaster. Maduro clings on to power and is preventing aid reaching the starving and the sick. According to Maduro 'President Trump is a white supremacist and a member of the Ku Klux Klan'. Whatever one thinks of the American President he is at least providing food and medical supplies but at present none is allowed into the country. What next?

Lastly I am heartily pleased to see that Richard E. Grant, who is my Patron and attended Waterford school in Swaziland, which I also went to, has been nominated for an Oscar as best supporting actor in 'Can you ever forgive me?' He missed out for a BAFTA but who knows for the Oscar?

P.S. Winner of the LOGO competition has been delayed as entries are still being accepted. Sorry everyone. Spencer
SO, WHAT IS A MOTOCAMP?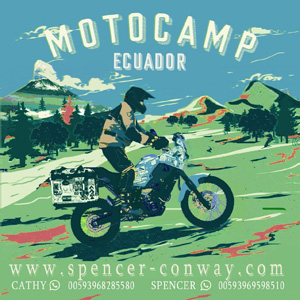 Hi everybody and bikers around the world, I have been asked by many what is a Motocamp? So here goes. A Motocamp is a meeting place for Overland travellers, whether on foot, bicycle, UV, donkey or motorcycle. The main focus is on providing a resting place for motorcycle nuts equipped with a huge message board of worldwide contacts, a workshop for working on your donkey's brake pads, travel information, an adventure library, a logo display board, maps and other adventure bike info. The long term aim is to have a number of Motocamps around the world that provide a serious network for dedicated motorcycle explorers. Next aim is Panama and Namibia. Motocamp Ecuador is open and thriving. As I speak fourteen bikers from Overland Ireland are settled down at our riverside site in Lligua, Via Alterna, Patate, Banos, Ecuador. I would also like to point out that with Adventure Motorcycle Peru (David Groves), Motolombia (Mikkel Foged Thomson), Ecuador Freedom Rental (Court Rand) and other bike buds, we are already creating the network.

As for other subjects I frequently discuss - circumnavigating every continent, finishing the Dakar, crossing the Darien Gap, writing magazine articles and attending bike shows- its all on and will happen. All depends on funding and my extreme age which makes it all a more challenging prospect.

Due to setting up Motocamp and moving to Ecuador I will not be at many bike shows this year with the exception of the Overland Event, Oxford, at the end of August. In my humble opinion the best event in Europe.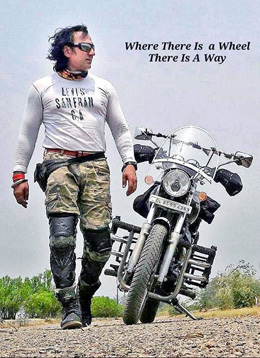 Remember, always wear the gear, never show off, ride to your ability - (not your friends) and respect the wonderful places you experience and the people in them. Ride safe.

To continue this week herewith some info on the first couple of guys who sent a LOGO for the display board at Motocamp. Firstly an adventurer and a philosopher, Kamal Chopra.

Kamal has experienced many upsets but has come through all following his mantra of making the best of life, and time, by riding his bike to learn from his engagement with all aspects of human existence. He has reached the heights in the Himalayas and explored extensively in the Punjab and other places on the continent.He is constantly inquisitive and is a believer in meditation to bring peace and understanding. Travelling by motorbike is an education and an inspiration. Keep your spirit of endeavour, buddy, and enjoy the open road as a free soul. Think friendship and love.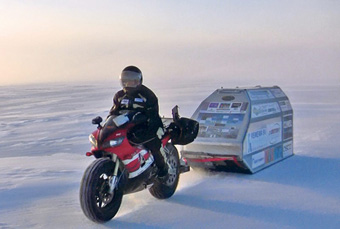 Now here's a guy who pushes the boundaries and for whom I have utmost respect, Sjaak Lucassen. Sjaak loves being on bikes and has spent about a decade of his lfe riding on two wheels. He has travelled twice around the world, once for three years covering 100,00 miles and, secondly, on his Yamaha R1, for five years. He covered 156,000 miles and traversed 75 countries. He is now into winter riding and is planning a 'trip' to the North Pole. He has experience of ice and snow conditions as he has made it to the northern point of Alaska over the Polar ice to Dead Horse. Well buddy, hope you make it.
Admiration!!!

Back to Motocamp. What can I say. Diggers are clearing rocks and foliage to extend the site. Will eventually have space and accommodation for 'thousands'. Now is the season for tropical blooms and more exotic birds flying in for morning visits. Pleasure to wake in the morning to tweeting and calling. Dinosaurs apparently not too far away, rumour has it. Waiting for a visit, but more likely some beings on two-wheels.

Update on Venezuela. Maduro hanging on to Presidency but opposition growing. Several countries promising medical and food aid and already being stockpiled on the borders of Colombia, Brazil and the Caribbean ready to be transported into the country.It depends on whether the military will allow these vital supplies across the borders. If they do then it is a plus for the opposition. If not the outcome may be dire and lead to open confrontation. Ecuador has for some time been at loggerheads with Venezuela and is opposed to the regime. I hope sense prevails and a peaceful solution can be found.

Logo Competition. Thanks to all those who sent in LOGOS. Judging will be completed in the next week. The response has been overwhelming and it is not too late to send in your LOGO to take up a space on the Motocamp display board. Some more entries can be found on the website gallery / photo page.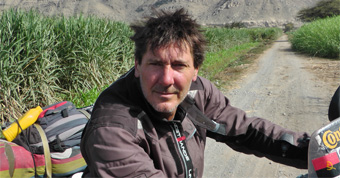 MOTOCAMP, EQUADOR
As stated in the last LOG things are swinging along at our Motocamp with bikers and campers arriving daily to rest and take in the beautiful surroundings of the site and the multiple attractions of the area.

CLICK HERE TO VIEW A DRONE CAMP FLY PASS
Like everywhere in South America Banos attracts street artists so here are some examples.





And here also are some more pics of the camp and alternative accommodation.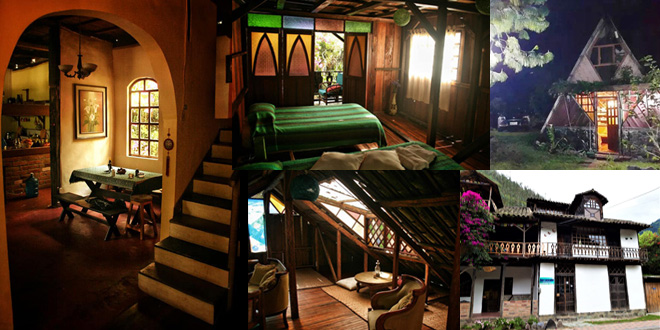 As you may well know I am running a competition, world wide, for the best motorbike and book cover logo. All logos will be displayed on a flip board at Motocamp for all visitors to see and admire the artistic merits of the designers. It will be a huge display as already I have received jpgs from around the world of some super, duper logos. So please visit the gallery page to see some examples.

Our intention is to open a library of books and magazines on motorbiking at the Motocamp so if any readers would like to donate copies to me please let me know by email. Thanks Spencer and Cathy.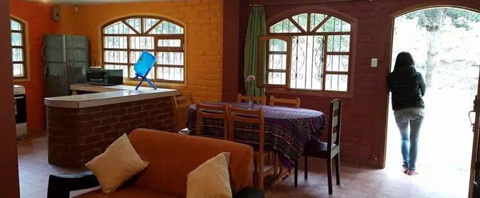 Finally just to say that more accommodation is available through us at Colonia, Banos. A really attractive hostel with colourful decor and exotic surroundings.

Please keep following and also bikers, walkers, adventurers come visit us. Best Spencer.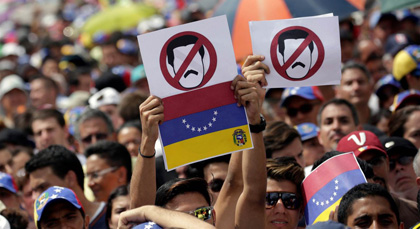 VENEZUELA IN TURMOIL
As you may know I managed to enter Venezuela on my South America circumnavigation but had great problems trying to 'escape' the country. I ended up by having to make a 7 thousand km detour through Brazil and several other countries to get to Bogota, Colombia. I made some very special friends in Venezuela and feel utmost sympathy for the people who are suffering extreme hardships there. It now appears that Maduro is facing organised opposition and hope that the situation does not lead to a civil war. That would be terrible for the friendly and open Venezuelan people.
To all my friends and others be brave, survive and hope for a better future.
ECUADOR TO EXCITE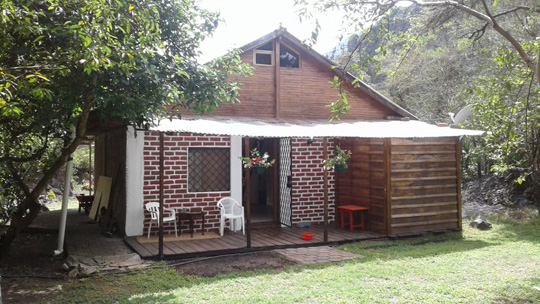 Greetings everyone and regrets for the long absence of news but much has happened in the last three months. Yes, I am still alive and into a new venture.

As some of you are aware my original plan was to continue my circumnavigation adventures around the continents but financial considerations have put this on hold for sometime.

Where am I now?!!!! ECUADOR!! Why? Cathy and myself have decided to set up an adventure Motocamp in this beautiful country and over the past month or so have settled near Banos, south of Quito, and am developing a site in a spectacular area in the lower Andes and close to the Amazon jungle. Below I have included some info on the country, and Banos, before some more news of what we are doing.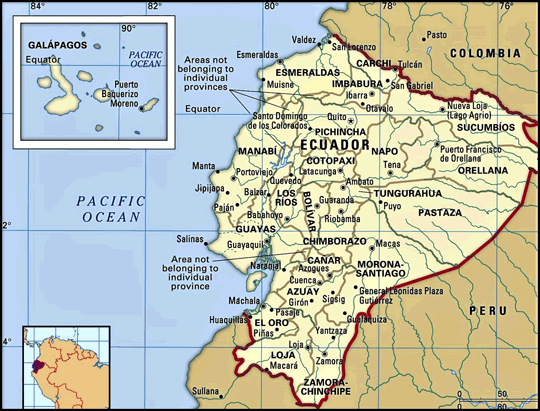 Ecuador straddles the equator on South America's west coast and encompasses the Amazon jungle, Andean highlands and the wildlife-rich Galápagos Islands. Quito, the capital, is in the Andean foothills at an elevation of 2,850m, and is known for its Spanish colonial center, with decorated 16th- and 17th-century palaces and religious sites, like the ornate Compañía de Jesús Church. One of Ecuador's well know products is the Panama hat which is exported to countries around the world. It is peaceful and friendly with many inspiring attractions for both tourists and adventurers.

We are located not far from Banos, in central Ecuador, where there is a variety of activities to spend time enjoying them and the countryside.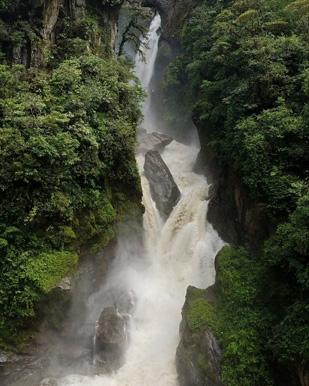 The famous volcano, Tungurahua, is not far from our campsite and the town is appropriately named for its dozens of waterfalls, hot springs, and surrounding rivers. It is a naturally beautiful town with a population of less than 20,000, a pleasant climate year-round, and an ancient affinity for miracles. The town's full name is Baños de Agua Santa, "Baths of Sacred Water."



SPENCER AND CATHY WELCOME YOU.
Circumnavigation of South America / STOP PRESS #09 (...and a half!)
I recently visited Mid Wales for wedding of Nick Sanders and Dr Caroline Taylor. Nick is a top cyclist and multiple Guiness World record holder for Motorcycling. Well worth googling. I also had the pleasure of meeting Simon and Lisa Thomas and Bernd Tesch- all well known adventurers. Great fun was had. Photo below shows the happy couple. Second one is myself and Simon Thomas with the legend that is Nick...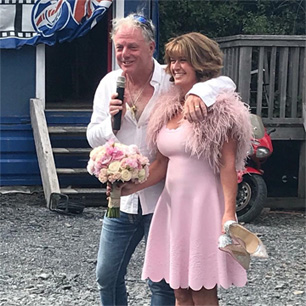 I have also been given the honour of headlining on the Saturday night at the Overland Event two days before Cathy Nel and I head out to Colombia. This event is my last in UK for a while so please check it out and book up.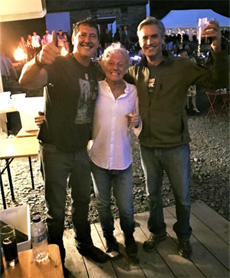 I was also invited to HUBB South Africa in November as guest of honour but will be unable to make it as I will be setting up my Motocamp and bike tours. Was going to call it Spencer Conway's Adventure Motorcycle Tours but thought the abbreviation might put people off- SCAM Tours!

The aim is to be up and running the lodge and tours within 3-5 months. I will be catering for intermediate riders on two tours a year and one special 'Spencer type tour' for advanced riders who can rough it a bit!

I have also been asked to be a guide and adventure leader of a 14 day desert tour of Egypt with 13 clients and two resident Egyptologists/Archaeologists. My degree was in Anthropology. I am flattered but will not be able to take this up at the present.

I will fly to Colombia on the 3rd of September and will start posting more regularly. Please keep following- so pleased to have over a million visitors. You can also follow my exploits in Overland and Bike Magazines.

The accompanying two photos amongst these paragraphs were taken by Craig Carey-Clinch and I would like to recommend 'The Road to Mali' by Craig which you can get more info by following this link... SHOW ME MORE!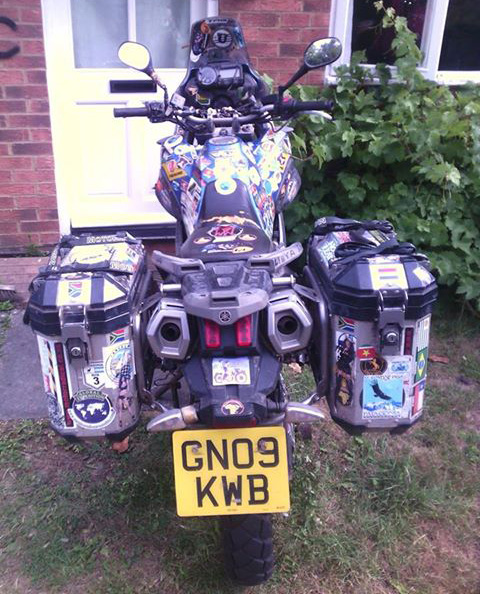 My apologies for disappearing under the radar for a while as it has been a time of change indeed. Since returning from South América I have done various presentations including Nick Sanders MACH 3 and the Horizons Unlimited UK Event where I won Peoples Choice Adventure Bike of the Year. I am also now a guest rider for Overland Magazine, Bike Magazine and Indian Forum Woovly.com which aims to inspire people to fulfill their lifes bucket list. However the biggest change is that I have sold my house and I am heading to Colombia to find a piece of land. Cathy and I will be setting up INCA-ZULU MOTOCAMP a lodge of cabins and camping aimed at the Overland and Adventure market. Our search and set up will be filmed and reported on in Bike magazines.



My bike in Biddenden Kent - (My home for the last 20 years) ready for another adventure >>>



I have not and never will give up my aim to circumnavigate every continent. All depends on time, sponsorship and juggling many projects. Watch this space.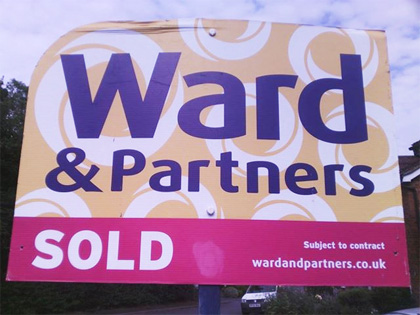 I would like to thank John Lagerway of Jofama / Lindstrands for sponsoring all mine and Cathy Nels gear, Shark Helmets for continued sponsorship as well as the support of top bike magazines and adventurers. Thanks to John deLacey for a the wonderful website. Onwards and forwards…

We have also been invited to be Guest presenters at Horizons Unlimited South Africa in November so You are not rid of me yet. Thanks to all who follow the weekly log and long mayor it continue.

A sign of change. My house in UK Sold. Colombia here we come


If you want an informative, exciting and enjoyable read check out this book by a good mate of mine...
https://overlandmag.com/shop/the-road-to-mali-by-craig-carey-clinch/

Circumnavigation of South America / STOP PRESS #08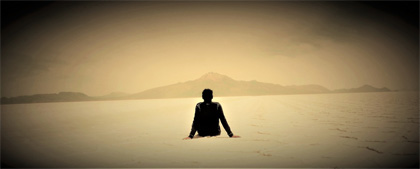 The following is a continuation of the Salar De Uyuni episode.



What to Do? Salt Flats are of course stunningly white as in previous pics but liked this shot.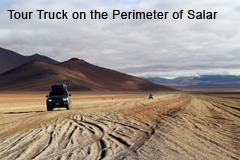 The Great Escape was not going to be as easy as I had hoped. Despite fixing the puncture the inevitable 'Sods Law' kicked in and my compressor decided today would be a good day to go on strike. After taking it to pieces I realised the motor was burnt out. Time for plan B or plan C or any alphabetical plan until I was safe. Having waited five hours with no water I knew no-one was coming to my rescue. I had no option but to dump all my gear, panniers, tools, tent, sleeping bag, cameras- everything except my passport. I had no way of pinpointing my position as I had no GPS. Needs must. I had to have the bike as light as possible to maximize my chances of getting out on a flat tyre. So off I headed aiming towards the only island I could see on the horizon. I rode for six hours at fifteen ks per hour. An optical illusion gave the impression I was getting nowhere but after a couple more hours I was able to make out trees and a pick-up truck. I was rescued!!

To give you some idea of the scale and size of my problem - the Bolivian guides who had worked there for more than fifteen years spent three days searching for my things before success. The wonderful thing about this whole episode was when we finally pulled up next to my pile of discarded possessions the two guides jumped out and started hugging me and dancing around on this magical salt planet as though they had saved their long lost grandmother from certain death. They asked for no money. It was a wonderful human moment. Of course I insisted on paying them. They had invested three days on this idiot who went off the main track without a GPS or map. They had every right to be angry but were gracious to the nth degree. Humans are great!!


Warning!! Make sure that somebody knows you are planning a trip across the Salar and that you have a means of contact.


Latest Information

Cathy Nel and I just returned from Nick Sanders MACH 3 Motorbike Festival where I was giving a presentatión. I met this dude Peter Robinson. Not sure where he was from but he had a crocodile in one hand and an emu in the other, and a boomerang on his bike. He kept saying 'good yarn mate'. Norwegian? Not sure. Great times! Love bikers and the characters you are destined to meet.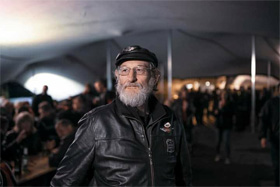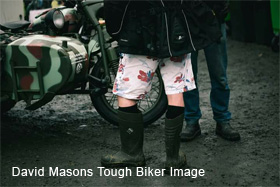 More info on the Festival next week. Best wishes Spencer.
Circumnavigation of South America / STOP PRESS #07
This update is a short account of the problems I faced on the Salar de Uyuni Salt flats where I had a blow-out at about 80kph which took me about 200mts to stop!! But first some info on the flats.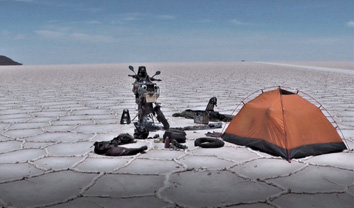 Salar de Uyuni is the world's largest salt flat at 10 582 square kilometers (4 086 sq miles). It is in southwest Bolivia, near the crest of the Andes and is at a height of 3 656 meters (11 995 ft) above sea level.

The Salar was formed as a result of transformations between several prehistoric lakes. It is covered by a few meters of salt crust, which has an extraordinary flatness with an average variation of elevation within one meter over the entire area of the Salar.

The crust serves as a source of salt and covers a pool of brine, which is exceptionally rich in lithium containing 70 % of the world's known lithium reserves. The large area, clear skies, and exceptional flatness of the surface make the Salar an ideal area for calibrating the altimeters of Earth observation satellites.

Salar de Uyuni attracts tourists from around the world. As it is far from the cities, a number of hotels have been built in the area. Due to lack of conventional construction materials, many of them are almost entirely built with salt blocks cut from the Salar.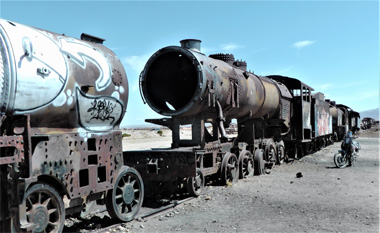 A major tourist attraction is an antique train cemetery. It is 3 km outside Uyuni and is connected to it by the old train tracks. The town served in the past as a distribution hub for the trains carrying minerals en route to Pacific Ocean ports. The rail lines were built by British engineers arriving near the end of the 19th century and formed a sizeable community in Uyuni. Construction started in 1888 and ended in 1892. It was encouraged by Bolivian President Aniceto Arce, who believed Bolivia would flourish with a good transport system, but it was also constantly sabotaged by the local Aymara indigenous Indians who saw it as an intrusion into their lives.

The trains were mostly used by the mining companies but in the 1940s, the mining industry collapsed, partly because of mineral depletion. Many trains were abandoned, hence the train cemetery.

The Salar is one hundred times bigger than Bonneville and certainly not a place to head off the main track- so that's what I did. Cue, the worst blowout I have had in my life- the whole tyre came off the rim. I fishtailed expertly before coming unceremoniously to a halt in a less than graceful position flat (pun) out on the salt. No injuries but big problems, 38 degrees, no trees for 100 kilometres and no one had been this way since the Dinosaurs.

Most important rule - DO NOT PANIC - fear leads to irrationality. Think carefully and prioritise.

First thing was to make some shelter. So up went my tent to provide relief from the blistering sun. Next work out how to get out of there- little did I know this was to be a three day saga.

As you can see from the pic below there are assorted bike parts and my tent in a vast area of salt flat. Out crop of hill top left about 30k away!!.





First thing was to remove the wheel and tyre to try to repair the damage. This proved not to be so easy as the tyre looked as if it had suffered a minor explosion.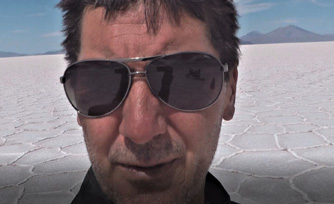 Ingenious genius that I am the way to find where the ' puncture' is located on the tyre is to place the tube on the tyre and mark where the hole is on the outside of the tyre. Had a spare tube so appeared good, but after trying to repair the tyre, which was badly shredded, had to give up and make a plan to escape from the heat.

Also one of my water bottles had been fractured during the crash so had little to keep me going!!! Not so happy or confident as things looking a little grim.

Find out next week - The Great Escape... TTFN. Spencer
Circumnavigation of South America / STOP PRESS #06
This week's entry is an extract from an article to be published in 'Bike Magazine'. For those interested the complete article, and pics, can be read in the next issue on sale in newsagents.

A Circumnavigation by Motorcycle of Africa and South America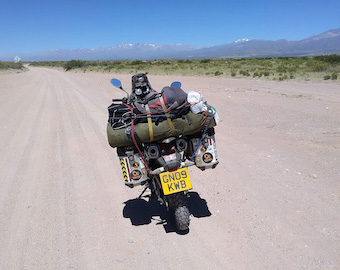 None of you will know who I am as this is my first article for the esteemed Bike Magazine (and probably my last) so here goes. I circumnavigated Africa, alone and unsupported, on a Yamaha Tenere XT660Z through 34 countries and 55,345 kilometres over nine months. I also amazingly circumnavigated South America. I say 'amazingly' because I am seriously accident prone and, on top of that, my sense of direction is poor- I get lost in my own kitchen. For various reasons this was a one year four month spluttering through all 13 countries racking up 58,013 kilometres.

I was speaking to a Zimbabwean Psychiatrist recently and he told me I am fairly sane despite this urge to circumnavigate every continent. He drew a circle with a smaller circle inside it. He then said, "This is you- you are a wheel." Then he drew radiating lines- "These are the spokes. You have some spokes missing but the wheel moves on- this is your problem." Thank God for that. I thought I was mad. It's just a couple of spokes!

The Yamaha Tenere is the best adventure bike in the world. Right that's dealt with.

Many people find delays at border crossings extremely frustrating. I don't. As we know delays are part of the journey. I prefer to see it as a piece of theatre. My maxim is day by day, border by border, nothing lasts forever (good or bad- so soak up the experience). A naked Custom's Officer at the Ecuador/Peru border caused me a slight delay but I loved it. Not in that way! I arrived at a rickety Custom's Hut run by Salvador Dali manning his desk for the rush of tourists-Me. I was well prepared with my passport and all bike papers and photo-copies in my hand. I was Germanically organised ready to be swiftly ushered through to the next country but Dali had other ideas.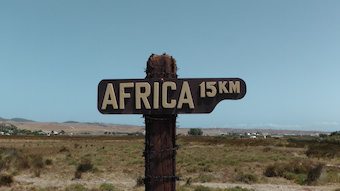 "Wait maybe fifteen minutes here," he said pointing to an upturned breeze block on the side of the road. He crossed the road, hung a hosepipe over the branch of a tree and proceeded to strip completely naked. He lathered himself up and had a good wash before putting on an Hawaii type palm tree shirt and trousers. He greased back his hair, staring in a broken truck mirror, before sauntering over to me. "Passport please." As he was checking the pages of my passport he was dancing around to some seriously lively Latino music and whoosh-a stamp. I was off, leaving my Hawaiian shirted exhibitionist Custom's Officer friend giving me the thumbs up and shouting "Good luck." Superb.

The picture below was taken on my Africa trip informing me that I was very close to Africa!!! Read about further experiences in South America and Africa.

More similar interesting and informative writing can be found in the five page article in 'Bike Magazine'.

Best wishes Spencer.
Circumnavigation of South America / STOP PRESS #05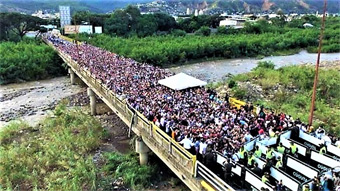 After two thousand kilometres I reached the beautiful city of San Cristobal nestled in a beautiful green valley. This was where I came to a sudden halt for over three weeks and made friends that I will always remember. The border with Colombia had been closed to all but foot passengers for a good number of years. I met dignitaries, politicians, army generals, football coaches, bike club members, night club owners all of whose aim was to get me and my bike into Colombia. They all failed despite going to extreme lengths to help. I was cleared by Venezuelan Customs but the Colombians would not budge. No multi coloured Yamaha Tenere was coming through their border. They were extremely polite but swamped with a staggering 35 000 people a day trying to cross the bridge to Cucuta in Colombia. I couldn't blame them. They had a humanitarian crisis to deal with. My petty worries were- well petty, compared to these people's woes.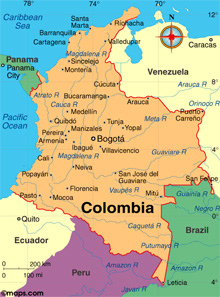 It didn't change the fact that I was facing what I believe must be one of the world's longest detours. After one year and four months and 58 000 kilometres I was only 624 kilometres from Bogota and completion of my circumnavigation. Now I was facing a 12 500 kilometre detour back to the southern border, through Brazil and the Amazon on the incredible Ghost Road into Peru and Ecuador and finally Colombia. So be it, but first I needed a new tyre which was only available in Colombia. I joined the foot passengers, got hold of my tyre, rubbed it in a dirty puddle to make it look old. My cunning plan failed and my tyre was refused entry (Don't ask why, its complicated). A one legged man hopped over to me and said for a small fee he would go through the jungle, under the bridge, through the river and would meet me at the other side. He slung the tyre over his shoulder and hopped off. Thirty minutes later, true to his word he hopped out the other side. A top man with whom I am still in contact.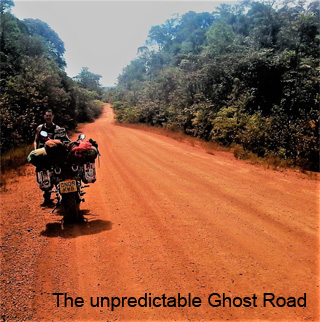 From Cucuta to Bogota only a matter of days but had to go east back through Venezuela and then south into Brasil. Then through the Amazon basin to get to Colombia, via Peru and Ecuador. A long detour.

During my time in Venezuela I did not meet a single tourist, or married one, or adventure rider. Although I love Venezuela and its people so much sadly I cannot recommend it at this present moment. Let's hope the people can find some stability and can open up their incredible country to show the world. With a heavy heart I left Venezuela with one parting gift-Malaria. I rode for fourteen days with what I persuaded myself was man-flu, including battling the incredible Ghost Road. The Br319 starts in Manaus and after 857 kilometres reaches Porto Velho in the upper Amazon basin.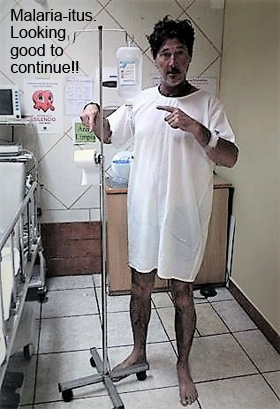 The road was built by the Brazilian military regime in the 1970s and has been in a state of disrepair ever since. It consists of heavily potholed and cracked asphalt as well as beautiful red mud, gravel and sand. It is peppered with more than twenty wooden bridges, many nearing collapse and threatening to plunge me into a muddy, watery bath. Even with malaria it was a wonderful experience.

I finally collapsed, shaking, in the street in the coastal Peruvian City of Trujillo and was hospitalised.

After more than a week of recovery I headed off and completed my circumnavigation. My circumnavigation of Africa was 55 345 kilometres and South America 58 013 despite Africa being a much larger continent. That's detours for you! I have loved every minute of all 48 countries and would do it all again, malaria, crashes, warts and all.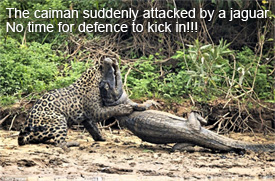 Now reverting to my comments on "flight or fight" theory in a previous log there is not much that one can do to avoid such hazards as malaria, except to take the preventative medicine, but this did not work in my case, and I suspect that the caiman in the photo below did not have much chance to avoid the attack by the jaguar!!!

Some things you cannot plan for.

Next time, more reflections on my South America journey.
Circumnavigation of South America / STOP PRESS #04
HI EVERYONE! Just recently been busy with writing articles for Overland Bike Magazine so thought I would add to the Log by providing a couple of extracts over the next weeks to keep the Log live. Life a little dull after being in South America for sixteen months so making plans for the future. In the mean time please read the extract below on some of the happenings and sights experienced on my travels. Best wishes to all, Spencer.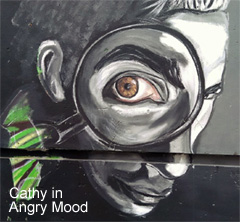 EXTRACT ONE

It's quite a surreal situation when you have your first domestic, on a motorbike in the centre of Venezuela, about who is going to get shot first in a roadside holdup. Well, after travelling through all thirteen countries in South America and covering over 50 000 kilometres this was the hilarious (not really the right word) reality. Between the cities of Barinas and Guanare I pulled round a sharp bend and four men with machine guns were straddled across the cracked, potholed road. Now I must point out that I had been through more than forty roadblocks in the last year and the Army and Police had been wonderful and helpful on every occasion. But my gut instinct told me that this was different. We were in a stickier situation than sticky the stick insect when he was stuck on a sticky bun. They had no uniforms and the guns were brand new. It was just strange. As one of them held up his hand and beckoned for us to stop I made the split second decision to ride past. I slowed down as I approached, as if to stop, then accelerated, squeezing between two of them and away. A hundred metres down the road I got a slap on the back of my helmet. It was Cathy, my girlfriend and camerawoman. In an angry, strong South African accent (can you imagine my fear!) Cathy stated, "Before you make decisions about racing through armed roadblocks please consult me (or words to that effect).I am on the back of the bike, I will be the first one to get shot." All I could think of in answer was "Don't be silly, the bullet would go through you and straight into me, so it makes no difference." End of domestic! Well - silence. Same thing. Evidently we didn't get shot.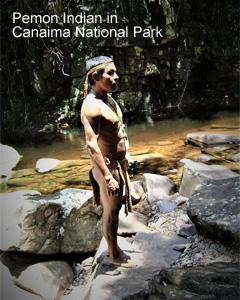 Right, back to positivity. South America is absolutely incredible and my favourite country by far was saved till last- Venezuela. I entered from the southern border with Brazil at Santa Elena, at present the only border open to vehicles. As soon as you enter the Gran Sabana area you are in the Canaima National Park- a spectacular opener for any country. The Park is a 30 000 kilometre square slice of beauty, the size of Belgium and is the sixth largest National Park in the world. The area is marked by spectacular plateaus of rock called Tepuis, outlandish table top mountains with steep vertical walls. The Park is home to the indigenous Pemon Indians but the Park is remote and very sparsely populated. The road winds around these sheer mountains and the Park is littered with waterfalls. It's a truly wonderful ride and deserves its World Heritage status that it achieved in 1994.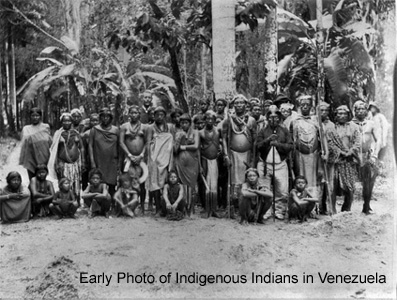 This was a wonderful introduction to a country that I very nearly did not visit. My resolve almost crumbled in the year building up to Venezuela. I had been relentlessly warned not to visit the country- that I would be robbed and killed. The internet also tells us that Venezuela has shortages of water, food, medicine and electricity and that President Nicholas Maduro is bringing the country to its knees. Venezuela is regularly listed in the top five most dangerous countries in the world. Armed robbery, kidnapping, murder and car-jacking are all common forms of violence. I am not a political person so cannot get involved. I can tell it like I saw it. I spent more than a month there and I have never ever been welcomed so warmly. The country is beautiful and the people even more beautiful- inside and out. (It has won the Miss Universe competition five times). There are evidently serious problems but I was so glad I decided to come and felt very privileged.

Immediately you reach urban areas the country's problems start to become evident. There are people with small children in the streets asking for food- the first time I saw it in South America. Every petrol station is either closed or has a queue of vehicles snaking off for miles. It is not unknown for employers to give people a day off work just to get gasoline. Strangely enough Venezuela is one of the biggest producers of oil but they sell it to the USA which sells them gasoline in return. There are massive shortages. What struck me was how calm and orderly everybody was, chatting outside their cars for hour upon hour with complete patience. Weirdly, when you do eventually get fuel it is free for motorbikes and almost free for cars. Don't ask me what weird economic forces are at work.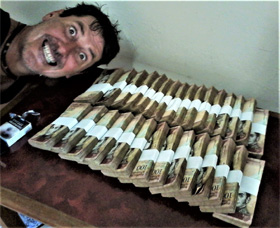 The second immediately evident problem was the extreme difficulty in getting money. No cash machines work and if you can get hold of money you need a shoe box full to buy a loaf of bread.

Although I am smiling in front of a pile of money it does show a sad reality- a country in freefall much like Zimbabwe and its wheelbarrows of worthless currency.

Visa is not accepted in a lot of places. Most pharmacies have no medicine and it is evident the shops are struggling. The latest news on acquiring antibiotics is that people are buying them from vets, those used for animals, whilst stocks last. Supermarkets were padding out their shelves with rows and rows of kitchen towels. Despite obvious problems I felt 100% safe and continued on through the centre of the country through Ciudad Bolivar, Valle de LA Pascua, Barinas and on to San Cristobal near the Colombian border. A recurring theme raised its head. In every village or town I pulled into the super friendly locals warned me that their town was fantastic but the next town was 'peligroso'- dangerous. This happened again and again but the people only got nicer.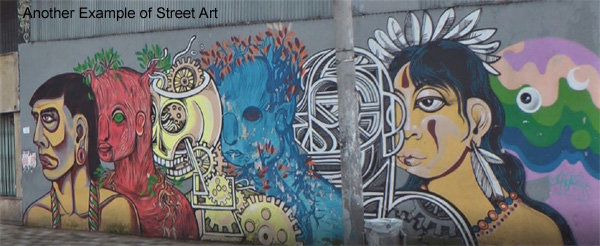 The next Log will continue with more on my impressions of Venezuela, Spencer.
Circumnavigation of South America / STOP PRESS #03
I am going to try and answer two questions that I am asked often. What makes me undertake these extreme rides and how do I cope and secondly how do I adapt back to normal life. Now bear with me for a bit of science.


It has been proven that adventurers become addicted to their pursuit. All this boils down to a heightened sense of living often linked to the flight or fight response. This is a physiological reaction that occurs in response to a perceived harmful event or attack. Walter Cannons theory states that animals react to threat with a general discharge of the sympathetic nervous system preparing the animal for fleeing or fighting.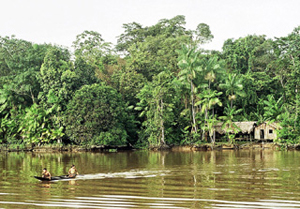 The adrenal medulla produces a hormonal cascade that results in the secretion of catecholamines especially norepinephrine and epinephrine as well as estrogen, testosterone, cortisol, dopamine and serotonin. These are a powerful cocktail that adventurers become addicted to. In My particular case I begin the adventure.

In a heightened state, because I am already in a dangerous position. I am riding a motorcycle for over a year. Anything can happen. Add to this, different landscapes, road conditions, weather, different diseases, people, language and customs adds up to a heady recipe of unpredictability.

This lack of structure and routine would be many peoples nightmare which I fully understand - we are all different. But I thrive on it. Not feeling fear helps, but maybe I do - its just disguised as elation.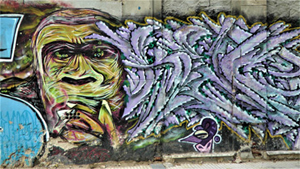 I also believe that being brought up in Africa, Kenya and Swaziland, and living an outdoor lifestyle helped greatly. Building and starting a fire, setting up camp, roughing it, all comes easily to me.

In conclusion, I would never dare compare myself to other adventurers and don't consider what I have done as amazing. We are all different which makes the world so rich. All I know is this is what I thrive on. To answer the second question - h ow do I adapt to normal life? the answer is short - I dont.

Need the wizard to help me!!!
Circumnavigation of South America / STOP PRESS #02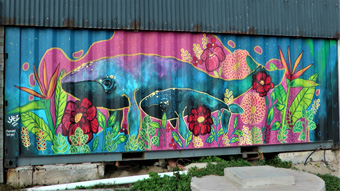 Have had many comments on the pics of street art and the strange images that appear quite frequently. All I can say is that in many places in South America people enliven their houses and streets with colourful, bizarre and culturally focussed paintings. This is recognised as "art" and in some of the most run-down and slum like locations beautiful, weird and imaginative murals bring joy to drab surroundings.

The origin of street art may be in New York but may also be traced as far back to pictographs painted on cave walls but there is an increasing appearance of street art in urban centres around the world, none more so than in South America where a third of the top urban cities for street art were named as being in that continent. Artists paint and plaster their works on the sides of buildings, sidewalks, houses, bins and wherever there is a space to do so.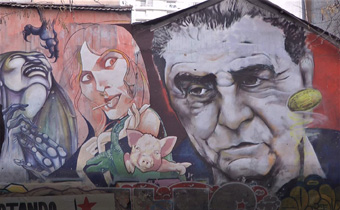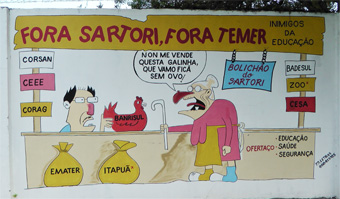 Often artists adopted a campaign to popularise and promote, for example, against violence and abuse and humorous political comment as below.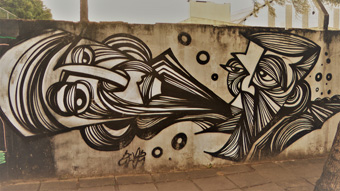 In Buenos Aires, Argentina, street art in the 1950s was a form of political expression. Slogans and images promoting political parties became a common feature of propaganda but at the same time a more artistic form of street art began to develop which incorporated imagery – sometimes also political, but often purely aesthetic.

Between 1976 and 1983 the military dictatorship banned all forms of protest and street artists were severely punished. In 2001, in response to the financial crises, street art blossomed under relaxed regulations during a time when one in five Argentinians were out of work.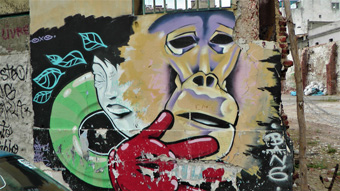 Much of the work that came out of that period was not politically driven. Instead artists opted for colourful, playful and humorous designs, aiming to brighten the spirits of the unemployed and newly poor. This style still dominates the Buenos Aires scene today and distinguishes the city's artwork from the more cynical and political graffiti in other cities around the world. Some street art covers buildings of ten stories or along whole stretches of streets. It is what one can say is 'EYE CATCHING'.

There are several more examples of street art on the Photo Archive section. Enjoy.
Circumnavigation of South America / STOP PRESS #01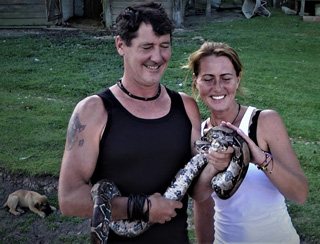 Although the circumnavigation has been completed and now I'm back in the UK, in sub-zero temps, the Log will be continued with reflections and information on the journey. Photos not previously seen will be up-loaded to the 'image archive' and future events will appear on a the new 'events' page, so please keep watching.

One of the many creatures to be found in South America were scary and worth avoiding at all costs, but this fellow was very friendly - tried to strangle Cathy, TWICE!!

Roads were frequently hazardous, deep pot-holes hid rocks increasing the danger. This section in the pic on the left was 800ks long and took several days to negotiate through the centre of Guyana. The muddy track on the right is known as Ghost Road because very few vehicles use it. Passing through the heart of the Amazon it was built in 1973 by the Brazilian Army but is becoming swallowed up by the jungle. More than twenty rickety bridges to negotiate. Super riding.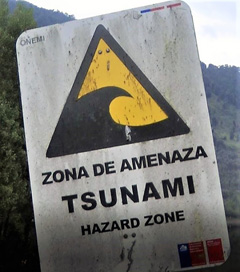 Another problem was the extremes of climate and weather conditions. This Tsunami Zone was particularly threatening.

Have to say that the long detour was arduous but increased my knowledge of the country and took me through some really difficult terrain along roads that are only used by insane drivers like myself.

Now looking forward to attending several adventure shows in different parts of the country. Have recently been interviewed on TV and radio. Also twice on radio stations in the States for which I will provide links soon. I would also like to thank John Lagerway at Jofama/ Lindstrands for his continuing sponsorship of bike gear and Lars of Shark Helmets who through Simon Neale of Lagunas, Maidstone, has presented me with space age helmets.
...a cheeky request. If anyone has a bike trailer to loan or to buy at a reasonable price please let me know. Best wishes Spencer.
South American Log Book / Week Seventy Six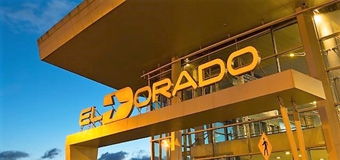 Day 527 11/02/2018: Bike on its way tomorrow should be back in the UK on Sunday 18th. Nothing to add except that love Colombia and the people. My whole trip has been an unforgettable experience and now have to plan for the future. Have magazine articles to write so will be busy.

Day 528-529 12-13/2018: Final preparations for farewell. No bike so last walk around Bogota with Cathy, who is getting fitter.

Day 530 14/02/2018: At Bogota El Dorado airport and waiting for night flight direct to Heathrow on Avianca. I am in the second window from the front. Taken by my remote control camera. Could not get a close up shot!!!!!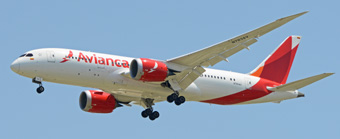 Day 531 15/02/2018: Arrived at 3pm and met at airport by Conway Senior and car back to Biddenden. Not as cold as expected. Told that I have TV interview with BBC South East on Friday evening and radio interview on Saturday Live on BBC 4. No rest for the traveller.

Day 532 16/02/2018: Meeting friends and family. Feaya and Jez hugs and kisses. A lot to talk about and to arrange. No time to dilly-dally as had to travel to Tunbridge Wells for evening TV interview with BBC South East News Presenters whilst montage of clips from my 'adventure' screened as backdrop. Visit the Video Archive for the interview.

Day 533 17/02/2018: After the interview travelled directly to London to stay overnight to get to Broadcasting House for next morning for BBC's Saturday Live chat show with other guest Greg Wise. The Presenters were, as usual, Richard Coles and Aasmah Mir. This has been up-loaded on the web site in the Radio section. Have a listen.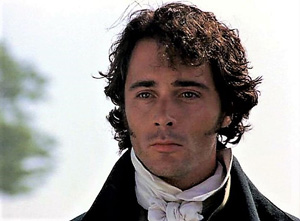 Greg, a very friendly fellow, talked about his book on caring for his sister who died of cancer. I had the opportunity to talk about my South America journey, at some length, and to introduce a few anecdotes and description of several amusing incidents experienced on my circumnavigation.

After the interview I was driven to Excel to the MCN Bike Show as a guest of Nick Sanders on his exhibition stand. Met many old friends and colleagues. Great to meet everyone and to swap stories.
Week Seventy Five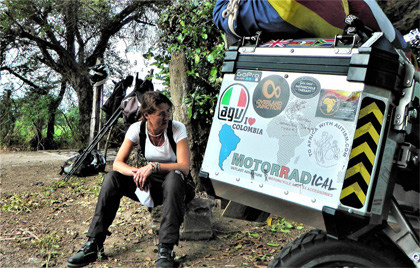 Day 520 04/02/2018 to Day 526 10/02/2018: Another fairly frustrating week but good news at last. Cathy has been told by the doctors that she can now fly back to the UK. Blood poisoning clear but will have to have further treatment when home. Hopefully no long lasting effects.

Day 524 08/02/2018: Cathy's birthday today. She has been a star all the way and made a remarkable contribution to the South America trip. Has helped me out when ill and in need of support and taken some exciting and unusual film footage.

Arranging for shipping of bike back to the UK.

Day 525 09/02/2018: Bike being crated but had to be jet washed and disinfected. Unfortunately some of the stickers washed off. Very sad to leave it at the freight depot but still needs clearance at customs.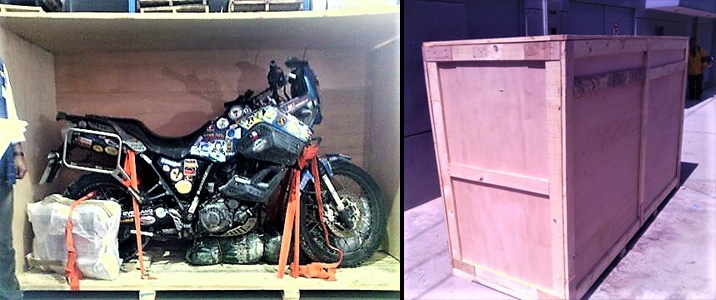 The Final Curtain. The boxed up bike Heathrow bound. A sad but proud day. South America circumnavigated, 58 000 kilometres, 13 countries, world's longest detour-12 000 kilometres having been prevented from crossing the border into Colombia from Venezuela. Two continents, Africa and South America, circumnavigated. Two very different experiences but many amazing and exciting incidents to remember.

Thank you everybody on Facebook. The last two kilometres were completed, with Cathy Nel back on the Tenere. The circumnavigation of South America is complete. One year four months through Colombia, Ecuador, Peru, Bolivia, Chile, Argentina, Uruguay, Paraguay, Brazil, French Guiana, Suriname, Guyana and Venezuela. I also took a 12 000 kilometre detour covering a total distance of 58 012 kilometres. With my circumnavigation of Africa have now had the pleasure of riding through 48 countries and 113 000 kilometres on the Tenere. It was the best year of my life.

I will be back in UK and appearing at Nick Sanders Mach 3 Festival, The Manchester Bike Show and The Overland Show and others if you want to have a chat. Please follow me on my website www.spencer-conway.com and on Facebook and Instagram.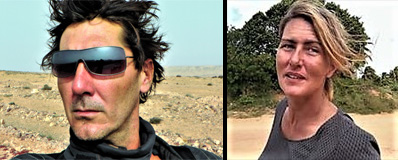 Look out for my new TV Series! which will take several months of editing, voice over etc. Already plotting new exploits but at the moment sad to leave magical South America. Thanks again and I will calm down on the posts. Have a fine day.

Will be flying out of Bogota on Wednesday 14th, Valentine's Day, so love to all. I will continue the Log for a short period recording some home events.

Click here or on the adjacent image of Spencer and Cathy to view the South America Promotional video.
Week Seventy Four
Day 513 28/01/2018: No more news. Still in Bogota so little to report. Cathi feeling better. Wait for OK for doctors say so to fly.

Street Art in Bogota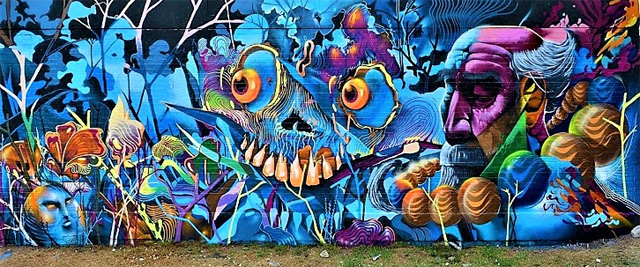 As you wander around Bogota you will see some amazing art works that add colour and attraction to the city but street art has only recently become acceptable because of an incident in 2011. Until that year graffiti was a crime in Bogotá, with artists working in fear and under the cover of darkness. Then on August 19, 2011 a 16-year-old street artist by the name of Diego Felipe Becerra was shot to death by police while spray-painting his trademark Felix the Cat on Boyaca Avenue. Although he had paint on his hands and a bullet in his back, police accused him of robbery and reported that they had killed him in self-defence. An outcry led to the arrest of two officers, and a massive shift in the city's tolerance to street art. The establishment, including the mayor, changed their opinions and graffiti became an acceptable form of cultural and artistic expression rather than a crime.


The local government has since provided grants to artists, as well as commissions for murals on large walls, which reach to seven stories in height, however, monuments and public buildings must not be painted. There is a code among Bogotá artists that they should not paint over each other's works. This has led many home and shop owners to happily accept, or even request artists, to create large murals on their properties as it radically reduces the amount of less attractive graffiti.

Day 519 03/02/2018: The whole week has been difficult as Cathi has undergone more treatment both in and out of hospital. Signs that the blood infection is clearing but had to sit in a wheelchair waiting for another scan for 15 hours. This lowers the spirits somewhat. Waiting for news.
Week Seventy Three
Day 506 21/01/2018: I am sorry to say that Cathi is not much better and struggling to keep spirits up. It is a hard time. Doctors and nurses super caring but at a loss. It is very wearing and frustrating. There is nothing I can do. To keep sane just further research into Columbian culture so below some info on language, symbolism and cuisine.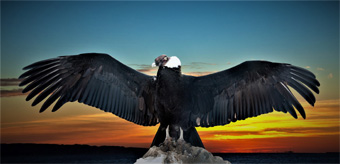 The official language is Spanish (Castilian), which was imposed during the colonial period. All Colombians speak it except for some of the indigenous populations in the Amazonian basin. In major cities, English is used, particularly by the upper class, but it is not commonly understood or spoken. Outside urban areas, Spanish is virtually the only medium of communication. Colombia takes great care to preserve the linguistic "purity" of Castilian Spanish. The Colombian Academy of Language was founded in 1871 by a commission from the Spanish Royal Academy of Language; it was the first such body established in Latin America. Colombian Spanish is marked by the presence of numerous cultural expressions. In addition to Spanish, over 200 indigenous languages and dialects are spoken. In Bogotá, people speak a grammatically correct Spanish, whereas coastal speech is more relaxed with many colloquialisms.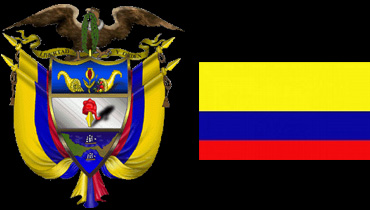 Patriotic symbols represent the war of independence and the founding fathers. Francisco Miranda, a Venezuelan, designed the national flag in 1806. Adapting the red and yellow of the Spanish flag, Miranda divided the two colours by a stripe of blue to symbolize the ocean separating the independent country from the motherland. The upper half of the flag is yellow, representing the natural riches of the country, while the lower half is divided into two equal parts of blue and red, with the red symbolizing the blood shed in the war for independence. In 1834, the national shield, the Arms of the Republic, was added to the flag to represent the defensive armament used in early battles. Another important national symbol is the condor, which signifies liberty and sovereignty.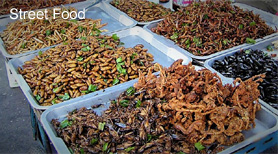 I have managed to savour some of the more exotic of Colombian food and also street food much of which is edible insects.

Colombia's most famous edible ant is the "big-butt ant". These ants are only harvested during the rainy season. They are believed to be aphrodisiacs and are often given as wedding gifts. The ants are traded in Bogota and also exported to Canada, England and Japan.

I think I have my next wedding present!!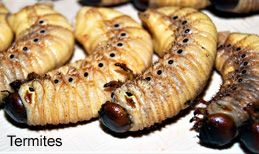 Termites are another insect used both as food, they are rich in protein, and for fishing bait. Women block most of the exits around termite mounds and then flush them out of remaining tunnels. Termites are so important to some indigenous groups that they have been used in rites and ceremonies. They are fried and, having tasted them, found them to be quite tasty.

On matters related to Venezuela where I was "incarcerated" for a month President Maduro has called for an unexpected election having side-lined his opponents. He is most likely to be re-elected for another six years as the poll will probably be rigged. He has called Mariano Rajoy, the Spanish prime-minister 'corrupt, racist and colonialist' because of the sanctions imposed on his country.

Also ex-president Lula of Brazil has had his prison sentence for corruption increased by three years to twelve by the high-court sitting in Porto Alegre. Well done Brazil.

Day 507-512 22-27/01/2018: Not good news. Cathi remains the same and is undergoing scans in hospital. She is in considerable pain and is now very tearful and worried. She has been told that she cannot fly until the 'problem' is solved. Disaster. Looks like we will be in Bogota for some days yet and expenses mounting.
Week Seventy Two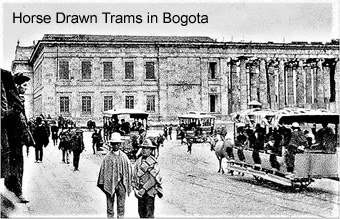 Day 499-505 14-20/01/2018: Have passed the 500 day mark with very little progress as Cathi still under care in hospital. Nearly three weeks now so becoming more anxious.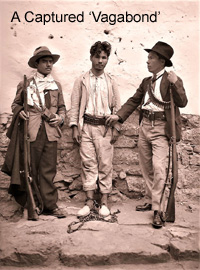 Have been doing some research on Bogota whilst waiting and also filming in the city. Really a fascinating place and once again the influence of Colonialists and Roman Catholicism widely evident.

Colombians love ghost stories and one such haunted place is The Tequendama Falls Hotel. It is the most famous haunted spot in the country. It overlooks a 132m waterfall 30km south-west of Bogota. The house is now a museum. There is a belief that indigenous tribesmen jumped from the waterfall during the Spanish conquest in the hope that they would turn into condors and fly away to escape their invaders. If I had been one I don't think I would have followed after the first plunged to his death!!! Just a Thought.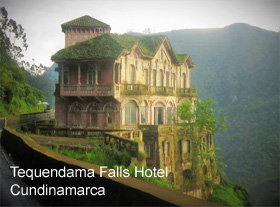 The original inhabitants of what is known today as Bogota were the people of the Muisca. They were part of Chibchan Culture and spoke Chibcha, a now extinct language. The city of Bacatá (Bogota) was a thriving area of commerce and civilization that comprised a total area slightly larger than Swizerland prior to the Spanish conquest in 1537. Zipa Bogota, the Muisca chief, fought the Spanish for months, never accepting any of the Spanish offers to surrender. When Bogotá was killed in battle, by an arrow from a Spanish crossbow, opposition dwindled. Quesada, the Spanish leader, founded the city of Santa Fé de Bogota on August 6, 1538.

From 1810 to 1830 Bogota experienced a great change as Simon Bolivar (again) led the fight for liberation. Known as the "George Washington of South America", his direct military actions resulted in the independence of Colombia, Venezuela, Peru, Ecuador and Bolivia. From the middle 1800 hundreds Bogota went through several revolutions and bloody regimes but is now a thriving, modern city.

Bogota and the Drug Lords

During the 1970's and 1980's, Colombia suffered drug trafficking and lawlessness. In Medellín, the drug lord Pablo Escobar was by far the most powerful man in the country, running a billion-dollar industry. He had rivals in the Cali Cartel, however, and Bogotá was often a battleground as these cartels fought the government, the press and one another. In Bogotá, journalists, policemen, politicians, judges and ordinary citizens were murdered on a nearly daily basis.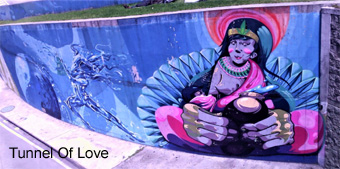 Just learnt that Oscar Perez, who attempted a coup against President Maduro of Venezuela, when he stole a helicopter and dropped grenades on government buildings in Caracas has been killed in a shoot-out with troops loyal to Maduro. He styled himself as an Action Hero and died as such!! (Not confirmed that he is dead)...Read More >

Day 505 20/01/202018: Cathi eating and slightly better. Hooray. More tests on Monday next week. Fingers crossed. Today Saturday.
Week Seventy One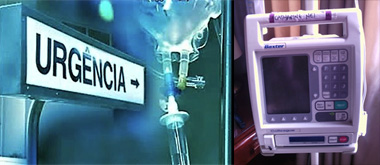 Day 492 07/01/2018: What can I say? Just when we thought it was all over Cathi in University Hospital San Ignacio with a bacteria infection which has progressed to the kidneys. This means an extended period under care and on a drip. She is NOT well. The hospital is first class and doctors and nurses super caring. She isn't eating and is sleeping most of the time. Have to wait to learn of the long-term effects. The Hospital Universitario San Ignacio was recently ranked third best hospital in Colombia, according to the National Ministry of Social Protection. This is very encouraging.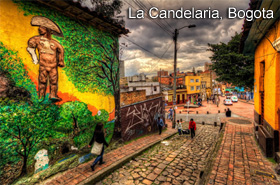 Will not be leaving Bogota for at least a couple of weeks. I am staying in a small 'hotel' not far from the hospital and taking taxis in for visiting. Bike in storage as not safe to leave it parked in the open.

Day 493 08/01/2018: Cathi no change. Adventure Travel Show has contacted me to confirm my presentation at the London Olympia venue on the 21st but will not be able to make it. Another blow as it is a well-attended event and a chance to raise awareness of my trip. Can't be helped.

Day 494-498 09-13/01/2018: Little change. All I can do is wait and wander around a little.

End of another week.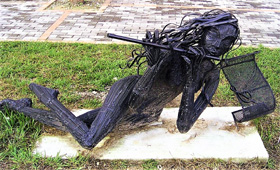 Week Seventy
Day 486 01/01/2018: I left the UK on 03/09/2016 and now into 2018. Did not plan to be still on the road but two periods in hospital meant many days when I could not ride, a month all told to fix bike problems on the journey, delays at borders and the long frustrating hold up in Venezuela which meant a 7000.00 k detour, road closures and protracted ferry and river crossings have caused my extended journey in time and distance. Now the end in sight and trepidation creeping in as the UK beckons.

Day 487 02/01/2018: Rode to Ibague about 200 ks from Bogota. Teeth on the gear lever gone so will try a temporary fix. This is a mountainous region with fairly challenging riding.

Learnt that from this area drug barons used to export cocaine to West Africa, Sierra Leone to be precise, and then distribute from there through Europe. Not a lot of people know that!!!!! Now many more do!!!

Ibagué was founded by Andrés López de Galarza on October 14, 1550, as "Villa de San Bonifacio de Ibagué del Valle de las Lanzas", "Town of Saint Boniface of Ibagué of the Valley of the Spears". Once more the influence of the Spanish conquerors highly visible in the area amazing how extensive the influence of a European country has had on this continent.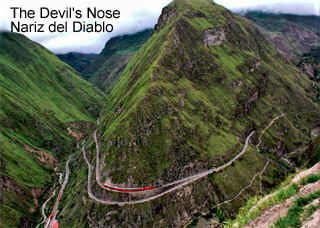 Ibagué lies within the Andean Volcanic Belt. It has two active volcanoes in its immediate vicinity. The city is known as "The Musical Capital of Colombia and America", thanks to the Tolima Conservatory,one of the most prestigious and important in Colombia. Music festivals are held regularly and the city has many monuments based on music.

Day 488 03/12/2018: Repaired the gear lever by wrapping tin foil around the teeth. I am probably the best bike mechanic this side of... Bogota. It is holding up, literally, so up and away. The bike has been unbelievable, overused word, but true. It has been through deserts, forests, over mountains, through rivers, across salt flats, sunk in mud, battered and bruised but has survived and is till responding!!! Yamaha should be proud of this bike.

Day 489 04/01/2018: Riding north to Bogota. Will be there tomorrow.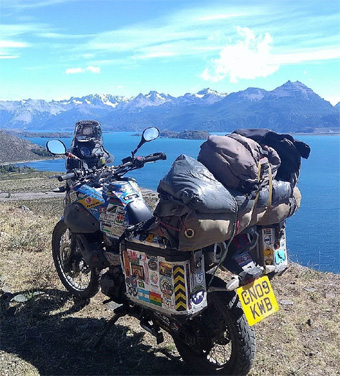 Day 490 05/12/2018: YES! IN BOGOTA. CIRCUMNAVIGATION COMPLETE.

Seventy weeks on the road and stories to tell. Hopefully be of interest to some. The 'adventure' has tested my endurance and motivation but I am pleased that I have managed to complete this epic circumnavigation. Every day new challenges have confronted me and new experiences have made the journey exciting, informative, sometimes dangerous, but overall, rewarding. I have been fortunate to have been able to journey into the unknown and to be a little wiser with the knowledge I have gained on my trip through this wonderful continent.



Thanks South America!!!



Its also my Mum's birthday today. Happy birthday Mother.

Have to arrange for bike to be shipped back to UK. Am told it will take two days to complete paper work and customs clearance. This being Friday will have to wait to Monday to start the process. Day 491 06/01/2018: Another upset when thought would be able to arrange flights back as Cathi is in hospital with very high temperature and other symptoms of malaria. Will take two days for results of blood tests. Not good and keeping fingers crossed that she has a quick recovery.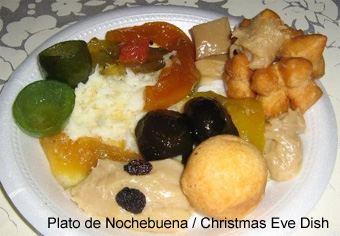 Week Sixty Nine
Day 478 24/12/2017: Went to the border at 6 a.m. and finally got through at 6 p.m. Found a place to stay for the night. Cold, wet and fairly miserable but at least in Colombia.

Day 479 25/12/2017: Christmas Day and greetings to everyone. Did not think at the beginning of this trip that would still be on the road on my Yamaha. Confident now of making it to Bogota in a few days. Bogota was originally named Santa Fe de Bogota, Holy Faith, after an Indian Chief, founded in 1538.

Rode to Popoyan on difficult roads and in rain for an unpleasant day's riding through some very amazing terrain.

Popayán, meaning Two Little Straw Hats, is located in southwestern Colombia between Colombia's Western and Central Mountain Ranges. It has a population of 258,653 people,is 1760 meters above sea level, and has an average temperature of 18 °C. The town is well known for its colonial architecture and its contributions to Colombian cultural and political life. It is also known as the "white city" due to the colour of the most of colonial buildings. The city's cathedral was home to the Crown of the Andes, a 16th-century Marianist (Society of Mary) devotional object featuring emeralds taken from the Inca Emperor Atahualpa.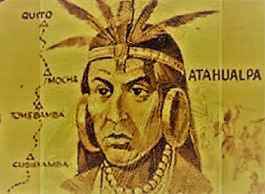 The University of Cauca (est.1827) is one of Colombia's oldest and most distinguished institutions of higher education and the town is known as the 'University' city. Much of the city's original splendour was destroyed on 31 March 1983, when an earthquake toppled the more splendid buildings. Many of them were rebuilt or repaired, with the help of aid from Spain, but the heart of the city still has signs of ruin.

Just heard that there have been violent protests in Peru, where I was a week ago, as the ex- President Alberto Fujimori has been released from his 25 year prison sentence for being responsible for the murder of those who opposed his regime. He has only served 12 years of his gaol term. Also further desperate situation in Venezuela as essential food and other goods become scarcer. Women selling their hair in order to buy items to survive.

For a very informative video on Colombia google Colombia The Warmth of a Smile or CLICK HERE!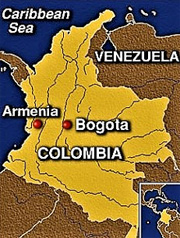 Day 480-481 26-27/12/2017: Still in Popoyan. Need to recoup before continuing north to Bogota.

Day 482 28/12/2017: Heading to Armenia. Have now covered 112.000 kilometres on this extended trip round South America. Armenia is 180 miles from Bogota. Weather miserable. Thunderstorms and wind. Not amenable and deliberately making life difficult.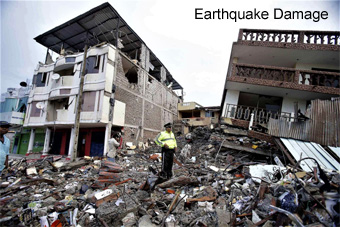 In 1999 Armenia suffered a severe earthquake on 25 January at 13:19. The shock heavily affected the city and about 18 other towns and 28 additional villages in the Colombian Coffee region. It measured 6.2 on the Richter Scale. Hopefully will not experience whilst I am there.

Day 483 29/12/2017: In Armenia and now only two days from Bogota where I will need to arrange for the Yamaha to be freighted back to the UK and for flights home. No sign of an earthquake!!!

Day 484 30/12/2017: Nothing open. Static.

Day 485 31/12/2017: NEW YEAR'S EVE and another year gone!! Where to? Into Week 70!
Week Sixty Eight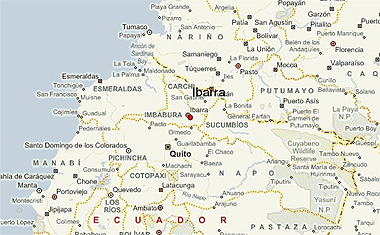 Day 471 17/12/2017: No news

Day 472 18/12/2017: Have had a nightmare few days. Bike broke down south of Atacames, small coastal town, in no man's land and had to wait for a truck to transport all to the town. Electrical fault again caused by severe conditions and the long distances covered. Trying to repair. Hopefully will get it going. Still unwell and not fully fit to ride.

Day 473 19/12/2017: Struggling again to keep going. In Manta on the coast and resting.

Manta is a mid-sized city in Manabí Province, Ecuador. It is the second most populous city in the province, and has existed since Pre-Columbian times. It was a trading post for the Mantas, the local people, and is now a centre for tuna fishing.

During Ecuador's Pre-Colombian history, Manta was home to at least seven different civilizations. According to some records, the Maya reached Manta around 500 A.D., but found it already inhabited by other groups, so they left. In 1526, the Spanish explorer Bartolomé Ruiz was one of the first Europeans to arrive in Jocay, the original name for Manta, In 1534, Pedro de Alvarado arrived with his fleet in Bahía, where he and his men set out on a conquest expedition. They encountered the indigenous population of Jocay by surprise and took Chief Ligua Tohallí prisoner. They also found large containers of gold, silver, emeralds, and precious stones. The Spanish controlled the area until liberation.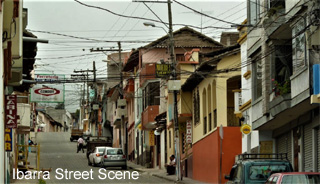 Manta possesses the largest seaport in Ecuador. The port was used by Charles Marie de La Condamine, upon his arrival in Ecuador, when leading the French mission to measure the location of the equator in 1735.

Between 1999-2009 Manta Air Base was used by U.S. air forces to support anti-narcotics military operations and surveillance flights against Colombian drug trafficking cartels.

Day 474 20/12/2017: Rode to Ibarra. Steady progress.

Day 475 21/12/2017: Made it to Tulcan, near the Colombian border. Told it will take several hours to clear customs. Uneventful riding.

Day 476 22/12/2017: Cancelled return flights as still 600 miles from Bogota. Cannot make it there for tomorrow. Will have to rebook.

Day 477 23/12/2017: Waited at the border for 7 hours and only got half way in the queue to the post. Problem is the knock-on effect of the Venezuelan crises as experienced before. Gave up waiting. End of a frustrating week.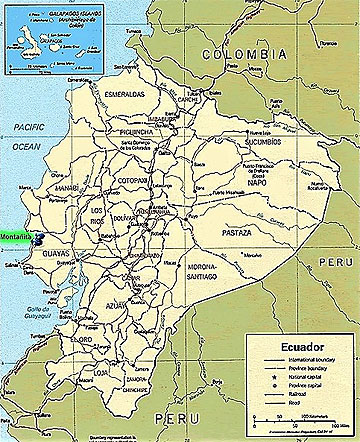 Week Sixty Seven
Day 464 10/12/2017: Have managed to get back on the road and crossed into Ecuador. Still feeling bad and struggling on the bike. Nothing to report so have searched out some info on the country.

Ecuador simply means 'equator'. The area was inhabited by Paleo-Indians around 16,000 – 13,000 years ago from north America, arriving probably by boat down the coast. The Incas became the dominant group before the arrival of the Spanish.

In the 1500s a small band of Spaniards headed by Francisco Pizarro landed on the coast and marched over the Andes Mountains until they reached Cajamarca, where the Inca Atahualpa met with them. Valverde, a priest, tried to persuade Atahualpa to join the Catholic Church and to declare himself a vassal of Spain. Atahualpa was so annoyed by this demand that he threw the priest's Bible to the ground. In retaliation the Spaniards attacked and massacred the unarmed escorts of the Inca and imprisoned Atahualpa. Pizarro promised to release him if he made good his promise of filling a room full of gold. But, after a mock trial, the Spaniards executed Atahualpa by strangulation. Must say there are other versions of this event so any historians out there please comment on my face book page.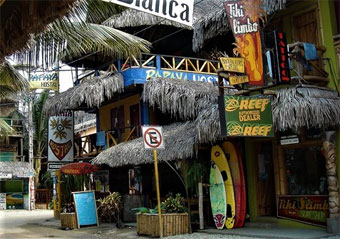 There is an excellent account of this episode in 'The Royal Hunt of the Sun', a 1969 British-American film based on the play by Peter Shaffer. It stars Robert Shaw as Francisco Pizarro and Christopher Plummer as the Inca leader Atahualpa. Plummer appeared in stage versions of the play before appearing in the film, which was shot in Latin America and Spain.

For 300 years the Spanish ruled the area, now known as Ecuador, and in 1809 Quito became the centre of an independence movement. The city adopted the title 'Luz de America' or the 'Light of America' because of its leading role in the struggle against the Spanish. It had a central position in urging other countries to claim independence.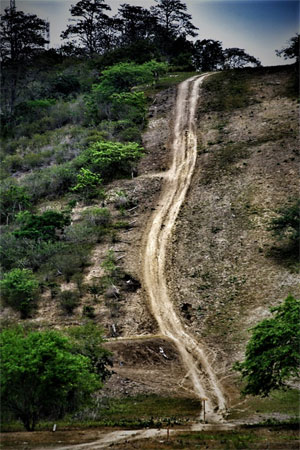 Ecuador has a varied climate, largely determined by altitude. It is mild year-round in the mountain valleys, with a humid subtropical climate in coastal areas and rainforest in lowlands. The Pacific coastal area has a tropical climate with a severe rainy season. In the Andean highlands it is temperate and relatively dry, and the Amazon basin on the eastern side of the mountains has a similar climate to other rainforest zones.

Because of its location at the equator, Ecuador experiences little variation in daylight hours during the course of a year. Both sunrise and sunset occur each day at the two six o'clock hours.


Day 465-466 11-12/12/2017: Slow progress to Montarita on the coast. It is an interesting beach resort which was a 'hippie' centre in the 60s and still attracts surfers and travellers looking for a relaxing beach life.

Still a long way to go to and no chance of catching flight home from Bogota on the 23rd. Drat the mosquito!!!!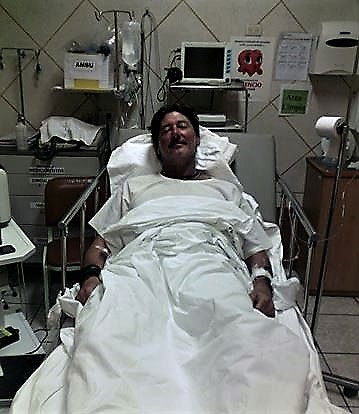 Week Sixty Six
Day 457-463 03-09/12/2017: Still in hospital. Advised to stay so, no news this week.

Week Sixty Five
Day 450 26/11/2017: In Lima but feeling very groggy. Need to go to hospital.

Day 451 27/11/2017: Revisited a camp site in Huanchaco on the beach last stayed in a year ago. Advised to go to Hospital in Lima.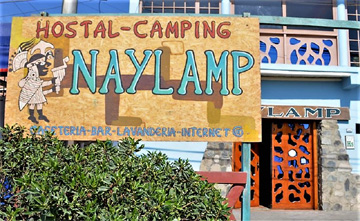 Huanchaco is a beach side town of Mochica and is the most visited beach of Trujillo situated 12 km northwest of the city in a bay at the foot of Campana Mountain, near the ruins of Chan Chan. This historic town is part of the tourist circuit called the "Moche Route"" or "Ruta Moche" and still retains its old charm.

Huanchaco's original population were indigenous fishermen, who worshipped the moon and a golden fish called Huaca Taska.Some accounts suggest the name "Huanchaco" may originate from "Gua-Kocha, a Quechua word meaning "beautiful lake". It was the main port for the Incas, and for Chan Chan, which was established 4 km away.

Following the Spanish conquest of 1534, the settlement was named "Huanchaco" on January 1, 1535 by the Franciscan friar Alonso of Escarcena and Juan de Barbaran. Huanchaco continued to be the main port of Trujillo city, until it closed in 1870.

According to Andrés Tinoco Rondan, an academic researcher at Ricardo Palma University, Huanchaco is the birthplace of ceviche. Oral histories suggest ceviche was prepared with lemons from Simbal (Yunga village nearby), with chilli from the Moche River valley and seaweed extracted from the sea. Ceviche is often served to tourists with the seaweed called cochayuyo or mococho which is taken from the shores of Huanchaco.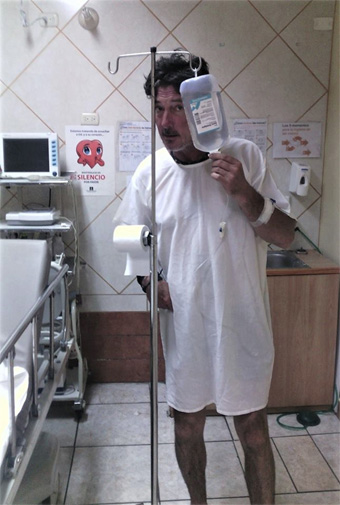 Day 452 28/11/2017: Diagnosed with malaria and hospitalised. On a drip and drugs that are sending me more stupid than I usually am. Forced imprisonment under treatment. Doctor speaks excellent English and looked after by a group of nurses who keep me under close observation.

Day 453-455 29/11 -01/12/2017: Still in Hospital. Into another month!!!

As you can see I am not wearing bike gear. This week I am a new superhero- Malaria Man- guaranteed to defeat no foe. I rode for 14 days over 3400 kilometres, ill, over the Andes and through the Peruvian Desert. I finally had to pop to the Hospital with near kidney failure, temperature of 39.7, dehydration, less red blood cells than a tea biscuit and of course- Malaria. After 9 litres on a drip and millions of Smarties, all is good. Apparently I have only aged ten years in one year so must be a good trip! I will continue the world's slowest circumnavigation of South America very soon.

P.S. Malaria is not nice. An obvious point travelling friends - You can scrimp and save by camping and eating sardines all day but always get medical insurance because if you don't it will be the bill, not the malaria, that kills you.

Day 456 02/12/2017: Malaria under control now just need to bring platelet count up from 13 000 to over 100 000. Will try and escape tomorrow to Hostel to recover. End of a lovely, restful week.
Week Sixty Four
Day 443 19/1/2017: STUCK. In Inambari. Becoming a nightmare.

Day 444 20/11/2017: Rode from Inambari to Madre de Dios (Mother of God) next to Rio de Los Amigos. Looking for a friendly rest house. Actually any place to stay. Mother of God seems to be out of town.

Day 445 21/11/2017: Still feeling unwell. Finding it difficult to concentrate. Depressed. Finding it difficult to concentrate. The dockside and ferry across the Madre de Dios River.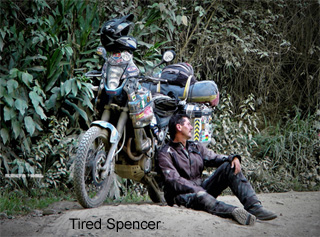 Day 446 22/11/2017: Decided to risk riding with high temperature. Body cracking up. Made it to Apurimac. Hell of a ride as severe headache and difficult track made for an unenjoyable few hours although the countryside spectacular.

Day 447/ 23/11/2017: Got to a small town, Ayacucho, must try for Lima tomorrow. Found some interesting info on the area though...

Ayacucho is the capital city of Huamanga Province, and is famous for its 33 churches, which represent one for each year of Jesus' life. Every year Ayacucho has religious celebrations, especially during the Holy Week of Easter. These include horse races featuring Peruvian Caballos de Paso and the traditional running of the bulls, known locally as the jalatoro (pull the bull) or pascuatoro. (Easter bull).

The Spanish colonial founding of the town was made by Francisco Pizarro on April 25, 1540, who named it San Juan de la Frontera de Huamanga.[2] Due to the constant Incan rebellion led by Manco Inca Yupanqui against the Spanish, Pizarro was quick to populate the settlement with a small number of Spaniards brought from Lima and Cusco who established Spanish dominance.



The name, Ayacucho, is derived from the Quechua words aya (death) and kuchu ("corner"), referring to a major battle for independence. On February 15, 1825, Simón Bolívar changed the city's name to Ayacucho, after an historical battle. Upon seeing so many casualties on the battlefield, citizens called the area Ayakuchu, "death corner". The hard won victory gained independence for Peru and South America.

The city's University was founded on July 3, 1677 as San Cristóbal of Huamanga. Vestiges of human settlements more than 15,000 years old have been found on the site of Pikimachay, about 25 km north of Ayacucho.

Day 448-449 24-25/11/2017: From Ayacucho to Lima, via Pisco on the coast, 350 miles. Still groggy and need to rest. End of week.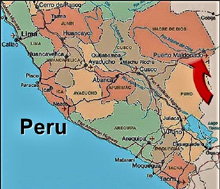 Week Sixty Three
Day 436 12/11/2017: In Inapari border town with Peru. The road was a bit tough. Entering Peru towards Cusco then through the middle of Peru northwards. Road through park closed so another detour!!!

Mazuko tomorrow, in the lowlands, then Cusco, to face the Andes again, then directly north. Sick today. Hope not malaria.

Had an incredible experience one of the highlights of my 'adventure'. Not set up like nature documentaries but caught a wild life creature on camera. Having stopped by the side of the road because of numb bum, one metre away from where Cathi was sitting was a six foot snake as thick as my wrist. It was black at the front and bright yellow at the back. It was eating a giant cane toad. I managed to catch it and we filmed him for five minutes. Great footage. He dropped the toad when I grabbed him but I gave it back and off he went. A beautiful experience. Made our day. Trying to find a picture on the internet because all too rushed to photo on tablet but got him clearly on the main camera.



Day 437 13/11/2017: After another hard day of riding and with bike a little sick reached Puerto Maldonado still in the tropical Amazon Basin, hot and humid about 28°C. Apparently the annual rainfall exceeds 1,000 millimetres (3.3 ft). The wet season is from October to April. The main part of the town is located on a slightly elevated area that does not normally flood in the wet season. Road travel often becomes impossible during this time.

A common phenomenon known locally as a surazo or friaje occurs when polar winds blow in from the mountainous south. The temperature drops to as low as 8°C (46°F) for several days.

The road to Cusco, the centre of Inca civilisation. From here the Incas constructed a road that extended 3000 miles north and south over the most difficult of terrains. Excellent masons and engineers. Just to remind you that the name Amazon emanates from the legend of warrior women who fought the Conquistadors. A Dominican Friar, Gaspar de Carvajal left an account of these women. "ten or twelve of these Amazons were fighting in front of the men as female captains. They were tall, white and naked, with only their private parts covered, and each did as much fighting as ten men."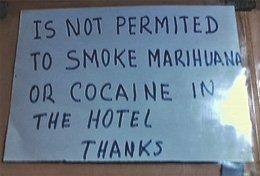 Day 438 14/11/2017: After a hard day riding reached Mazuko which is halfway between Maldonardo and Cusco. Must say it is becoming a test of endurance and determination as my trip is extended constantly by ever changing routes.

Day 439-440 15-16/11/2017: Two days to get to Cusco. Weather changing. Becoming very unpleasant.

Day 441 17/11/2017: Cusco is a sprawling place but too cold and feeling ill to explore. Need some rest and comfort.

Day 442 18/11/2017: Cannot move as heavy hail storms prevented riding. Holed up in a run down 'hotel'. Very up and down week.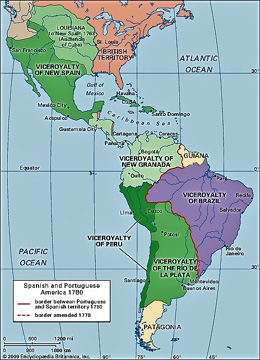 Week Sixty Two
Day 428 05/11/2017: Made it to Manaus and about to decide my route. From now to Peru some very problematic terrain to cover and National Parks to navigate.

Day 422 30/10/2017: Heading south and traveling too fast, need to cover mileage as quickly as possible. 2687ks since San Cristobel. 360 Ks in one day.

Day 429 06/11/2017: In Manaus. Just been thinking about this region which has attracted explorers for years and which lead to the deaths of many. There has been talk of 'lost cities' in the Amazon since the eighteen hundreds and this inspired adventurers to hack their way into the jungle on quests of discovery. Satellite imagery first revealed geometric shapes in 1999 and deforestation is revealing extensive sites that some anthropologists say required sophisticated engineering to construct canals and roads that rival the building of Egypt's pyramids.

The findings follow separate discoveries further south, in the Xingu region, of interconnected villages known as "garden cities". Dating between 800 and 1600, they included houses, moats and palisades.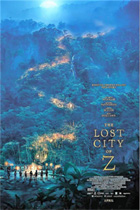 "These revelations are exploding our perceptions of what the Americas really looked like before the arrival of Christopher Columbus," says David Grann, author of 'The Lost City of Z', a book about an attempt in the 1920s to find signs of Amazonian civilizations. This has been mentioned previously.

It now seems as if Percy Fawcett, who led the expedition to find the 'City of Z', could have been correct in his proposition that such development existed. Fawcett's party, that included his son, vanished, and the mystery of their disappearance inspired Conan Doyle's book 'The Lost World'.

Many scientists saw the jungle as too harsh to sustain anything but small nomadic tribes. Now it seems the conquistadores who spoke of "cities that glistened in white" were telling the truth. They, however, also introduced the diseases that wiped out the native people, leaving the jungle to claim — and hide — all trace of their civilisation.

With luck I might find the cities of gold to make me a rich man. I'll let you know.

Just heard that the Natural History Museum in London has mounted an exhibition on venomous insects. An entomologist, Justin Schmidt, who has spent his life being bitten by the most deadly to test the effects of poison stated that the worst bite he has experienced was by "the unassuming bullet ant which inflicts pure, intense, brilliant pain. Like walking over flaming charcoal with a three inch nail embedded in your heel."

I can agree with this assessment. More than an "OUCH". An 'OUCH' 'OUCH' 'OUCH'.

Also, whilst in a contemplative mood, one has to consider that the Spanish and Portuguese were responsible for opening up the 'the new world' and how much the influence of both countries affected the development of South and Central America. The culture of these vast areas is in great part through the introduction of the language, religion and the arts of the people from the two European countries. The map below shows the extent of the colonization of Spain and Portugal.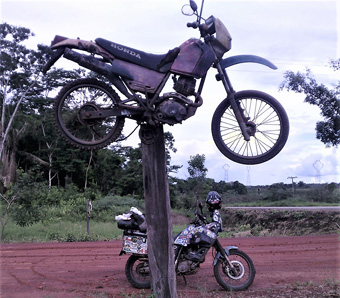 Day 430-431 07-08/11/2017: Weaving down the Ghost Road through the Amazon from Manaus to Porto Velho. Decided ferry was soft option. Loved it. 550 kilometres of dirt across seventeen rickety bridges.

Was not raining so super lucky but real tricky riding. Heading into Peru tomorrow. The bike in the photo below was at the end of the unmade track. Honda XL 185 is my guess but correct me if I am wrong. One of the rare occasions Honda is above Yamaha! Hope everyone is happy and expect stick from Honda lovers.

Officially named on October 2nd, 1914, Porto Velho was founded by pioneers around 1907, during the construction of the Madeira-Mamoré railroad. After the railroad was completed, the local population was about one thousand inhabitants and the wooden houses of the mainly Barbadian workers was the town's largest district, known as "Bajan Hill" or "Barbados Town".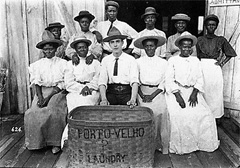 During the first sixty years, the city's development was directly connected to the railway's activities. The town prospered during the rubber boom, but then low-cost Malaysian rubber made it uncompetitive from the Amazon, the region's economy ground to a halt. Cities like Santo Antônio do Madeira, which had a tram line and a weekly newspaper by the time of Porto Velho's foundation, are ruins now.

The picture shows the workers from the thriving laundry in Porto Velho.

Day 432-434 09-10/11/2017: Heading to the Brazil/Peru Border. Cannot go through the National Park as the road is closed. Going to veer south to Inapari border town.

Day 435 11/11/2017: Still on the road south. At the border. Back into Peru. Fim de uma semana desafiadora.

Week Sixty One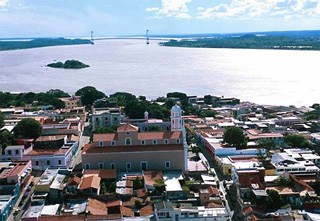 Day 421 29/10/2017: In Ciudad Bolivar, again!! Making good progress but not that interesting riding. Mainly tar and the occasional 'wild beast'.

Ciudad Bolívar is the capital of the state of Bolívar, south eastern Venezuela. It lies on a small hill on the south bank of the Orinoco River, 26 to 75 metres above sea level; the average annual temperature is about 29 °C.

The Orinoco River flows in a giant arc for some 1,700 miles (2,740 km) from its source in the Guiana Highlands to its mouth on the Atlantic Ocean. The town was founded in 1764 as San Tomás de la Nueva Guayana de la Angostura. In 1846 the name was changed to honour the Venezuelan liberator Simón Bolívar.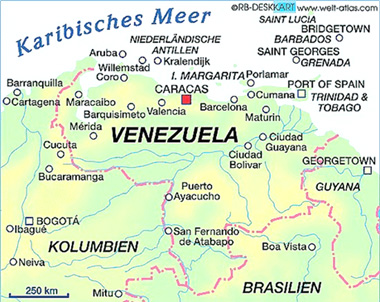 The bark of a local tree contributed to the flavour and medicinal qualities of Angostura Bitters, processed by a Prussian physician living in the area in 1824. The bitters were manufactured in Ciudad Bolívar until 1875, when, because of political instability in Venezuela, the manufacturing company moved to Port of Spain, Trinidad.

Ciudad Bolívar is the commercial centre of the Llanos (plains), the huge, sparsely settled grassland region drained by the Orinoco. The limited commerce of the Llanos came to be concentrated in a few river ports, the chief of which was Ciudad Bolívar, lying at the head of navigation for large vessels, about 260 miles (420 km) from the delta. Principal exports include gold, diamonds, cattle, horses, hides, skins, and some timber. With the completion in 1967 of the Angostura Bridge, in the background of the picture above, Venezuela's first span across the Orinoco, Ciudad Bolívar became a gateway to the rapidly growing industrial complex around Ciudad Guayana, 67 miles (108 km) downstream.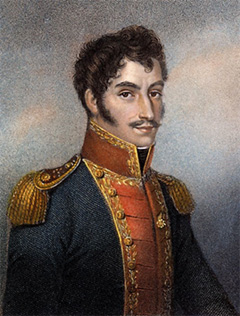 Simón Bolívar, The Liberator again, pops up everywhere!. He engaged the services of several thousand foreign soldiers and officers, mostly British and Irish, and established his capital at Angostura (Boa Vista), fighting the Spanish for independence. He was a man of many parts. Well-read and an intellectual who studied Literature and philosophy in Spain and who espoused social freedom.

Day 422 30/10/2017: Heading south and traveling too fast, need to cover mileage as quickly as possible. 2687ks since San Cristobel. 360 Ks in one day.

Day 423 31/10/2017: Halloween but little sign of Devils. Maybe at the border. Should get there tomorrow.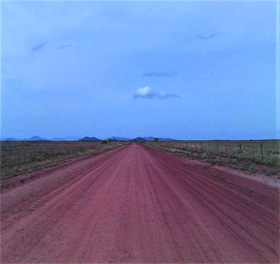 Day 424 01/11/2017: Another month. Reached the border with Brazil. Sad to leave Venezuela despite the problems. Can't speak too highly of the friendly people and help I received with money and supplies. Without aid would have been stranded, starving and stuck.

Day 425 02/11/2017: Still going south to Boa Vista.

Day 426 03/11/2017: Arrived in Boa Vista, Portuguese for ' Good View', and the capital of the Brazilian state of Roraima, 220 km (140 mi) from Brazil's border with Venezuela. Commerce mostly occurs with Manaus, where I will head next. Boa Vista stands out among the other capitals of the North Region of Brazil as it is a city with a radial plan, designed by the architect Darci Aleixo Derenusson who based his ideas for the city on one similar to that of Paris.

Day 427 04/11/2017: Heading to Manaus. Really into the Amazon uncharted areas. Will have to decide on my route west as roads turn into tracks and then disappear into the jungle!!! Hopefully will not disappear myself.
Week Sixty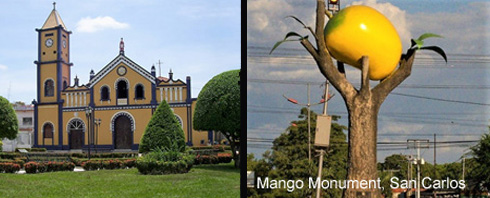 Day 414 22/10/2017: Should move this week. Waiting for road blocks to clear. Keeping the bike in a local garage lock up. Mechanics keeping it in secure section.

Day 415 23/10/2017: Given clearance to be on the road tomorrow.

Day 416 24/10/2017: Scheduled to leave very early but mechanic failed to turn up till very late so early start delayed. Said farewells to friends in San Cristobel.

Day 417 25/10/2017: Heading east across Venezuela. Fairly good going.


Day 418 26/10/2017: Made it to San Carlos.

Father Capuchino Fray Pedro de Berja founded the city of San Carlos de Austria on April 27, 1678.Spanish priests and colonialist influenced this region, as throughout Venezuela, this is clearly seen in the church architecture.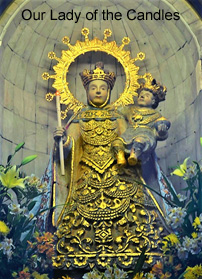 Day 419 27/10/2017: Uneventful ride to Valle de la Pascua the city is located in the central plains of Venezuela and was founded on February 25, 1785, by Father Mariano Martí. Valle de la Pascua is one of the most important cities in the state of Guárico and the most thriving economically. The city was the scene of the Battle of Valle de la Pascua in February 1814 in the fight for independence. Sites in the area include the Cathedral of Our Lady of Candlemas, the House of the Islanders, Ruben Zamora Church and Casa de la Cultura.

Our Lady of the Candles or Nuestra Señora de la Candelaria is known internationally as the Candlemas Virgin. There are various records as to the origin of this Catholic Saint. A wooden statue was said to have been found by shepherds in a cave in the Philippines. The men carried the statue to a house where their chief directed them to give it a place of honour. A few nights later they were surprised to hear beautiful music, and to see strange beings, all glowing and alight, setting candles around the strange "god" and lighting them.

A special house was built for the statue, and for fifty years there was beautiful music, light, and a lovely fragrance surrounding the statue that no one could explain. The natives made offerings of fruit and flowers, and noted that the light "beings" kept the candles burning around the crude altar. Thus the legend of the Lady of the Candles which spread to areas where the Catholic Church had influence. This is by no means the definitive origin of the legend.

Day 420 28/10/2017: Road block today in middle of nowhere. First scary one. Not police or army but four guys with guns. Waved us down so pretended to stop and then rode through the middle of them. Obviously didn't get shot or I wouldn't be telling you. Cathi was extremely angry with me but I made a split second decision. I felt if we stopped that would be it. Frightening. But still love Venezuela.

Aiming for Ciudad Bolivar tomorrow or further depending on road.
Week Fifty Nine
Sunday 15th – Saturday 21st October 2017: Still in Venezuela.



Day 407-413 15-21/10/2017: Once again no chance of moving across the country back to the border with Brasil. Forgot to tell you that I made a trip into Columbia, on foot, across the bridge which is the only place to cross from Venezuela.

Needed to get a tyre in Cucuta and a regulator. The one I ordered went 'missing' in transit. Picked up both and knowing that the Colombian customs would not allow a new tyre through I covered it in mud and rolled it along a track to disguise it as a used tyre. At the border it was inspected and was 'informed' that the 'old tyre was new. So take it back!' 'Llanta Nuevo. Nego a accepter!'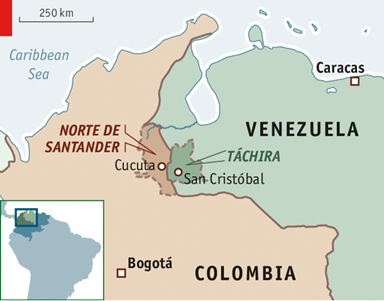 A one legged man approached me and said he could 'smuggle' it across for a small fee. I accepted his offer and he disappeared with it round his waist. I saw him 'walking' along the river bank and then plunge into the water half walking, half swimming and onto the Venezuelan side.

I ran across the bridge among the crowds to meet him, took the tyre and he waved goodbye. Problem solved.

How close I am from San Cristobel to Bogota. But instead have to skirt the dark blue on the map inset after riding east across Venezuela to the border with Brasil.

Hopefully roads open On Tuesday 24 October so will start on my detour then. Regrets no other news this week.
As I am 'Hibernating' in Venezuela thought some additional information on my 'adopted' country might be of interest.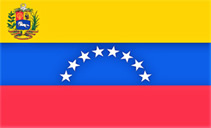 Officially named Bolivarian Republic of Venezuela it is a federal republic located on the northern coast of South America, bordered by Colombia on the west, Brazil on the south, Guyana on the east, the Dutch Caribbean islands to the north and the islands of Trinidad and Tobago to the north-east.

The country has an extremely high biodiversity and is ranked seventh in the world's list of nations with the most number of species. There are habitats ranging from the Andes Mountains in the west to the Amazon Basin rain-forest in the south, via the extensive llanos plains. Additionally, there is the Caribbean coast in the center and the Orinoco River Delta in the east.

Early Habitation

Dating from about 15,000 years ago human artefacts have been found but it is not known how many people lived in Venezuela before the Spanish conquest; it has been estimated at around one million.There were many small groups among them being the Kalina (Caribs), Auaké, Caquetio, Mariche, and Timoto-Cuicas. The Timoto-Cuica culture was the most complex society in Pre-Columbian Venezuela, with planned permanent villages, surrounded by irrigated, terraced fields. They were peaceful, for the most part, and depended on growing crops. After the conquest, the population dropped markedly, mainly through the spread of infectious diseases from Europe which decimated the local people, as elsewhere on the continent.

In 1498, during his third voyage to the Americas, Christopher Columbus, the famous explorer/sailor, sailed near the Orinoco Delta and landed in the Gulf of Paria. He was amazed by the great offshore current of freshwater which deflected his course eastward, and he expressed his thoughts in a letter to Isabella and Ferdinand stating that 'he must have reached Heaven on Earth. Great signs are these of the Terrestrial Paradise, for the site conforms to the opinion of the holy and wise theologians whom I have mentioned. And likewise, the [other] signs conform very well, for I have never read or heard of such a large quantity of fresh water being inside and in such close proximity to salt water; the very mild temperateness also corroborates this; and if the water of which I speak does not proceed from Paradise then it is an even greater marvel, because I do not believe such a large and deep river has ever been known to exist in this world'.

The map below was drawn by Bartolomeo and Christopher Colombus in 1490 in their Lisbon workshop. Amazing cartographers!!




His certainty of having attained Paradise made him name this region 'Land of Grace', a phrase that has become the country's nickname.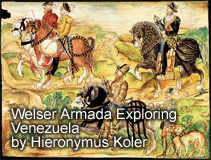 The territory was inhabited by the Spanish military from 1522, met by resistance from indigenous peoples. Native caciques (leaders) such as Guaicaipuro (circa 1530–1568) and Tamanaco (died 1573) attempted to resist Spanish incursions, but the newcomers ultimately subdued them; Tamanaco was put to death by order of Caracas' founder, Diego de Losada.

In the 16th century, Venezuela was given, as a concession, by the King of Spain, to the German Welser banking family.

In 1811, it became one of the first Spanish-American territories to declare independence which was not securely established until 1821. The first permanent South American settlement was the present-day city of Cumaná.

The town of Caracas, founded in the central coastal region in 1567, was well-placed to become a key location, being near the coastal port of La Guaira whilst itself being located in a valley in a mountain range, providing defensive strength against pirates and had a healthy climate.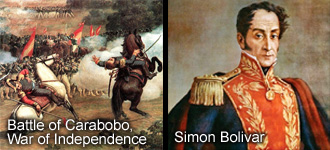 Spain lost its colony in the War of Independence which was under the leadership of Simón José Antonio de la Santísima Trinidad de Bolívar y Palacios (24 July 1783 – 17 December 1830), generally known as Simón Bolívar and also colloquially as El Libertador, a Venezuelan military and political leader who played a leading role in the establishment of Venezuela, Bolivia, Colombia, Ecuador, Peru, and Panama as sovereign states, independent of Spanish rule.

Since 1958, the country has had a series of democratic governments. Economic shocks in the 1980s and 1990s led to several political crises, including the deadly Caracazo riots of 1989. On 27 February 1989 protests, riots and looting broke out in Caracas and other cities across Venezuela as many people lived in poverty. There were two attempted coups in 1992, and the impeachment of President Carlos Andrés Pérez for embezzlement of public funds in 1993. A collapse in confidence in the existing parties saw the 1998 election of Hugo Chávez. The country is now under the leadership of President Maduro.

Hope this has been of some interest. Here endeth the educational lesson for today. Class will re-assemble Monday at 9 a.m.

Adiós y que los dioses estén contigo!

....oh, almost forgot! Continued thanks to John Delipps, our web master, for the excellent layout of the information on my web site, Spencer.
South American Log Book / Week Fifty Eight
Day 400 09/10/2017: This week has been a non-event. I have tried the border again but without any change on the Colombian side. The bridge crossing has a constant stream of Venezuelans walking into Colombia to buy essential supplies. Greetings from everyone but not from the Colombian officials who have been directed to bar all trans-border crossing by vehicles. It is possible to get taxis, once over on foot, to take you into Colombia into shopping areas. This is repeating what I said last week so still the same scenario.



A taste of what lies ahead on my intended route.

Day 404 12/10/2017: I have been advised to remain indoors as local elections are scheduled for the week end. More frustration as managed to get bike parts from Colombia with the help of my Venezuelan friends and will be repaired soon but cannot move. This is the lot of an 'Adventure' rider. Sometimes things just don't happen as you want. Have decided to travel east back across Venezuela to the Brazilian border and south to Boa Vista and west through the Amazon. This will take me to Peru and from there ride north to Colombia. Have been told to expect very difficult roads/tracks and also some high altitude climbing. It looks as if this will be another 7000 ks. Two more months. Not exactly desirable after 13 months on the Yamaha. From where I am at the moment in San Cristobel it is only 500 k to Bogota!!! Four days on the bike and I would be there to catch my flight booked for the 21st to the UK. Have to cancel the flight and loose the money as I have been told that Thomas Cook Airlines is not flying this route after the 4th November so cannot offer a change of dates.

You may wonder why I don't just get a flight home out of Brazil. Possible, but freighting the bike a problem. Even contemplated going back to Guiana to do this but despite enquiries no luck. Also have bike freight arrangements in Bogota with the company that got it there from the UK. And I want to complete the circumnavigation.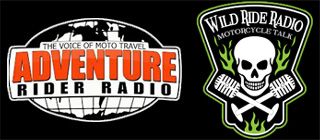 Day 406 14/10/2017: Conducted two very long radio interviews, one with Jim Martin of Adventure Rider Radio and the other with Dallas Hageman of Wild Ride Radio. Two super guys and knowledgeable experts on all things 'motorcycling'. Made my day.



Week Fifty Seven



Day 394 01/10/2017: Another month and still in Venezuela and due to fly out of Colombia on October 21st. Still on to go through the border either tomorrow, Monday, or Tuesday. Waiting for official documentation for passport control. Have been told by Colombian consulate that all will come through.

Day 395 02/10/2017: Informed by Consul that customs officials have been advised that I will be at the border tomorrow and to let Cathy and the bike through. Don't know about myself!!!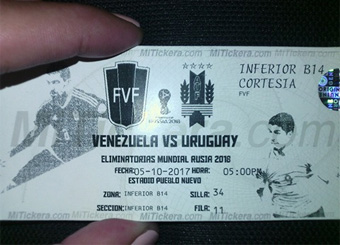 Day 396 03/10/2017: Don't know how things could get worse. Went to border, allowed exit but refused entry into Colombia. Had to go back. Battery died, borrowed one from biker friend, that died also. Put bike on truck back to San Cristobel. Dynamo burnt out. Political situation at border getting worse. Got to fix bike somehow and can't seem to get out of here even when bike fixed. Another meeting with Colombians tomorrow. No flights for bike from Caracas. Strike on freight. They seem at a loss as what to do with us. Can't believe how we got in. New situation for them. All super hospitable and very encouraging but can't seem to make it happen.

Day 397 04/10/2017: Still no sign of progress.

Day 398 05/10/2017: Now becoming very worrying. Can't face having to go back all the way to Brazilian border. Only good thing was being invited to the international football match between Venezuela and Uruguay.

Day 399 06/10/2017: Incredibly exciting match. Lots of drumming, shouting and colorful. Lost my voice cheering on Venezuela but another nil/nil draw. After the match taken to the team hotel and met the players and the TV commentator. Had a long chat and interview.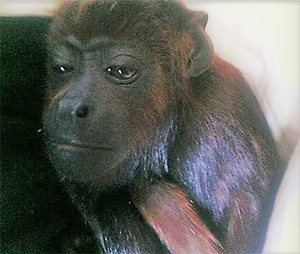 Bike should be repaired tomorrow but once again more meetings with officials but Colombia still closed to traffic, only taxis on the other side of the bridge which is the crossing place from Venezuela. Can ride to the bridge, park the bike, and walk across. I am not abandoning my Yamaha.

Day 340 07/10/2017: No movement yesterday and today. End of week. All I can say is that I have made some wonderful friends here who have been supportive and incredibly helpful. Let's hope that a new week will bring some joy!!

Found this little fellow, only 12 cms long, abandoned by his mother. It is a Howler monkey, not a beauty but very sweet. Named Horatio!!
Week Fifty Six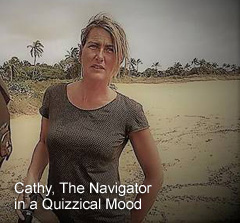 Day 387 24/09/2017: Sunday so no news on exit from Venezuela. Have met some lovely Venezuelans who are friendly and helpful. They may have contacts to help with the border problem. In the meantime being treated to super Venezuelan hospitality.

Day 388 25/09/2017: My Friend says that the border here has been closed since late 2014 to traffic and if I manage to cross with the bike it will be the first vehicle for three years.

Day 389 26/09/2017: Group of bikers made contact and invited me to join them on a ride along a rocky mountain track, amazing people and a fantastic day. What a wonderful country!! No news on border crossing. Have to leave soon in order to get back to Bogota and make the flight back.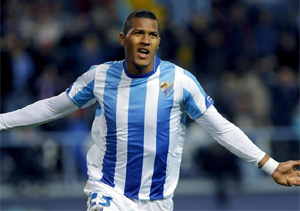 Day 390 27/09/2017: Stopped in the street by a chap. Thought PROBLEM. But NO. Manager of the city football team who asked me all about the bike and the trip. Very, very interested. Then what? Invitation. To where? The football stadium to watch Deportivo Tachira v Merida!! VIP treatment and my first ever live football game in Venezuela of all places. A great match but nil nil draw. MY TEAM DESERVED TO WIN HIT THE BAR THREE TIMES.

Jose Rondon Venezuelan Soccer Star. Now playing for West Bromwich UK Premier League Scored on 30/09/2017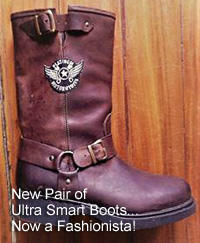 Day 391 28/09/2017: After 46 000 kilometres we are about to become the first bikers in four years to enter Colombia from Venezuela escorted by the Platinum Motorcycle Club, the Police and the Army. We have been given permission to film this historic moment. After 126 countries that I have been to Venezuela is my favourite. The landscape is magical and the people beautiful inside and out. Come on people-get over here. Don't believe the scaremongers. So onwards! Sad to leave but Colombia here we come. Hopefully. If not a 5000k detour to go back to entry point into Brazil.

Day 392 29/09/2017: Loud knocking on my door. Must be my biker friends. NOT SO. Five Army Personnel fully kitted and with AKS. OH! OH! "Are you Spencer Conway?" YES. "Where is your motorbike?" Are they going to impound it? "We would like to see your bike." OK. Is this the end of my bike?


Took them to the parking area, no sense in arguing. Joy and smiles all round. Proceeded to take photos with them around the bike and each one seated. "Spencer, we love your bike and we will escort you to the border when you leave. We salute you!!" Hand shakes and farewells.

Venezuela is proud of its cycling team which competes all over the world. Has some top men and women internationally. They train at altitude so excel on mountain stages in races.

Day 393 30/09/2017: Saturday and not much further. Looks as if will not get border papers till next Tuesday so will have to kick heels for a while. Bikers coming from Caracas to say hello. Feel very privileged to have been treated with such kindness. End of an incredible week.
Week Fifty Five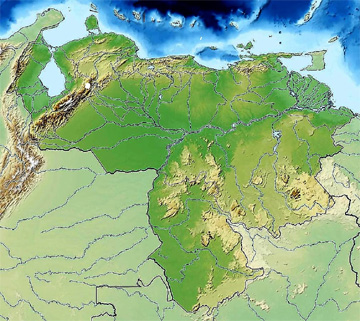 Day 380 17/09/2017: Repaired tyre but will not last long. Still in National Park near the white spot top left on the map.

Came across this peanut-head bug. Apparently the bug's bite is deadly depending on the colour of its wings, or that its bite is only deadly if the bitten indulges in sex within 24 hours. Actually the "peanut bug" is a harmless plant-hopper that sucks through its mouth and can't even bite. Didn't chance it!!!

The fauna of Venezuela consists of a huge variety of animals. Venezuela's diverse wildlife includes manatees, Amazon river dolphins, Orinoco crocodiles and Jaguars.

Day 381 18/09/2017: Managed to travel through the Park to within 100 kilometres of the Colombian border. It has been more than incredible. It is by far the most beautiful country and the best people despite the danger element. A full exciting programme for TV in itself. Police caught me filming and three armed guys arrested us and took us to the Station. I managed to remove memory stick and Cathy hid it on herself. and we got footage with the Army and Police. Rode through a valley of magical trees, flowers and mist. Never seen such colours. No tourists here at all. Had a crash in a ditch and smashed tablet so limited communication. Border tomorrow.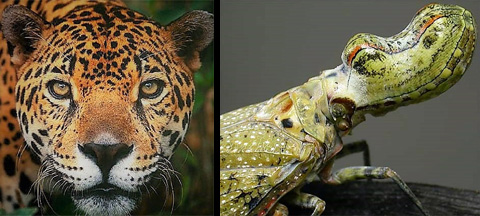 Not sure if border is open. No one seems to know.

Day 382 19/09/2017: Got a new tyre. Venezuela dirt cheap, friendly people, markets have fruit and veg here. Have been through very varied terrain.

Day 383 20/09/2017: In San Cristobal. The border is closed.

San Cristóbal is the capital city of the Venezuelan state of Táchira. It is located in a mountainous region of Western Venezuela. The city is 800 metres above sea level in the northern Andes overlooking the Torbes River, 56 kilometres from the Colombian Border.



San Cristóbal was founded on March 31, 1561 by Juan de Maldonado, it grew rapidly as one of the most important centers of commerce in the country, due to its rich soil and its proximity to the border with Colombia.

Juan Maldonado y Ordóñez de Villaquirán was a Spanish military conqueror and explorer during the time of the Spanish conquest in South America. He grew up in Salamanca, and attended religious services in the Romanesque Parish Church of San Cristobal, from whence comes the name of the city. He left Spain at the age of 15 for the New World and found his way to the city of Santa Fe de Bogota where he lived for seven years, and thence started his military career. Amazing how at that time one could rise to become the founder of a city at a very young age. Is there a film about him? Could be very dramatic and picaresque.The city was severely damaged by the Earthquake of Cúcuta in 1875.

We can get stamps and bike papers out of Venezuela from the Governor here. We cannot get into Colombia side as too many Venezuelans are flooding into the country. It is a crisis. We might be able to get across on foot but not with the bike. Disaster!! Contacting agent in the UK to see if he can get permission through the Colombian Consulate.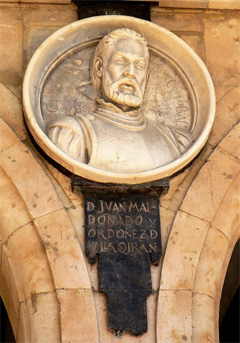 Mexican earthquake news here and very sad to hear about it.

Day 384 21/09/2017: Problem with money. None available officially. Trying to source some locally through other channels. Managed to find cheap accommodation as no camping and not that safe. Have met a guy who says he has a relative in the Colombian Consulate so he will speak with her about the border situation. Hopefully a solution can be found.

On a lighter note, the receptionist is called Jesus and he told us if we need anything we must just ask. This could be a God send!!

Day 385 22/09/2017: Just heard about Emma Kelly, the kayaker, who was murdered on the Amazon by drug pirates. This was not too far from Manaus where we were not long ago. A very horrible death.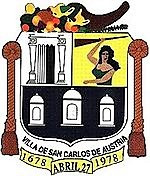 Day 386 23/09/2017: Going to the Colombian Consulate today.
Week Fifty Four
Day 373 10/09/2017: Heading to Valle del la Pascua and then San Carlos. More depressing as dying dog outside our room and other unpleasant things.

Day 374 11/09/2017: Attempted mugging by two guys on motorbikes whilst looking for somewhere to buy food. Managed to push between them and escape by jumping into a motorbike taxi. Not safe to be out on the streets.

Day 375 12/09/2017: Made it to San Carlos. Seven army roadblocks. Kept us a while but no problems. Gave them one dollar for being helpful! Moving on at 6.00 am. Father Capuchino Fray Pedro de Berja founded the city of San Carlos de Austria on April 27, 1678.

Just came upon some news about research carried out by a team from Pontificia Universidade do Rio Grande do Sol in Porto Alegre where I was recently and at the time wondered why there were so many dogs and cats in the city. Thirty three people owned 915 dogs, 382 cats and 50 ducks. Am I going "Quackers" to report this? Apparently the research was into a psychiatric disorder known as 'Animal Hoarding'.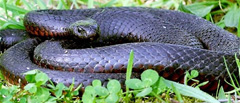 There are simply hundreds of snakes in Venezuela, some huge and others extremely poisonous. Mainly hide away in the jungle.I found this dude today. He is Monty the Mapanare snake from Venezuela. People tend to exaggerate about size (OK, enough of that) but I held him up in the air and he was way taller than me. I am six foot four, so seven foot minimum. Absolutely made my day. Venezuela is incredibly beautiful. The women all look like super models (and the guys too, but that's not my thing) This is how Venezuela should be everywhere.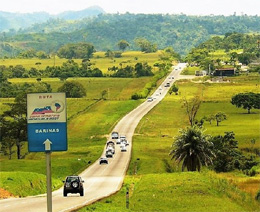 Day 376 13/09/2017: In Barinas. Torrential rain. Impossible to ride today.

Day 377 14/09/2017: Traveling west from Barinas towards the border. This is a different Venezuela. People amazing, landscape getting better and better. Plan to head into National Park and then to the border with Colombia but told it is closed. Don't fancy making Venezuela my permanent home although beautiful and interesting here. Forests and jungle, mucho wildlife.

Day 378 15/09/2017: In National Park, Sierra Nevada. Will stop here for filming and a day's rest.

Just a little information on Venezuela as I will be leaving soon. It is on the northern coast of South America, as you can see from the map, with many diverse natural attractions. Along its Caribbean coast are tropical resort islands including Isla de Margarita and the Los Roques archipelago. To the northwest are the Andes Mountains into which I will be heading shortly, Via Merida. This is an old colonial town and when tourist come is the base for visiting Sierra Nevada National Park. Caracas, the capital, is to the north.



I am coming towards the final stage of circumnavigating South America and it looks as if the whole journey will take me 13 months and near 48 000 ks.

Day 379 16/09/2017: Have split tyre so grounded. Trying to patch so I can carry on. Have not seen anybody all day. There are no tourists here so nobody else around. Will use banana leaves for patching!! Surrounded by some multi-coloured creeping creatures and some deadly looking insects.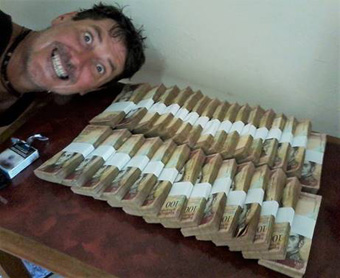 Week Fifty Three
Day 366 03/09/2017: Taking the road north from the border.

No problem with customs and friendly greetings all round. Numerous road blocks but smiling police. Changed money, this is the Bolivars in exchange for a few dollars. Official Rate!!!!?

Day 369 06/09/2017: In Kamoiran 166k from the Santa Elena Border. So far people have been wonderful but told that next part of the road is dangerous. Logging bandits and other gangs on the way. Have been told this several times but all well so far. Waiting for petrol tanker to arrive as supplies are limited then will head directly west. Note the road.

Day 370 07/09/2017: Still waiting for petrol. Not so pleasant here.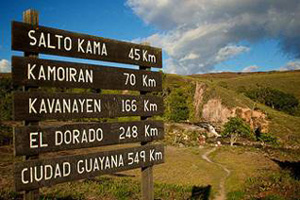 Day 371 08/09/2017: Riding west as managed to get fuel. Twenty three litres for ten pence. Many police and security personnel on the road. Heading to El Tigre and signs of depression everywhere.

Day 372 09/09/2017: Made it to El Tigre but will not report now on the situation. Plan is to get on to Calabozo then Merida and into Colombia. Problems!!!! And not so happy now. Very depressing. End of week.
Week Fifty Two - ONE YEAR!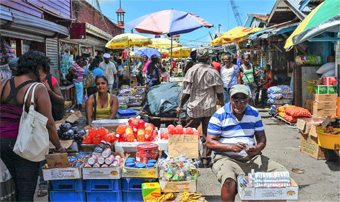 Day 359 27/08/2017: Still in Georgetown restocking equipment and supplies. Not good news about Hurricane in Texas. Hope it doesn't come this way. More sabre rattling by Trump and the missile launch by Korea. Is the world becoming more unstable?

Day 360 28/08/2017: Georgetown is a mix of people, many of African and Indian descent, and is the capital of Guyana. It has a fairy tale-like appearance, thanks to the tree-lined streets and avenues and the quaint Dutch colonial and Victorian architecture from its days as Dutch and English colonies. It has houses on stilts with colourful facades and vibrant and unusual pictorial designs. The market sells a stunning variety of fruit, vegetables and other goods.

Located at the mouth of the Demerara River with its outlet into the Atlantic Ocean, Georgetown, was first named Stabroek, by the Dutch. It was an ideal location for a European presence in the Caribbean as it was rich in timber, bauxite, gold and diamonds. The local area supported sugar cane plantations and enriched the colonial governments. It attracted the Spanish, Dutch, French and English for the promise of wealth and beneficial living.

The Dutch initially established Stabroek after the design of Dutch cities, but the British seized the colony during the Napoleonic Wars and renamed the capital Georgetown, in 1812, in honour of George III, during the time of fighting the "American War" and what is known in the US as the 'War of 1812'.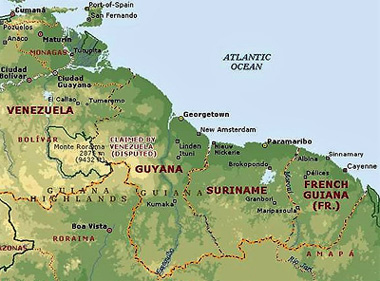 Day 361 29/08/2017: Have to leave Georgetown and head south back into Brazil as it is the only route out of the country that will take me to Venezuela. It means riding to Boa Vista and then travelling north to the Venezuelan border, the only crossing into that country.

Day 362 30/08/2017: Making progress to Boa Vista.

Day 363 31/08/2017: Had an incredible ride down to Boa Vista, the capital of the Brazilian state of Roraima. Situated on the western bank of the River Branco, the city lies 220 km away from Brazil's border with Venezuela. It is the only Brazilian city located entirely north of the equator. Since the beginnings of the 16th century, the region was disputed territory, as it had rich mineral reserves. The Spanish, Portuguese, Dutch and English all claimed it during a long period of wrangles until the beginning of the last century. In 1943 the Federal Government created the territory of Rio Branco, which became Roraima in 1962, the name is taken from Mount Roraima. There are several archaeological sites in the state with ancient rock art and engravings.

Rode for fifteen hours non-stop on a really bad dirt road. It is the only road in Guyana going south and traverses Iwokrama National Park for which Prince Charles is a Trustee and who was here three weeks ago.

We stayed at a Police Bush Camp as eventually I could ride no further through tiredness. It was also getting very dark and raining and the lights on the bike shut down telling me to stop!!!. The camp had no electricity or generator and we slept on a hard earth floor. All sorts of insects befriended us. There was a long-drop loo, we were told, but did not venture to find it in the dark for fear of disappearing into the bowels of the earth. Before this we had struggled through mud and sand and potholes deeper than a volcanic crater!! There were many small rivers and streams to cross on the route. We fell at a water crossing and Cathi did a good impression of a drowning inebriate being completely submerged in the river. It was hilarious. Helped push trucks out of quagmires of mud. Filmed a lot.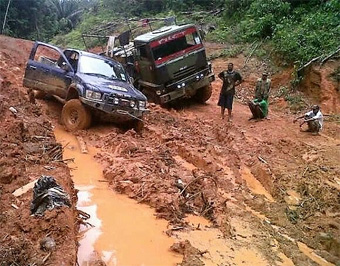 Cathi's Account:

We have made it to the Venezuela border after clocking 42,484km. The circumference around the earth at the equator is 40,030km. Tomorrow will be exactly 1 year since we landed in Bogota and started our adventure. What a ride it's been and one I would happily repeat. This continent is beautiful and the people have been amazing. Tomorrow we head into Venezuela. I'm going in with positivity and the same attitude I've always had. Firstly though I have to tell you how we got here...

We took the Lethem Road from George Town in Guyana to Brazil. I'm sure there are a few of you that have done this road or heard about it. It is about 550km of dirt, gravel, sand, red mud, rivers, potholes, deep ditches full of water, fallen trees, animals, collapsed roads and broken narrow bridges. This is surrounded by pure dense jungle with no civilisation in sight, except for two stop off points. Here you would find fuel, food, drink, toilets and showers, and traditional Amerindian structures called Benabs where you can hang your hammock and sleep for the night. It took us three days of hard riding.

We met some characters here but I never felt uncomfortable at any moment. We were also the only bikers there amongst hardened truckers and crazy taxi drivers. We constantly passed ne aother throughout the day as we all had difficult moments at some point, helped each other out or stopped to have a break. You even stay at the same stop so you just end up hanging out and getting to know others. Not the taxis though, those guys are nuts. They will drive for two days with no sleep. I was glad to be on the bike.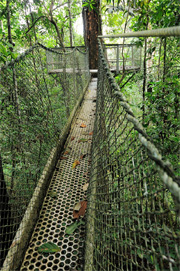 We had some hilarious moments. We drove through each watery muddy ditch rather cautiously because we never knew how deep it was going to be. Well I'm sure you are saying just check it out first. Well yes. But after doing it a thousand times you are happy to just take your chances. And yes we paid for it. We went through one rather deep puddle, hit a rock and proceeded to fall over in slow motion. Spencer won't let it go. He says he just looked around and I was under water. Yes I was, completely immersed. I didn't get hurt of course and to be honest, all day in 35 degrees or more in a tropical climate, bouncing around until your teeth hurt, you would welcome any dirty muddy ditch of water. I enjoyed every moment. We got to see many birds, monkeys, lizards, snakes, butterflies and bats never mind the millions of insects and spiders I've never seen in my life. It was magical. I hope I don't have malaria.

We started each day at about 5am, with the idea that we would stop reasonably early and explore a bit. Well that's a laugh. It took us an entire day to reach the first stop, same to the second. To add insult to injury we only reached the first stop when it was dark. And bucketing down with rain, the sort that falls like a curtain. On a slippery muddy road. With a headlight that pointed to the heavens. The second night the same thing but we ended up at a police station In the middle of nowhere. Great couple of guys. It was basic but comfortable. There was no electricity and a long drop toilet in the jungle. But it didn't matter, I was exhausted so fell asleep as soon as my head touched my pillow. Even though there was no pillow... or bed really. No furniture. On the third day we hit the border before dark and the roads turned to tar. We crossed over without any problem. However we were caught in another tropical downpour so found a well-deserved pousada for the night. I shall never forget the woman's face when the stench that wafted off me reached her nose. Don't judge me. Go do it yourself...

Now to end, I must just add all the locals told us the road was good, "just a few ups and down with a few bad patches here and there". We were there in the dry season. I am very glad for this.


For information on a conservation project in the National Park follow the link below. Prince Charles introduces it but the real part of interest begins at about 4 mins and 8 secs. Really worth taking a look.


Going to Venezuela Consulate tomorrow to find out situation. It sounds incredibly bad. The latest I heard was only foot passengers through border.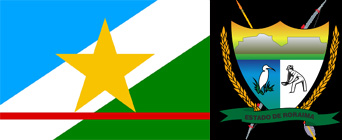 Day 364 01/09/2017: Another month... Visited the Venezuelan Consulate and was told that the border is open and a visa was not necessary so will head off to see what transpires as it promises to be chaotic!

Day 365 'ONE YEAR' 02/09/2017: Venezuela beckons.
Week Fifty One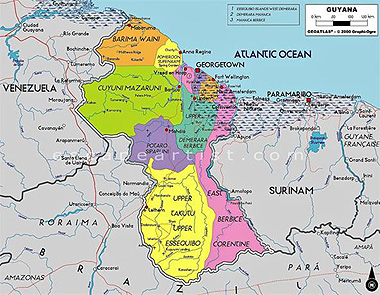 Day 352 20/08/2017: Back in Suriname after leaving French Guiana at 6a.m. to catch the boat and on to Paramaribo. As well as having to buy a tourist visa my International bike insurance was not accepted so had to purchase a local certificate and had multiple stamps on documents!!

Just a few thoughts stimulated by the red earth roads recently covered. It brought back memories of Africa where the roads are often the same red murram. I spent the first 16 years of my life in Africa and think of it as home and a place I love. In South America it has been a journey of discovery and notable for the vast difference in geographical features and varied cultures.

Here are icy wastes, deserts, mountain ranges, vast plains, raging waterfalls and rivers, forests and jungles. As I have only two countries left to travel through before returning to Bogota, Columbia, and then back to the UK I am reflecting on my experiences. This is a huge continent that has been influenced by colonialists from many areas. There are enclaves and outposts of European peoples, German, Welsh, English, French, Dutch and others. There are also Africans and traders from the middle-east, and of course the major influences of Spain and Portugal. The latter two were responsible for subjugating indigenous populations but have left South America with their languages and religions. The mixture has made the continent colourful and added an unforgettable vibrancy to its music, dress, food, and atmosphere. It is exciting, mystical and magical and I will be sad to leave it and the people with whom I have made friends.

Day 353 21/08/2017: Made it to Paramaribo, a former Dutch colonial town dating from the 17th century on the Northeastern coast of tropical South America. The town has streets of wooden buildings of Dutch and other European architectural design, built with South American materials, and later North American influences, as well as elements from Creole culture that reflect the multi-cultural society of Suriname are in evidence. The town adopted a grid pattern lay-out on a north to south axis and was developed from 1683 onwards.



Day 354 22/08/2017: Heading to Guyana, the only English-speaking country in South America and shares cultural and historical ties with the Anglophone Caribbean. Guyana's two largest ethnic groups are the Afro-Guyanese (descendants of African slaves) and the Indo-Guyanese (descendants of Indian indentured labourers), which together comprise about three quarters of Guyana's population. Tensions periodically have boiled over between the two groups, which support ethnically based political parties and vote along ethnic lines. About one-third of the Guyanese population lives below the poverty line; indigenous people are disproportionately affected.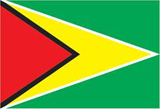 Guyana's emigration rate is among the highest in the world - 55% of its citizens reside abroad. More than 80% of Guyanese nationals with tertiary level educations emigrate. The limited medical resources are concentrated in Georgetown so that the health needs of its predominantly rural population are very poorly met. Guyana has one of the highest HIV rates in the region and it continues to rely on international support for its HIV treatment and prevention programs.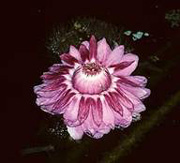 Day 355-356 Days 23-24/08/2017: Travelling along the coast towards the border in hot weather and on some rough roads.

Day 357 25/08/2017: Made it to the border but held up in customs for five hours so will not make Georgetown today. Pity. Frustrating day but keep cool.

Day 358 26/08/2017: In Georgetown. Beautiful dykes and canals along the roadways between Suriname and Guyana, filled with giant water lilies, known as Victoria amazonica a species of flowering plant, the largest of the Nymphaeaceae family of water lilies. It is the National flower of Guyana.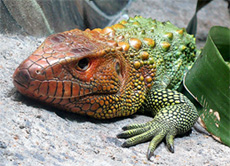 Many monitor lizards and an array of brightly coloured birds and insects checking out the bike. Remarkably inquisitive.


Getting mozzie nets, firelighters, water etc and possibly new front tyre for run to Boa Vista then into and through southern and central Venezuela up to northern Colombia and round to meet the return flight. Things still seem bad in Venezuela. Met some truck drivers who said there is no food, no toilet paper, cleaning materials, food etc. All imports stopped because President hasn't paid National Debt or foreign trade agreements.

Day 359 27/08/2017: End of an eventful week. Road to Boa Vista south of Georgetown promises to be rough. Some spectacular scenery and waterfalls on the way. Cathy is looking out for 'Fantastic Creatures'.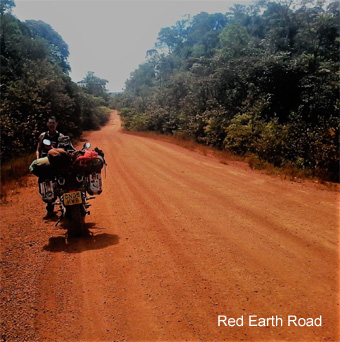 Week Fifty
Day 345 13/08/2017: Missed a couple of days trying to solve bike problems. Waiting for reply from Yamaha for info on possible resolution.

Day 346 14/08/2017: Still more anxious as help from another mechanic proved fruitless. Meanwhile living on mangoes!!

Day 347 16/08/2017: Yamaha sent some info but already been through their advice. Now taking exhaust and other parts to pieces. Further work on bike and, fingers crossed, seems to be OK. Not overheating. Booking passage to cross the Amazon Delta.

Day 348 17/08/2017: Made it to Macapa. It was a magical ferry journey. Everybody was in brightly coloured hammocks and super friendly. The trip took 30 hours in quite a fast boat so shows how big the mouth of the Delta is! The mangrove swamps and jungle river edge amazing with butterflies, brightly coloured parrots, but sadly no Anaconda. Rode bike up a narrow plank on to ferry to cheers, waves and screams from admiring women.

Got a room in Macapa and watching neighbours making drugs in derelict house. Very sad. I have food poisoning again!! Bike seems fine, fingers crossed. Hoping to make French Guyana in four days. Guy told me road to Guyana is tough.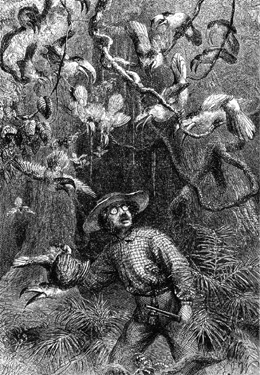 In March 1500, Spanish conquistador Vicente Yáñez Pinzón was the first documented European to sail up the Amazon River. Pinzón called the river Río Santa María del Mar Dulce, later shortened to Mar Dulce, literally, 'Sweet Sea', because of its fresh water rushing into the ocean.

Day 349 17/08/2017: Came across some information on an English naturalist, Henry Walter Bates, an explorer in the Victorian era who is most famous for his expedition up the Amazon. He, and his co-naturalist, Alfred Russel Wallace, embarked together in 1848 on an expedition to the forests of the Amazon in search of plants and animals to try to solve the problem of the origin of species. Wallace returned to England in 1852, but tragically lost his entire collection in a shipwreck.

Bates wrote of his exploration and experiences in 'The Naturalist on the River Amazon' which was published in 1863. It catalogues a wondrous range of natural life in vivid description and detail. These early guys were truly adventurous and sometimes foolhardy risking their lives in the name of science and discovery. Many, of course, died from accidents and disease.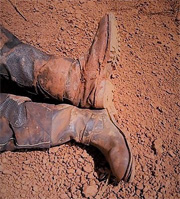 Day 350 19/08/2017: Made it Kourou north of Cayenne in French Guiana, having done a total of 834 kilometres from Macapa. The route through the Amazon jungle was tough red dirt, hence my boots!

In French Guiana waiting to catch a pirogue boat to Suriname. Actually went over earlier but they didn't like me so I had to come back on the ferry. Jokes aside, they were super cool customs dudes but I didn't have the paperwork. Been down Amazon- sloths, giant blue butterflies, hawks, eagles, monkeys, radically angry insects, deer, tortoises, iguanas, bats, and more. Mind- blowingly lovely and the people are top class. On way out and back on a road (phew) spotted this Caiman in the grass. Sadly he had kicked the bucket. Called him Colin. 'Colin the Caiman' will be the title of my next book for children.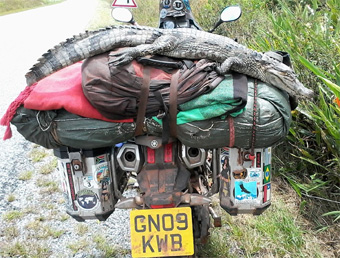 Just passed 41 000 on this trip. Hope everyone is good. Cathy Nel and I still rocking.

Beautiful. The highlight was spotting a three toed sloth we called Bernard. Got great footage of him and even gave him a stroke! Very lucky because they only come down from the canopy every three weeks to have a poo. They even blink in slow motion.

It was a real life experience, we sat with him for a half hour having an intellectual conversation.

The river we crossed is home to the very dangerous but beautiful blue poison dart frog, the rarest colour in nature.

We bypassed Cayenne because the outskirts were McDonald's and supermarkets. Going to try for Suriname border tomorrow and then Guyana, which is English, then down to Boa Vista in Brazil and then into Venezuela!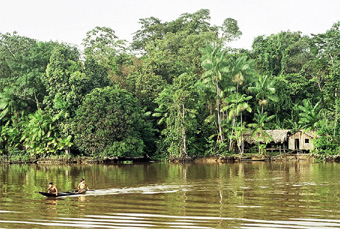 The border bridge between Brazil and French Guiana was finished in 2012 but was not opened until March this year because of disputes between the two countries. Gold smugglers from Brazil shot two French policemen!! Did not help the entente cordiale. This place is all French cars, French food, French shops and retains a colonial atmosphere. C'est une ville tres attractive, non!!

French Guiana is famous for Henri Charriere, (Papillon) and the brutal penal colony on Devil's Island. Also has an International Space Station with a rocket launch set for September 4th. Going to Space Station on way to Suriname but giving Island a miss as they charge €80 for an overnight stay. Don't fancy trying to escape through the sewers.

First signs of massive deforestation. Also saw the rare blue giant butterfly.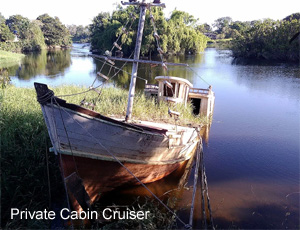 Amazing few days but incredibly expensive need to get out tomorrow.

Day 351 20/08/2017: End of Week and heading on.
Week Forty Nine
Day 337 06/08/2017: In Belem and planning onward route.

Day 338 07/08/2017: Went to the ferry terminal but told that I could not take my bike on the available ferries so will have to make enquiries to find an alternative. Meanwhile found Belem to be a colourful place. Lots of mango trees and pleasant streets.

Day 339 08/08/2017: Advised to check out cargo boats for Amazon crossing but the bike is overheating. Spent the day trying to solve the problem by stripping and rebuilding but without success. Major problem is that the exhaust is burning red hot.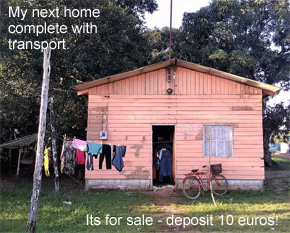 Day 340 09/08/2017: Bike to Yamaha garage to see if their mechanics have a solution to the red hot exhaust that actually glows!!! Not had this before and very worried.

Day 341-342/ 10-11/08/2017: Frustrated and desperate as the garage failed to resolve the issue.

Day 342 12/08/2017: No progress on the bike. Very, very gloomy and time ticking by. Have asked biker friends for help but have already done everything advised.

END OF A VERY ANXIOUS WEEK!
Week Forty Eight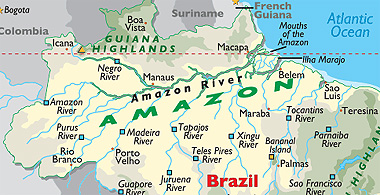 Day 330 30/07/2017: Back in full adventure mode. Made it to Sao Luis through off road terrain, bush and sand. Bike overheating.

São Luís is a town in north eastern Brazil, on an island in the Atlantic Ocean. Had to take a ferry to get to it. The town has an historic centre around Portugal Street, marked by colonial buildings with distinctive tiles and cast-iron balconies. This is very attractive. The Palace of the Lions has displays of French art and furniture. Very pleasant riding through the town after the hard slog to get here.

Thanks to all those who send messages to me. I try to reply to as many questions as possible but now have over 10,000 followers around the world so not able to respond to everyone but don't stop comments as it keeps me going. Day 332 01/08/2017 Caught the ferry back to the mainland and heading north again. Start of another month and on the road, actually more sand and semi-desert, hot and humid. Stopped to check overheating and found a very small hole in the plastic coolant tank. Used my lighter to heat the casing and sealed the leak!!! 'Quick thinking, Batman.' Seriously, have to solve problems as you go.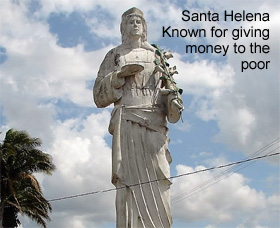 Slow moving traffic causing hold-ups. Those red feet tortoises again! Found a nice place to camp.

Day 333 02/08/2017:
Heading to Santa Helena but bike sank into very deep sand and found it impossible to move as ignition defunct. Walked back to get help but no sign of anybody. Decided to return to bike to dig it out and investigate the electrics. On return no sign of bike. Gone!! Absolute dismay, devastation and disaster. My beloved bike of 90,000ks no-where to be seen.

Decided to continue along the track as there were signs of tyre marks in the sand and found the bike outside a shack. A guy had pushed it through the deep sand and kept it outside his house because he was worried it would be loaded on a truck and stolen. He brought coconuts and chopped the tops off for a drink. He then went and brought water for the journey and offered to load everything on a friend's truck to get through the deep sand. Asked for nothing. Humbling.

Worked on the bike and got it going. Sand clogging moving parts and mine as well.

Day 334 03/08/2017: In Santa Helena, north of Sao Luis, only 400k from Belem. Progress is being made.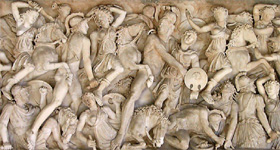 Day 335 04/08/2017: Arrived in Belem, the gateway to the Amazon. A landmark place and very excited to make it here. The Amazon River was so named as some early explorers boating along the river said they were attacked by warrior women from the jungle so named it after the story of the Amazon women of Greek myth.

The River is the second longest river in the world. It flows through Guyana, Ecuador, Venezuela, Bolivia, Brazil, Colombia, and Peru traversing a distance of 6,400 kilometers. It mainly flows through dense rain forests, but some cities have sprung up on its banks, with the largest being Manaus with a population of over 1.7 million people.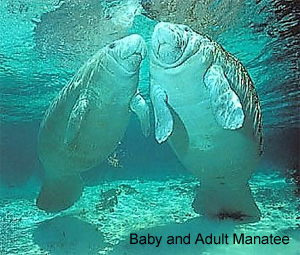 The Amazon River is home to over 3,000 different fish species. It has the world's largest variety of electric fish, and also the Amazonian manatee, related to the elephant, the black caiman, and river dolphins. The Amazon, and its tributaries, contains 20% of the planet's freshwater supply and rises to about 30 feet during the monsoons draining over 7,381,000 cubic foot of water into the Atlantic Ocean each second.

During the monsoons, the width of the Amazon River can reach 50 kilometers. With over 1,100 tributaries it is known as The River Sea. Many medicinal herbs are found in the forests and the uses of these are known to the indigenous tribes.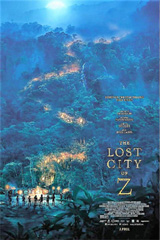 Since the discovery of the river explorers have been in search of lost cities and the indigenous tribes of the Amazon. Many have died, or disappeared, in the thick and almost impenetrable jungles. The recent film, 'The Lost City of Z', based on the exploits of one such doomed expedition, reveals the obsessive attraction of the Amazon. At the dawn of the 20th century, British explorer Percy Fawcett hiked into the Amazon, where he discovered evidence of a previously unknown, advanced civilization that may have once inhabited the region.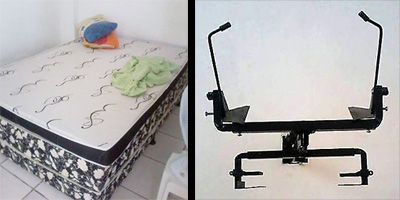 Day 336 05/08/2017: Found accommodation in Belem. Superior Quality.

As found, mattress, assorted pillows, but no other linen - TV bracket on the wall. No TV. Nice thought anyway.

This being Sunday have to wait till Wednesday for a ferry to Macapa. Meanwhile going to explore the Amazon. End of week.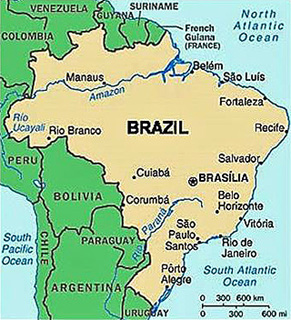 Week Forty Seven
Day 323 23/07/2017: In Fortaleza and waiting till tomorrow to repair bike. Needs new shocks and other parts. The bike has really suffered in the last couple of weeks as is has struggled through mud, sand dunes and water. Some hard riding and a challenge.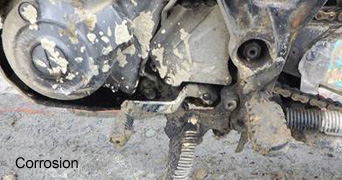 Day 324 24/07/2017:
Managed to work at a garage on the bike and replace parts with a little variation to original set-up. Seems OK. By the end of this trip the Tenere will be a re-made model. Fingers crossed it will get me back to Bogota. Had problems with payment as the ATM's would not accept my card. Delayed and await clearance from my bank in the UK.



Day 325 25/07/2017: Just had news that a female biker has named her new bike 'Spence'. I am honoured. Fame at last!!! Money cleared and so setting off along the coast, but only sand on my route.

Trouble continues in Venezuela which is now affecting Brazil as an estimated 30,000 Venezuelan migrants have crossed the border into the state of Pacaraima, looking for food, jobs and medical care in an influx that threatens to overwhelm local hospitals, police and social services. The chaos in Venezuela is causing huge problems for the municipal authorities struggling to cope with rising homelessness, begging, prostitution, hunger and ill health. Drug cartels are involved in most border regions involved in smuggling, extortion and kidnapping.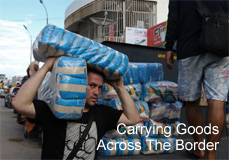 Day 326 26/07/2017: Still heading north along the coast and passing fishing villages.

Wide open spaces to negotiate through sand and waterways. Belas dunas douradas e deliciosas lagoas.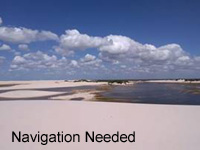 Day 327 27/07/2017: Reached Camocin which is a beach town with an historic past. It had a railway station but now defunct after the river changed course. This prevented boats reaching the settlement. It is now a genuine Cearense fishing town.

Day 328 28/07/2017: Moved on further along the coast. This is the only place in the world with sand dunes and lakes in between.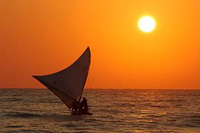 Day 329 29/07/2017: In Lencois Maranhenses National Park. Composed of large, white, sweeping dunes it looks like an archetypal desert, but in fact it is not an actual one. It is just outside the Amazon Basin, and has a rainy season at the beginning of the year. The rains cause a peculiar phenomenon: fresh water collects in the valleys between sand dunes and is prevented from percolating down by a layer of impermeable rock which lies underneath the sand.The resulting blue, green and black "lagoons" are surrounded by the desert-like sand, and reach their fullest between July and September. The lagoons are populated by fish when they are interconnected by rivers.

End of another week. Getting tired and running out of adventure spirit but not dismayed.
Week Forty Six
Day 317 17/07/2017: In Ponta do Mel, a small village on the beach. It is the only place in the hinterland where it meets the sea. It has been described as a "lost village in time, surrounded by colorful cliffs, clear and rosy dunes, facing the sea of Potiguar." A good place for camping.



Day 318 18/07/2017: Made it to Icapui after riding in sand and in the sea for 30 ks. Mega sand dunes. No roads!! Saw many dead animals and cows as there has been a drought. Only recently started raining but now dry. Many small houses deserted and some dilapidated.

O meu hovercraft está cheio de enguias. Any body know why this phrase is useful? Prize for the best answer is a recipe for eel pie.

Caught an octopus and cooked it for a meal. Brilliant sunset after 34 degree day. Good to have some sun. Heading to Fortaleza in the next few days.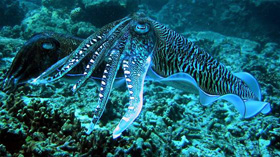 About octopuses

They are soft-bodied, eight-armed molluscs and around 300 species exist. The octopus has two eyes and a beak, with its mouth at the centre point of the arms, mistakenly called "tentacles". The soft body can rapidly alter its shape, enabling octopuses to squeeze through small gaps.

Octopuses inhabit various regions of the ocean, Most species grow fast, mature early and are short-lived. During breeding, the male uses a specially adapted arm to deliver a bundle of sperm directly into the female's mantle cavity, after which he dies. The female deposits fertilised eggs in a den and cares for them until they hatch, after which she also dies.

Day 319 19/07/2017: Ponto do Mel. Moved further along the coast. Very slow progress as have to negotiate sand and dirt tracks. Large pot-holes also a hazard. Big enough to loose the bike. No places to get food. Coconuts and fish!!! Slept in a ruin of a shack along with some colourful creatures.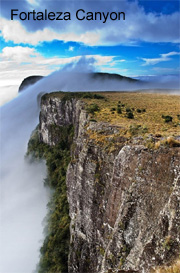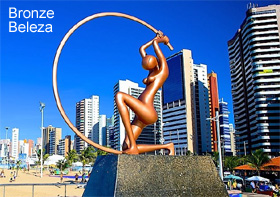 Day 321 21/07/2017: Fortaleza. Back to a city. Not my thing. Have to make some bike repairs. It is really taking a beating. Need to spend a couple of days here to prepare for the next challenge.

The city is known for its beaches, red cliffs, palm trees, dunes and lagoons. Fortaleza has a folkloric tradition which is celebrated in dance performances at the art nouveau José de Alencar Theater, open since 1910. Ex dancer below!!! Hoop La LA!!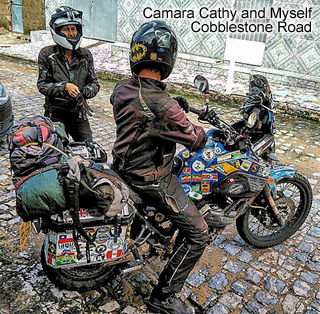 News info.

More problems in Venezuela. One million on strike in protest against the president's plans to create a one party state and to create to a virtual dictatorship. Last week a mock referendum held to encourage opposition to the government. Tear gas used to dispel protesters.

Day 322 22/07/2017: End of week. Bike needs repairs so will have to stay in Fortaleza but not an easy place to find suitable accommodation for a biker. Need to get going asap.

Day 314 14/07/2017: Tibau do Sul. Then through dunes n Spooked by a giant cane toad in a derelict building. Twice the size of my hand. Not very engaging although there is an appreciation society for cane toads.

Day 315 15/07/2017: Now just 1400k from Belem, the gateway to the Amazon. Strange beasts on the horizon.
Week Forty Five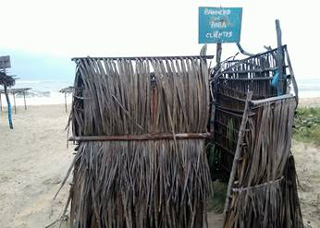 Day 309 09/07/2017: Made it to Joao Pessoa. Still raining, never stops. Accommodation on the beach first class, wind proof, rain proof and sun proof, if there was any!!

João Pessoa is a coastal city near the mouth of the Paraíba River in eastern Brazil. Its old town is known for its baroque and art nouveau architecture. Tambaú and Cabo Branco beaches are lined with bars and nightclubs, plus shops selling local woodcarvings and pottery but nobody about. Deserted and eerie.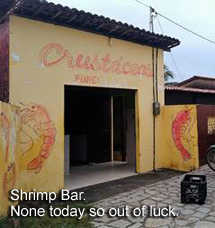 Day 310 10/07/2017: Ex-president Lula da Silva has just been sentenced to nine years imprisonment on corruption charges and the current president has been charged with accepting bribes from the world's largest meat-packing business. Both deny wrongdoing and state that the charges are politically motivated. Lula is still free and insists he will stand as president again and will win election.

Avoiding meat, sticking to shrimps to avoid collusion.

Day 311 11/07/2017: In Baia da Traic. Another beach hang-out. Good for 'hippie' tourists...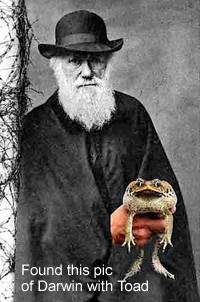 Day 312 12/07/2017: Moving on to Natal along the coast which is the capital city of the state of Rio Grande do Norte, on Brazil's north eastern tip. It's known for its extensive coastal sand dunes and star-shaped Forte dos Reis Magos, a 16th-century Portuguese fortress at the mouth of the Potengi Riverit, which is the closest point in South America to Europe. Natal was visited by the Portuguese in 1501 and at the time it was inhabited by the Potiguar tribe.

French pirates inhabited the area and with the support of the local people hindered the Portuguese colonial ambitions. The French were driven out in 1597 and Portugal finally took control over Natal, which means 'Christmas' in Portuguese. For a brief 21 years the Dutch held the territory from, 1633 to 1654, when the Portuguese expelled the mariners.

Day 313 13/07/2017: San Miguel de Gostoso. Again on the coast north of Natal.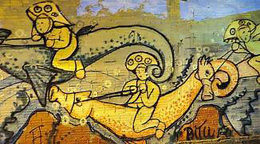 Day 314 14/07/2017: Tibau do Sul. Then through dunes n Spooked by a giant cane toad in a derelict building. Twice the size of my hand. Not very engaging although there is an appreciation society for cane toads.

Day 315 15/07/2017: Now just 1400k from Belem, the gateway to the Amazon. Strange beasts on the horizon.
Week Forty Four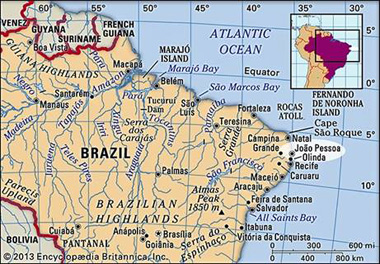 Day 302 02/07/2017: Making headway along the coast. Weather wet. Riding on good roads but bike suffering. Fishing villages along the way.

Day 303-304 03-04/07/2017: In Cabo de Santo Agostiho (Cape of Saint Augustine) which is about 40ks south of Recife. Some historians say it was where Vicente Yanez Pinzon set anchor on January 26, 1500. This was before Cabral landed on the coast on April 21, 1500.

To put things in perspective, in China, the Forbidden City had already been completed in the 1420's and in the UK Henry V111 became King in 1509, whilst at the time, the Spanish and Portuguese were involved in naval exploration in the New World.

Cape St Vincent has many tropical beaches and nature reserves and inexpensive accommodation, pousadas, or bed and breakfast rooms. There are extremely expensive hotels costing more than my month's budget. Camping on the beach. Seen a couple of JAWS. Apparently very friendly!!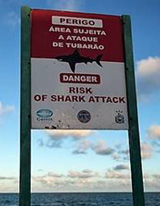 Day 305 05/06/2017: Left the shark infested waters and met a bike gang in Recife. Very interested in the Yamaha. They provided accommodation in an area like the Ad on UK TV. Steady guys who will FIX the bike.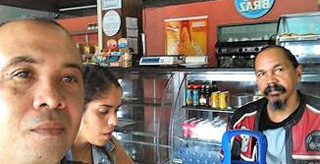 Day 307 07/07/2017: Contacted by Motorcycle Men in US asked to be a guest on the show. Check out their website. Doing three other radio interviews in next couple of days.

Day 308 08/07/2017: Asleep in provided accommodation and woken by pit-bull jumping on my face. Electric Mosquito mat on fire so saved from nasty demise by my watchdog. Mosquitos still thriving!! Can anything else happen?

Managed some repairs to bike and heading to Joao Pessoa.

Today my bike hit more than 90,000 kilometres. Announcements of my death have been sorely exaggerated. I am still going. The Amazon jungle has finally become a reality. After 36,012 kilometres in nine months I am about to enter the area of childhood dreams. Cathy Nel is also going strong filming our new TV Series, South American Motorcycle Diaries. Colombia, Ecuador, Peru, Bolivia, Chile, Argentina, Uruguay, Paraguay and now Brazil. So lucky. I have been riding in the rain for two weeks and have no idea what it feels like to be dry. I am going mouldy. Who cares! End of the week.
Week Forty Three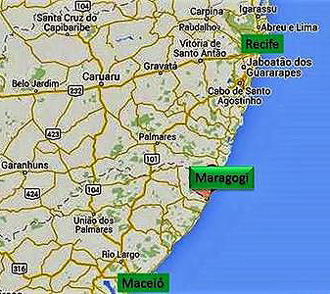 Day 296 26/06/2017: Still in Arembepe, a small town on the Coconut Coast (Estrada do Côco) that was a center for the hippie movement in the late 1960s and 1970s and attracted several well-known personalities during that era.

Since then, Arembepé's popularity has declined, and today it is a quiet beach town that retains many elements of the traditional fishing way of life. It has an authentic vibe largely only receiving visitors during the weekend from Salvador. Most inhabitants only speak Portuguese.

This is a really colourful beach hang-out!!! Thinking of taking up permanent residence in the place. Peaceful and interesting for a few days from endless riding. Good for R+R. Going to put on all my clothes, not many, and swim in the sea as they need a good wash!!!

'Nao se preocupe!'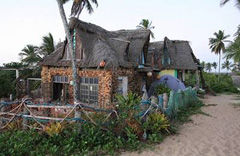 Day 297 27/06/2017: Developed a heat rash which is not very pleasant and very irritating. Trouble is the humidity, it rains every day and the temp is about 27C. Difficult to get clothes dry.

Day 298 28/06/2017: Have managed to re-schedule flights back from Bogota for October 21st. Need to cover the next 8000ks by then through some 'unknown' territory, The Amazon Basin, then French Guiana, Suriname, Guyana and Venezuela. News from Venezuela not encouraging. Oscar Perez, a rogue policeman, piloted a stolen helicopter and dropped hand-grenades on the Supreme Court. He is now in hiding. More protesters arrested and imprisoned.

On a lighter note for those who would like a taste of some South American music have a listen to Leo Rojas, who comes from Ecuador. El Condor Pasa is a good introduction to Pan Pipes. Check it out here.



Day 300 30/06/2017: Travelled up the coast to Maragogi, a resort town known for its long beaches, near the mangrove-lined Dos Paus River. Offshore coral reefs and sandbars have created a shallow lagoon, which acts as a natural pool and is part of the Coral Coast protected area. It is rich in flora and fauna. Raining continuously and everything is still wet. 93% humidity which is not pleasant and the temp is about 24°C.

Day 301 01/07/2017: Another month and another week. Camping equipment worn out!!! Need a new tent and sleeping bag and mat. Bike shock absorbers clunking. Will need to get to Recife to re-stock and repair. Will keep going.

President Maduro just promoted 139 officers to the rank of general or admiral. I am practising salutes.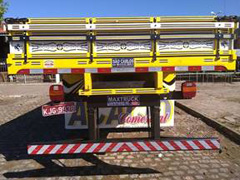 Week Forty Two
Day 288 18/06/2017: Weather fine, interesting riding through small villages heading east to the coast. Fruit and vegies in abundance. Good day. Colourful trucks and taxis.

Day 289 19/06/2017: This is the REAL DEAL BRAZIL!!! It has exploded into colour and vibrancy. Along the rivers pirogues and fishermen. Palm trees, tropical foliage and markets. Music and jollity.

Day 290 20/06/2017: Hit the coast at Camamu on the Peninsula de Marau. Bright Caribbean colours, houses pink, blue, yellow, purple. Friendly dogs running everywhere, 'large' women sweeping the thresholds of cafes and shops. Stalls selling plantains, breadfruit and an exotic variety of fruits and vegetables.





Day 291 21/06/2017: Reached Vera Cruz or Island of the True Cross, the first name given by the Portuguese navigators for the newly discovered land on the northeast coast of what became known as Brazil. The name was later changed to Terra de Santa Cruz (Land of the Holy Cross).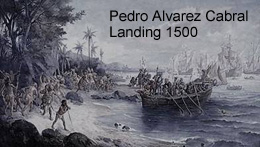 When the discoverers, under Pedro Alvares Cabral, first officially touched land in South America on April 22, 1500, they thought they had found an island as reflected in the chosen name. This was the beginning of the Portuguese colonies on the continent.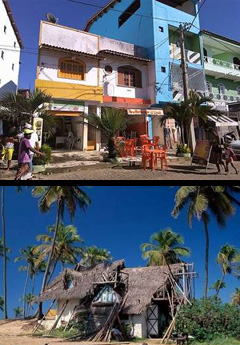 Day 292 22/06/2017: Did 1500k in five days and near Salvador, or Bahia, a city and port in north eastern Brazil, and capital of the state of Bahia. Salvador is a center of Afro-Brazilian culture. During the 17th and 18th centuries the city was a major hub of the African slave trade in Brazil. Salvador and the surrounding region still have Brazil's largest concentration of residents of African descent. It is also known for its Portuguese colonial architecture, Afro-Brazilian culture and a tropical coastline. The Pelourinho neighbourhood is its historic heart, with cobblestone alleys opening onto large squares, colourful buildings and baroque churches such as São Francisco, featuring gilt woodwork.

Day 293 22/06/2017: In Cachoeira 30k north of Salvador. A beautiful town with picturesque buildings and small shops. It is a centre for fishing, sugar and cotton established by the Portuguese in 1694.

Day 294 24/06/2017: Stopped in Aembepe, 50k north of Salvador, before riding north along the coast. Hope to make 200k today. End of an enjoyable week, now looking forward to more challenging terrain nearer I get to the Amazon Basin.
Week Forty One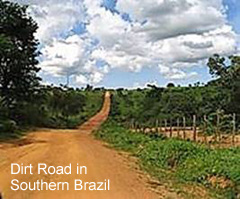 Day 281 11/06/2017: Arrived in Uberaba. Making good progress on road heading north-east. 200k today in temps of 14°C.

Day 283 13/06/2017: Overnight in Riolandia, a small town in the state of Sao Paulo. The city has a population of 10,575 inhabitants.

Day 284 14/06/2017: Travelled on tar roads to Araxa, another small town, neat and tidy. Some interesting places and art work.

Day 285 15/06/2017: Montes Claros is a large city on Route 365 and 600ks east of Brasilia. Am heading towards Salvador on the coast, about 1200ks, and should be there in a few days.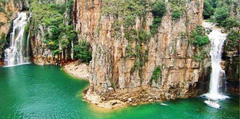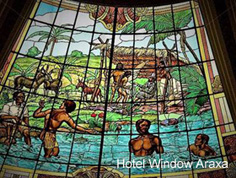 Day 286 16/06/2017: Staying in Montes Claros and resting for the day. Camping in the wild. Tuna sandwich breakfast. Hunting for lunch. Maybe termites and tomato.

Day 287 17/06/2017: Heading to Vitoria da Conquista. Another week. Does not look as if I am going to make it all the way back to Bogota, Colombia, in ten months. Problem as air tickets and insurance run out in September.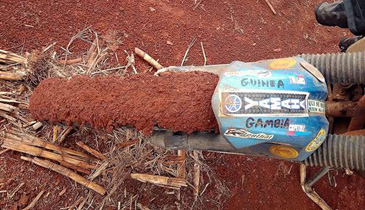 Week Forty
Day 274 04/06/2017: Travelling north east along very muddy roads of red earth. This clogs up the tyres and makes for slippery and unsafe riding. Have to stop frequently to clear earth and debris.

Riding north with the Parana River to my left. This river in south Central South America runs through Brazil, Paraguay, and Argentina for some 4,880 kilometres. It is second in length only to the Amazon River among South American rivers.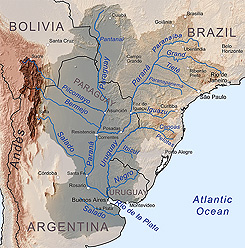 Day 275 05/06/2017: The route passes through maize farms for ages, some beautiful jacaranda trees and palm plantations. Stopped at pizzeria with an attractive name. Had an uncomfortable ride.

Day 276 06/06/2017: Making progress towards Brasilia. In Munhoz do Melo.

Day 277 07/06/2017: Left Munoz do Melo and riding on more red earth roads through agricultural land.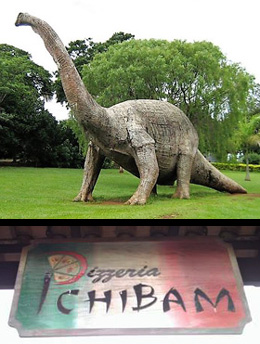 Day 278-79 08-09/06/2017: In Uberaba hunting dinosaurs!!! They are everywhere.

Day 280 10/06/2017: A fairly dispiriting week as this area of Brazil is a continuous area of flat land marked by extensive fields of crops. However I am pushing forward, ever forward in the expectation of more challenging terrain in a few days time.

But still a long way to the Amazon Basin!!
Week Thirty Nine
Day 267 28/05/2017: Spent the night in Cascavel on second floor 'apartment!!!' Luxury living, splendid view.

Woken at 3 a.m. by sound of smashing glass and grinding noise. Domestic argument?? Looked out of window to see shadowy figures in strange garb with metal bars attacking the front of the building. Then shouting and uproar. Thought best of descending into the melee so watched in the dim light. From nowhere swarms of Police charging from all directions. More shouting, brief rumpus, screams and sirens. Then silence and emptiness. Went back to a deep, undisturbed sleep. In the morning learnt that the jewellery shop on the ground floor had been raided. Glass frontage no more, burglar bars bent and buckled, jewells and watches snatched - crying owner. Peaceful night overall.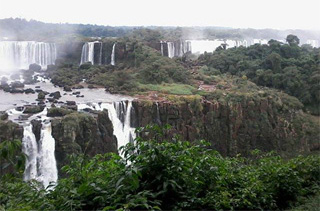 Day 268 29/05/2017: Exceptionally good breakfast. Banana and cold coffee. Moving on to Foz do Iguacu not far from the Paraguayan border.

Day 269 30/05/2017: Visit to Iguacu Falls.

Despite the touristic nature of the surroundings the Falls are truly magical. They are on the border of the Argentine province of Misiones and the Brazilian state of Paraná. They are the largest waterfalls system in the world. Iguacu currently has the sixth-greatest average annual flow of any waterfall in the world, following Niagara, with an average rate of 1,746 m3/s (61,660 cu ft/s) It is something NOT TO BE MISSED.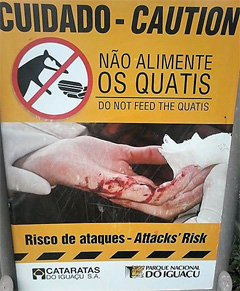 Look out for dangerous WILD BEASTS, not the tourists, the Quatis!!! Viscious bites!!!

There are four similar species of this small carnivore, found from Paraná (Central America) to Argentina. They live in large groups of females and young males. At two years the males begin to live alone, joining a group only for mating in the late spring. Ten weeks later the female produces two to six pups. The quati feeds on worms, insects and fruits. It also appreciates eggs, vegetables and especially lizards. It sleeps on top of the trees, curled up like a ball, and does not descend before dawn.

The quati can be trained and perform tricks. Not so wild.

Day 270 31/05/2017: Cannot carry on. Torrential rain has flooded roads. Cannot see to ride. No point in trying to move. Dangerous to do so and foolhardy.

Day 271 01/06/2017: Another month and now moving on. Riding up the east coast of Uruguay and heading for Paraguay, through huge farms of maize, massive palm trees and jacaranda.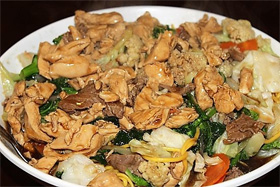 Day 272 02/06/2017: Into Paraguay for brief visit and then to Amuarama on the Brazilian side of Paraguay.

Day 273 03/06/2017: Now nine months on the road. 30,000Ks.

Met a biker at a petrol station who insisted on taking me to his home for a barbecue, to meet other bikers and to have a SHOWER. Probably a hint!!

Now in Munhoz do Melo, south east of Bauru, on the way east to central Brazil travelling along the Parana River.
Week Thirty Eight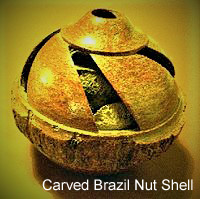 Day 260 21/05/2017: In Porto Alegre. Just heard that Brazil nuts are in short supply, although most are from Bolivia.

'Eating a healthy breakfast is about to get much more expensive because of a major shortage of one of the key ingredients of muesli.' Supplies of Brazil nuts have slumped by more than two thirds after a "catastrophic" harvest in the Amazon rainforest' Times News

The tree from which Brazil nuts come can reach 50 metres. It may have a trunk 1 to 2 metres in diameter, making it among the largest of trees in the Amazon rainforests. It can often reach an age of 1,000 years. The stem is straight and commonly without branches for well over half the tree's height, with a large emergent crown of long branches above the surrounding canopy.

In Brazil, it is illegal to cut down a Brazil nut tree. As a result, they can be found outside production areas, in the backyards of homes and near roads and streets. The fruit containing nuts are very heavy and rigid, and they pose a serious threat to vehicles and people passing under the tree.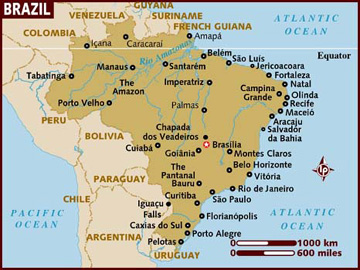 Day 261 22/05/2017: Travelling to Serafina Correa.

More terrible news from Venezuela as many protesters being shot and one supposed supporter of the President severely burned after being doused with petrol.

Somewhere in southern Brazil. Got lost today, don't know where I am which is great. This is a superb continent. Brazil rocks. Dirt riding all today and a fish from the river for dinner. I caught it by hitting the surface of the water with a flat stick. Stunned it, grabbed it. Had such a good day. Passed 30 000 kilometres in South America. Here's one of my panniers. Buggered for space, love stickers. All bring back memories, a trigger to the brain. Not literally of course.

Day 262 23/05/2017: In Serafina Correa. Travelled on a beautiful dirt road.

Just heard about the terror attack in Manchester, terrible, terrible atrocity. Sympathies to all.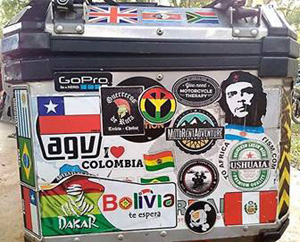 Day 263 24/05/2017: Trying to get further north to Passo Fundo which is known as "A Terra de Gente Boa", the Land of Good People. The city is known as being one of the most gaucho cities in all of Rio Grande do Sul as often one can see gaúchos walking the streets dressed in their full "pilcha" or typical gaúcho costumes. It is also known as the National Capital of Literature because of the many literary events and debates organized in the city. It is also raining very heavily.

Day 264 25/05/2017: In Passo Fundo, south of Iguacu Falls.

Day 265 26/05/2017: Making slow progress as roads very wet and slippery.

Day 266 26/05/2017: Riding to Cascavell 300k from Iguacu Falls. Looking forward to this spectacle.
Week Thirty Seven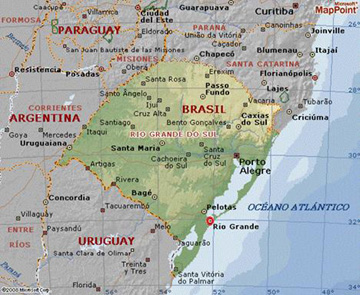 Day 253 14/05/2017: Crossed the border into Brazil or the Federative Republic of Brazil. Travelled to Pelotas on tar roads without incident. Not very interesting riding.

As I am in a new country some facts maybe of interest. Brazil is the largest country in both South and Latin America and is the world's fifth-largest by both area and population, and has Portuguese as its official language. The Atlantic Ocean is to the east with a coastline of 7,491 kilometers. It borders all other South American countries except Ecuador and Chile and covers 47.3% of the continent's land area.The Amazon River Basin is home to diverse wildlife, and a variety of ecological systems.

Brazil was inhabited by numerous tribal people prior to the landing in 1500 of explorer Pedro Alvares Cabral, who claimed the area for the Portuguese Empire. Brazil remained a Portuguese colony until 1808, and in 1822 became an independent state with a constitutional monarchy and a parliamentary system.

Days 254 15/05/2017: Staying in Pelotas and buying some essential items.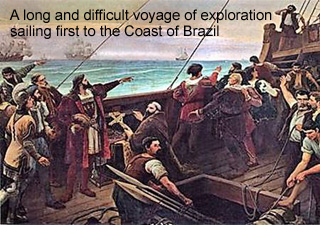 Days 255 16/05/2017: Visiting local sights in Pelotas.

Pelotas is a city in the state of Rio Grande do Sul and is located on the margins of the San Gonzalo Canal which joins the Patos and Mirim lagoons, the largest in Brazil, in the southernmost part of the country. The city of Pelotas is located 250 km from Porto Alegre, the state capital. Agriculture is very important in the region and the supply of meat to Brazil made Pelotas very wealthy.

The traditional festival of Fenadoce is held every year where the famous candies of Portuguese origin are exhibited and sold.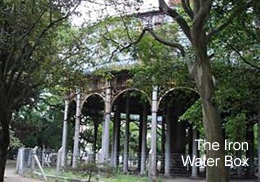 The largest monument in Pelotas is the Iron Water Box, which is located in Plaza Piratinino de Almeida and is the only one of its kind in Latin America. It was built in 1875, and still serves as a daily water supply to the city. It is supported on 45 columns, and all its parts are of iron imported from France.

The arrival of Portuguese deeply influenced the culture of the city, which is evident in its architecture and culinary delights. Other important arrivals of people were Germans, and groups of Africans, (descendants of slaves, mainly from Angola), Italians, Poles, French, Jews, and Lebanese Arabs.

Days 256 17/05/2017: Heading to San Lorenzo do Sol. Made it OK but need to check out routes and make plans for the long trip through Brazil. Will get information on the Amazon basin and the most adventurous challenges. Problems communicating as my Portuguese is non-existent. My Spanish is fine but I don't understand Portuguese, seems to be very different and accent a problem also.

'Sorrir bem e usar linguagem gestural.'

Day 257 18/05/2017: In San Lorenzo and will stay for a couple of days before heading to Porto Alegre.



Day 258 19/05/2017: Arrived in Porto Alegre, the capital city of the state of Rio Grande do Sul. On the main square, Praça Marechal Deodoro, is the Renaissance-style Metropolitan Cathedral, covered with religious murals on the outside. The city is a mix of colonial and modern architecture and is known as the gateway to the deep canyons of Aparados da Serra National Park.

Will stay here for a day or two.


Week Thirty Six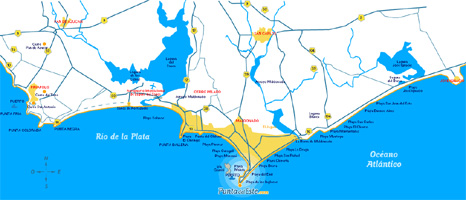 Day 246 07/05/2017: Heading towards Punta del Este, 140k from Montevideo.

Days 247 08/05/2017: Camping on the beach in Punta del Este. Could be in Spain!!!

The first Europeans to settle in Punta del Este were the Spanish at the beginning of the 16th century. Colonization of the area actually began at the end of the 18th century due to Portuguese expansionism. It has extensive stretches of sand and dunes and is a very popular tourist resort.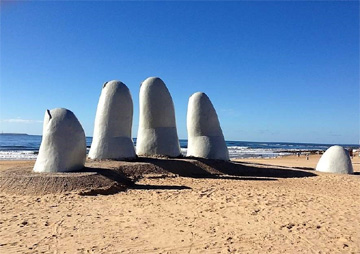 The huge 'Drowning Hands' Sculpture, on the beach, is a much talked about landmark. The sculpture was designed and made by the Chilean artist Mario Irarrázabal during the summer of 1982. He was inspired to make a sculpture of a hand "drowning" as a warning to swimmers, as the waters at La Barra, up the beach, has rough waves suitable for surfing but could be dangerous.

Days 248 9/05/2017: Leaving Punta del Este and travelling along the coast north/east and to the Brazil border.

Days 249 10/05/2017: Not particularly adventurous riding as all very organised with good roads and terrain very similar to the fields of England. Country side is fenced and huge Estancias frequently appear. Along the coast many small fishing villages.

Day 250 11/05/2017: Camping on Piedra Jose beach. On the way stopped for a snack and a woman offered to wash clothes for free. Super friendly people. Now getting worried as many warnings about robbery and theft in Brazil, particularly in the cities.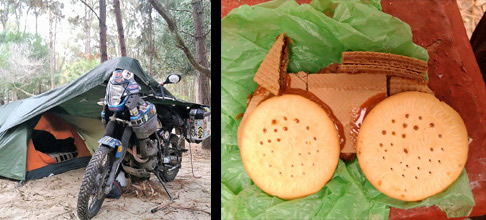 Day 251 12/05/2017: MY birthday so over-the-top celebrations. I have a splendid meal prepared and ONE birthday card. Time to tuck in.

Day 252 13/05/2017: Travelled 29,000Ks so far. Only 30k from the Brazil border. Pouring with rain all day. Will be in a new country tomorrow.


Week Thirty Five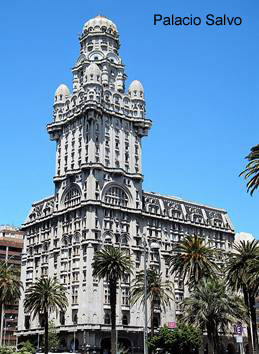 Day 239 30/04/2017: In Florida and checking electrics on the bike. Looks like exhausted battery. It bump starts but charge will not hold. Will seek out a new battery asap. Sunday today and holiday tomorrow have to bide time till Tuesday for garages to open.

Days 240 01/05/2017: Florida was founded in April 1809 and named in honor of the count of Floridablanca, the prime minister of Spain. It is home of the famous Piedra Alta de la Florida, the place of the Declaration of Independence in 1825.

Days 241 02/05/2017: Failed to find battery to fit the Yamaha. Need to get to Montevideo so going to bump start the bike and risk travelling south, only 100k on a good road. Made it to the capital in two hours and happy to be in the city. Searching for battery but none will fit so far.

Montevideo is beautiful.

The city was established in 1724 by the Spanish and was central in a dispute over the region between the Spanish and Portuguese. It is the seat of the administration of the financial and trading headquarters of South America. As such it has a strong position that compares with the role of Brussels in Europe.Montevideo has consistently been rated as having the highest quality of life of any city in Latin America[update] and is classified as a Beta World City. It is a vibrant, eclectic place with a rich cultural life and is also regarded as the tenth most gay-friendly city in the world.

Day 242 03/05/2017: Finally found battery to fit the Yamaha. Asked to do interviews today with El Pais, the most popular newspaper in Uruguay, and with National TV.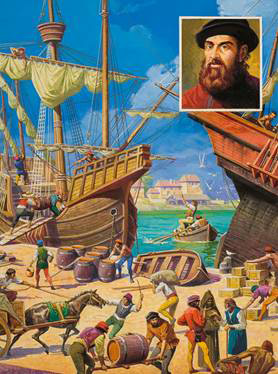 Day 243 04/05/2017: Interviewed by El Pais and full page article to be printed. Very friendly and interested in the trip. Going to meet Lamas las Piedra bike club for a ride out.

Day 244 05/05/2017: Have been very impressed with Uruguay and the very welcoming Uruguayans. Will be sorry to leave but time to move on.

Day 245 06/05/2017: Riding from Montevideo north along the coast towards Brazil.

By the way the name Montevideo has mixed origins. Monte vide eu meaning "I saw a mount" is the most common derivation, probably suggested by Portuguese sailors. The name is rejected by scholars as it is a mix of dialects. It may originate from the time of Magellan's expedition to the coast in 1520 when spying mount Cerro. Monte-VI-D-E-O Monte VI De Este a Oeste, may be the geographic location on a map or Portolan chart, so that the mount is the 6th observable on the coast, navigating Río de la Plata from east to west, but this is by no means certain.

This is the original Gouache painting by Severino Baraldi of Magellan's preparations for his arduous voyage of discovery.


Week Thirty Four
Day 232 23/04/2017: Crossed the border into Uruguay at Colon.

Making good progress. Some facts about Uruguay gathered from various sources.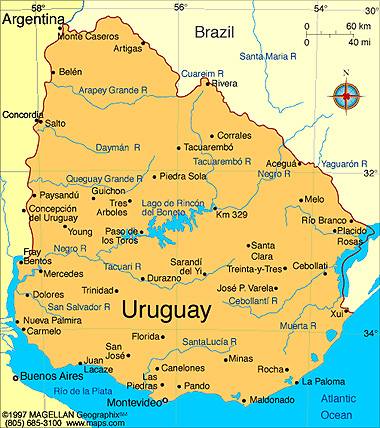 It has a population of 3.9 million people. 1.8 million live in its capital and largest city, Montevideo. Uruguay is the second-smallest nation in South America, only larger in size than Suriname.

The country was inhabited by the Charrúa people for approximately 4000 years before the Portuguese established Colonia del Sacramento, a small settlement, in 1680. Montevideo was founded as a military stronghold by the Spanish in the early 18th century, after a conflict with the Portuguese. Uruguay became independent in 1828, following a four-way struggle between Spain, Portugal, Argentina and Brazil. Modern Uruguay is a democratic constitutional republic, with a president who serves as both Head of State and Head of Government.

Uruguay was named "country of the year" in 2013, acknowledging the. innovative policy of legalizing the production, sale and consumption of cannabis. Same-sex marriage and abortion is also legal. Uruguay is regarded as one of the most progressive nations in the world, and one of the most socially developed. It is outstanding regionally ranking highly on global measures of personal rights and tolerance.All races and ethnic minorities benefit from inclusion in Uruguay's political and social systems.

Days 233 24/04/2017: Traveling through Uruguay. The country is very flat with fields like England. It has a population of 3 million plus people, as stated above, but 12 million cows. The President gives 90% of his salary to charities and most children are provided with laptops. It has a very high literacy rate. The riding is not very adventurous as the roads are well maintained, the country is organised and stable.

Day 234 25/04/2017: In Durazno, crazy happenings.

Durazno is the capital city of the department of Durazno in Uruguay. Durazno is characterized by being the most central city of Uruguay. It has a population of more than 30 thousand inhabitants. In the past it was the capital of Uruguay, today it is Montevideo.

The Governor put us in a Hotel, doing interviews for newspaper, radio and TV for whole of Uruguay. Taking us today to rowing demonstration by schoolchildren on the Rio Uruguay then to a vineyard for private tour and lunch with members of parliament. Tomorrow to a Castle, a museum and then to the Zoo which is closed for refurbishment but opening for us to hold baby Tiger. Don't like Zoos but it's the thought that counts. We have our own private car, driver and English Speaking Guide. The bike is secure in Governor compound.

Gave Cathi a local vase as present. Not Adventure Motorcycling but should be a great few minutes for TV.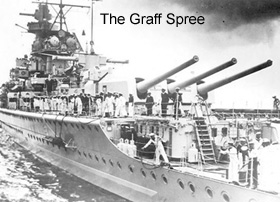 Day 235-237 26-28/04/2017: Had an amazing few days. Saw parts and uniforms, guns, rations, etc. from the Graff Spee which sunk off Uruguay in second world war. Heard whole story from an Army Major.

Filmed Gauchos herding 250 cattle and twenty minute speeches by Governor, Mayor, etc welcoming us to the city of Durazno. Very humbling. It reminded me of my experience with Swazi Ministers on official occasions 'entertaining' the crowds with lengthy speeches.

Did eccentric Radio interviews- two, TV Interviews-two, and was a guest at an asado - traditional feast. Also doing interviews in Montevideo.

Day 238 29/04/2017: Heading south to Montevideo. Bike has broken down. Won't start so electrical fault. Stuck in Florida, sods law it's a holiday till Tuesday so no activity. End of an eventful week.


Week Thirty Three
Day 225 16/04/2017: Bike ready and completely overhauled. Now a Yamaha 700cc not 660, as larger cylinder and piston fitted. Has more power and is going well. Hopefully no further major issues with the bike. Heading today to the border with Argentina. Ignacio, the Yamaha garage owner, allowed me to set off without payment for the repairs as it takes three days to transfer money to Chile from the UK. Super fellow.

Days 226 17/04/2017: Crossed the border so farewell Chile. Good memories of the people in that country and help when suffering from reaction to wasp sting.

Below is the intended route to Buenos Aires and beyond. This may change of course as I might head through Uruguay.



Day 227 18/04/2017: Reached Uspallata through pouring rain and bitterly cold. Travelled on Los Caracoles Pass, Chile, which is a highly dangerous road, descending 11,000ft through a never ending series of hairpin bends. It is named 'The Snails Pass' as it is often blocked by incredibly slow moving lorries that have a tendency to slip off the road or to break down. When dry it is daunting but in the rains it becomes a death challenge.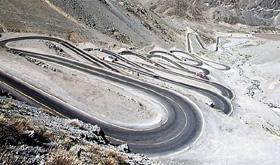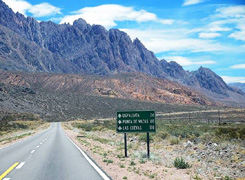 Day 228 19/04/2017: In San Luis which is a town in central Argentina, in the Sierras Grandes mountains. Near the main square, Plaza Pringles, is a 19th-century cathedral with a neoclassical facade and twin bell towers. There is a Provincial Museum with a wide range of objects, including fossils, prehistoric remains and antiques.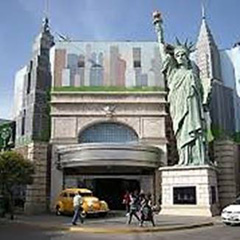 Federico Cantoni was commissioned to have a replica of the "Statue of Liberty" erected in San Luis. The date 1810-1910 and the Argentine shield are seen on the left of the statue. Its intended location was to be in the large park and it was placed there on the centenary of the "First Cry of Freedom", in May, 1810. On July 9, 1931, an engineer, Mark Zalazar Pocito, moved the statue and had it placed in the square that now bears the name "Freedom Square".

Day 229 20/04/2017: More disturbing news from Venezuela as protest march against Maduro met with riot police and tear gas attacks. Some dead and many injured. Caracas was the centre of disturbances. Hopefully may have settled down by the time I reach there but reports of general lawlessness throughout the country.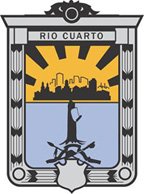 Day 230 21/04/2017: Heading east from San Luis, arrived in Río Cuarto.

The town was founded on November 11, 1786, as Villa de la Concepción del Río Cuarto, by the colonial Governor Rafael de Sobremonte. In 1870 it was connected to the Andean Railway line. This led to an influx of Italian and Spanish immigrants and the village rapidly expanded. In 1883 the city elected its first mayor.

Day 231 22/04/2017: Now 600k from Buenos Aires. Should be there in a couple of days.

Decided to avoid the city and head north to Uruguay.


Week Thirty Two
Day 218 09/04/2017: Yamaha garage report that the bike will not be repaired until Wednesday at the earliest. Four days from now. Meanwhile lost in the city, not here for a holiday or sightseeing. Need to move. Police not interested in the loss of money from the ATM. Not that helpful, other things to attend to far more important.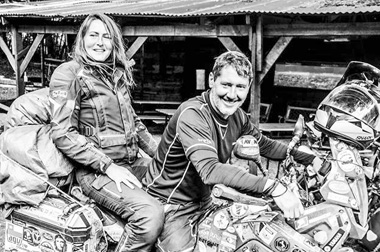 Days 219 10/04/2017: Went for a coffee in a café and asked to move by a waiter, 'Tenemos un problema en la cocina.' Thought he had a back problem but realised they had a bit of a 'problema' in the kitchen as the next moment café in flames and people running everywhere!! No café. No Coffee. The gods of adventure motorcyclists, and coffee, are conspiring against me.

Day 220 11/04/2017: Super photo taken by Rad KO of Cathy and myself. Thanks Rad. He is another adventurer with a free spirit. Look him up and his pedal power journeys.

Day 221 12/04/2017: Bike not ready, another couple of days so still 'incarcerated' in Santiago which is making me desperate to get on the trail again.

Brought to mind, in a philosophical mood, a poem by Robert Frost that has personal relevance.

The Road Not Taken

Two roads diverged in a yellow wood,
And sorry I could not travel both
And be one traveler, long I stood
And looked down one as far as I could
To where it bent in the undergrowth;

Then took the other, as just as fair,
And having perhaps the better claim,
Because it was grassy and wanted wear;
Though as for that the passing there
Had worn them really about the same,

And both that morning equally lay
In leaves no step had trodden black.
Oh, I kept the first for another day!
Yet knowing how way leads on to way,
I doubted if I should ever come back.

I shall be telling this with a sigh
Somewhere ages and ages hence:
Two roads diverged in a wood, and I—
I took the one less traveled by,
And that has made all the difference.

Day 222-223 13-14/04/2017: Easter here so greetings to all from Santiago. No progress on the bike as all shut down for the holiday.

As I am in Chile I have some information on the religious events that take place in the country over this period.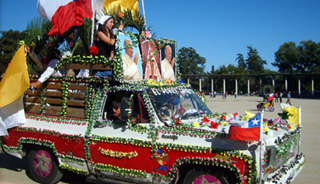 In Chile, Easter is a special time for reflection as it is predominantly a Roman Catholic country. Good Friday is a national holiday and a time of listening to "mourning programs" on the radio. Somber music is played all day till Easter Morning. In church the tone is extremely sad and all flowers, candles, crucifixes and decorations are removed from sight. People remain in doors and almost all places of business are closed. In the evening Chileans proceed on a Via Crucis (Way of the Cross) through major cities like Santiago. Pictures of saints are carried, along with statues of Mary, lit candles, and wooden crosses are in abundance. Good Friday is also a time of "fasting." Fish replaces meat for the main meal and special dishes are prepared for the 'celebration.'

I have heard that the economic situation in Venezuela is so bad that the traditional meals based on fish ingredients, over Easter, cannot be afforded by many. Opposition is mounting against the President Maduro.

Day 224 15/04/2017: Two weeks now in Santiago!!! Hopefully escape after the Easter festivals have finished.

La inactividad es muy difícile y puede ser cielo azul por delante.

End of another week


Week Thirty One
Day 211 02/04/2017: In Santiago and waiting for tomorrow to find Yamaha garage for overhaul of poorly bike.

One more snippet on Darwin, the last, as I will hopefully be heading east into Argentina and finally leaving the Darwin trail. He visited Valparaiso, just west of Santiago, and then travelled north to the mountains. He remarked, "We spent the day on the summit of Cerro La Campana (Bell Hill) and I have never enjoyed one more thoroughly. Chile, bounded by the Andes and the Pacific, was seen as in a map... Who can avoid admiring the wonderful force which has upheaved these mountains."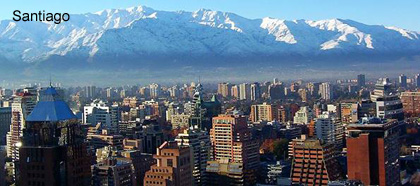 Days 212 03/04/2017: Not very happy in Santiago as it is a huge city with all the noise and hectic activity of an immense conurbation. Prefer to be in the open countryside.

Santiago has a population of 5.1 million and serves as the capital of Chile. It has experienced earthquakes and uprisings in its history and suffered under the brutal regime of Augusto Pinochet.

As George Santayana said, "Those who cannot remember the past are condemned to repeat it." But such things still happen in the world!

Day 213 04/04/2017: Bike now in garage. Await the outcome.

Day 214 05/04/2017:Another mishap. Whilst getting money from an ATM a young guy ran past and snatched £200 from the machine as I was about to take it. Too quick, too unexpected, too amazed to react. Disappeared into a crowd!!! Could happen anywhere. Bread and water for a few days.

Day 215 06/04/2017: Some thoughts on South America. Impossible to plan for the weather, the climate is erratic. Also in Patagonia the temperature can be sub-zero, elsewhere might be above 40 degrees!!! You never have the right clothes. My experience with altitude is such that you don't know when it will cause you suffering. It is stupid to ignore the signs of altitude sickness. Any effort at altitude causes breathlessness and pain.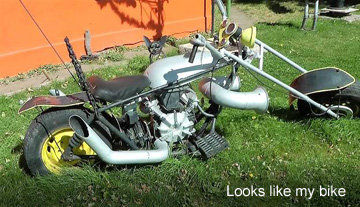 Day 216 07/04/2017: Disastrous report on the BIKE. Needs complete engine overhaul, pistons, cylinder and much more. Will take three days to complete repair and at vast cost. Funds running out. Did not budget for such heavy expensive costs of the trip and still a long way to go to complete the circumnavigation through some very testing territory.

Just heard of the gas attack in Syria. What can one say about such inhuman conduct!!! History repeating itself!!!

Day 217 08/04/2017: Got to get outa' this place!!! Santiago has its attractions but need to get back on the road. Could be another few days before the Yamaha is rebuilt.

Just been informed that Overland Festival in the States is to screen two of my videos next month. One piece of good news.

End of a standstill week.


Week Thirty
Day 204 26/03/2017: Still working on the bike. Might have to risk leaving Nequen and try to make some progress to Santiago.

Days 205 27/03/2017: Took a chance and travelled west back into Chile. Bike loses power so slow progress being made.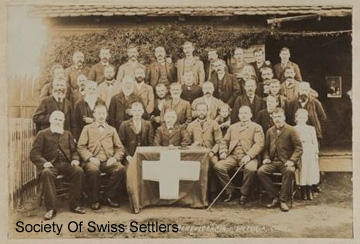 Day 206 28/03/2017: Reached Victoria and went in search of a mechanic to borrow tools for major work on the bike.

Victoria received many German, Swiss and Spanish colonists and therefore has an interesting historical and cultural heritage. The Swiss had the greatest impact, as can be seen in the faces of the inhabitants of the city, in the street names, and the monument to Swiss colonization.

'Siendo un pequeño pueblo de la Frontera, recibió el impulso de muchas familias que llegaron a colonizar esta zona, provenientes especialmente de Suiza, Alemania, Francia, Palestina y España, entre otras nacionalidades'.

Day 207 29/03/2017: Worked on bike all day and running a little better. Will try to get to Santiago tomorrow.

Day 208 30/03/2017: Heading north and camped about 300k from Santiago.



Day 209 31/03/2017: Last day of March!! Made it to Santiago but no camp sites and all hostels and most hotels full booked with tourists and music fans. Metallica fronting a big concert this weekend in Park O'Higgins.
Check the boys out on youtube!

Santiago, is Chile's capital and largest city and is surrounded by the snow-capped Andes and the Chilean Coast Range. The Plaza de Armas is the centre of the city's old colonial area. There are two neoclassical landmarks situated in the vicinity, the 1808 Palacio de la Real Audiencia, housing the National History Museum, and the 18th-century Metropolitan Cathedral.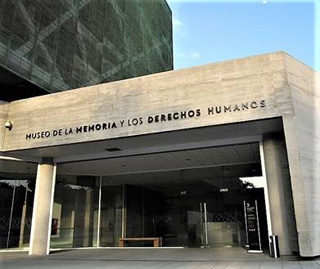 The Museum of Memory and Human Rights

The museum was opened in 2010 to commemorate the thousands of Chileans who were victims to the Pinochet-era atrocities. The green glass and copper building houses a chilling tribute to the 40,000 people who were "disappeared", tortured and imprisoned by the military regime between 1973 and 1990.

Unsafe to camp, eventually found a room for £50. Need to go to a Yamaha garage on Monday for further work on the bike. Not very confident with the steed at the moment.

Day 210 01/04/2017: Another month. April. Can't move from Santiago which is vibrant and hectic. Have to wait two days to get to a garage and to find a good mechanic.

Just heard that landslides have killed at least 250 people in south-west Colombia and left many more injured. Hours of heavy rains overnight caused rivers to burst their banks, flooding homes with mud in Putumayo province not far from where I was way back in September. Sympathies to the Colombian people.

I am also planning to travel through Paraguay but there is worrying trouble there as demonstrators have set fire to the country's parliament during violent protests against a bill that would lift presidential term limits.

One activist was killed by a blow to the head which the opposition blamed on a rubber bullet fired by police. Under the 1992 constitution, introduced after the dictatorship, a head of state may only serve a single five-year term. But sitting President Horacio Cartes is trying to remove the restriction and run for re-election. Protesters were photographed smashing in windows of the congress building in the capital, Asuncion, on Friday night and setting fire to the interior. Hope it calms down by the time I reach there.

End of a sad and unsatisfactory week.


Week Twenty Nine
Day 197 19/03/2017: Heading north to Santiago through some beautiful scenery. Bike a little sick.

Days 198 20/03/2017: Looks like bike trouble. Yup!!! Exhaust falling apart. What to do? Panic not!! No towns on my intended route. Must repair bike. Engine also misfiring. Decided to head inland through Puyehue National Park to cross the border back into Argentina to Bariloche.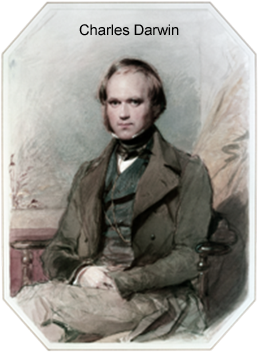 Day 199 21/03/2017: Made it to Bariloche. Really beautiful place.

It is on the shoreline of Lago Nahuel Huapi, in the middle of the national park of the same name. It is in a spectacular setting. Surrounding the town are mountains many of which are over 2000m. The principal is the Cathedral. Many hikers and climbers visit Bariloche for its outdoor pursuits. The town is also well known for its chocolate.

Could not get the spares I needed so will head to Nequen where I have been informed they will be available.

Day 200 22/03/2017: Reached the town of Nequen.

Day 201-02 23-24/03/2017: Sourced parts, save for a tyre. Will have to try to reach Santiago to get one there. Whilst waiting in the town I was approached by reporters from the Rio Negro, a popular paper in Argentina. They had seen my bike and wanted to know about my journey as the stickers had intrigued them. I was interviewed for an article to be published the next day.

As a matter of interest, before reaching Nequen, I had passed the town of Valdivia on the Chile coast. It was here in 1835 that an earthquake occurred and that Darwin experienced. He wrote in his Diaries that 'the rocking was most sensible and lasted for about two minutes.' He also witnessed the Osorno volcano emitting great clouds of steam. Two days later Darwin was on the 'Beagle' near Conception and saw the afte rmath of the tidal wave that had hit the coast. A sight he would never forget.



Charles Darwin

Charles Darwin joined the Beagle which set sail on 27 December 1831; the voyage lasted almost five years. Captain FitzRoy allowed Darwin to spend most of the time on land investigating geology and making natural history collections. The Beagle surveyed and chartered coasts. Darwin kept careful notes of his observations and theoretical speculations, and sent specimens to Cambridge and a copy of his journal. Despite suffering badly from seasickness, Darwin wrote copious notes while on board the ship.

Day 203 25/03/2017: Still in Nequen. Bike very sick. Looks like major problem. Trying to repair.


Week Twenty Eight
Day 190 12/03/2017: Still in Chaiten waiting to buy ferry tickets to continue north. Very wet and cold but beautiful surrounding lakes and mountains.

In the glacier region of Chile. Road Carretera Austral, 1300 kilometres long was built by Dictator Augusto Pinochet in 1976. Only finished in 1988 by 100 000 soldiers, many who lost their lives. The area is difficult to access by boat and air due to harsh winters. Bloody cold riding and camping right now and it is good season! Roads impassable also in bad condition. I have been lucky and will be heading towards the capital Santiago. No mishaps for three days. Things are looking up. Remember - if you look like your passport photo you are too ill to travel.

Days 191 13/03/2017: Purchasing ferry tickets today so hopefully will be on the road later. Posters everywhere about violence against women and children.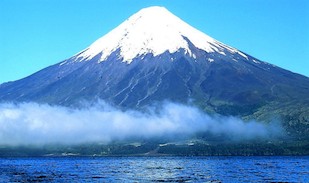 Day 192 14/03/2017: Made it to Puerto Montt after taking three ferries. Had to ride like hell between ferry stations as they leave at set times and won't wait if you don't make it in time. Road was like riding through an Alpine forest. Puerto Montt not the best place in the world, but unusual inhabitants. Interesting characters. Planning to go to Osorno volcano tomorrow. This area was hit by a volcanic eruption in 2008 and 2015. Next one due on 16/03/2017. Better get out of this place.

Day 193 15/03/2017: As stated in last week's Log, Motor Cycle Explorer Magazine has published an article on my 'adventure' with picture on the front cover. Issue 16 » https://joom.ag/xHLW.

Travel Channel are also re-screening my Africa Motorcycle Adventure series again starting on 27th April in Europe, Middle East and Asia. So if you fancy a re-cap, if you haven't yet purchased the DVD, or just simply missed it, you can find it at » Travel Channel EMEA Guide and click 'Shows'.

Day 194 16/03/2017: No volcanic eruption.

Am adopting the ACDC/Beegees 'Stayin' in Black' As I ain't going nowhere too frequently with bike problems, injuries and terrible weather. BUT 'Staying Alive.' » Have a look at this youtube link or just google 'Stayin' in Black'.

Day 195 17/03/2017: Stopped at a very organised camp site 12k from Osorno Volcano. Had a chat with local Chilean who had witnessed the last volcanic eruption. The ash cloud was 40k wide and there are still volcanic rocks nearby. It took two months before anyone could enter the area as it was too hot on the ground. Arranged with Marco to act as guide on the mountain.

Rode to Osorno Volcano and bought permit to climb to the summit. Took cable car and was stopped at check point as my guide failed to turn up. Was not allowed to go further. Huge disappointment.

Osorno is one of the most active volcanoes of Chile. Historical eruptions have often produced lava flows. Many eruptions have occurred from both summit and flank vents and fissures, the latter mostly on the west and SW sides. Lava flows from its eruptions have reached Todos los Santos and Llanquihué lakes several kilometres away. Darwin actually saw Osorno erupt when he was in the vicinity.

Day 196 18/03/2017: My brother's birthday today. Lives in Swaziland operating a small construction company. Love him very much but don't get to see him often. Anyway happy birthday Simon from me and Cathy.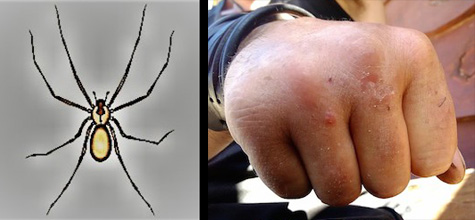 Set out north and camped in the wilds. Something about South America bugs me!!! Woke up with swollen hand and found the culprit lurking on the roof of my tent. A nice looking spider!!! Darwin probably had a name for it. Mine is araneae conwaysis bite-is.

End of week.


Week Twenty Seven
Day 183 05/03/2017: Still in Chile Chico and waiting to continue west and then north. The next 200k will be testing as the dirt road meanders through Andes passes. There are water ways and ferries on the route and some very difficult sections. It is not a major route to Coichaque, where I am heading.

Days 184 06/03/2017: With the help of a mechanic the bike is now repaired so will be on my way shortly. After the wasp incident the camp owner provided a cabin to rest in but I did not have sufficient money to pay her. Angelica kindly said I could transfer money to her in the next town as Chile Chico only very small place without a bank or ATM. How nice is that.

Day 185 07/03/2017 Fantastic riding on the route to Coichaque. Did not see any one the whole day. Camped overnight.

Day 186 08/03/2017: Made it to Coichaque, just, as low on petrol even though had spare can. Discovered at an ATM that one of my cards was not working. Contacted Agent who had been notified by the Fraud Squad that the card had been cloned and was being used in Vietnam. Attempts to withdraw money had failed although several pin numbers had been tried. Card cancelled.

Also heard about the rhino in a French Zoo that had been shot and one tusk removed. I hope the culprits are caught and imprisoned for a long time.


In Coichaque noticed a road name Cochrane and intrigued by this did some research. Apparently there are several places in Chile named after Thomas Cochrane, even a town.

He was born in 1775 and was the 10th Earl of Dundonald, Scotland. When he was just seventeen he joined the Royal Navy and showing great prowess rose rapidly to the rank of Master and Commander, at the age of twenty six. He was given command of a ship named 'Speedy'.

He used this ship to carry out daring raids in the Mediterranean and later he accepted a request to take charge of Chile's patriot navy. He captured Valdivia and sank Spanish ships. His was a key role in liberating Chile and Peru from Spanish rule. (1818) In 1823 he was invited to take command of the Brazilian navy and drove the Portuguese ships from Brazilian territorial waters. This led to the independence of that country in 1824.

He was considered a great hero, liberator and was awarded many honours.

The film 'Master and Commander' is based on his life.

Day 187 09/03/2017: Travelling north skirting the coast.

Now close to the Chiloé Archipelago which consists of several islands lying off the coast of Chile. The main island is Chiloé Island (Isla Grande de Chiloé). Chiloé is from the local language of the Mapuche, chillwe, meaning "seagull place". Chiloé is known for its folklore, mythology, cuisine and unique architecture. The variety of potato most widely grown throughout the world is indigenous to the islands.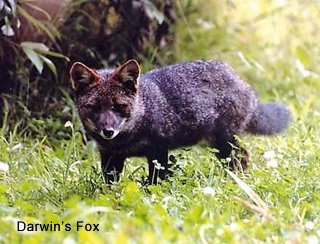 Back to Darwin. He visited Chiloé in 1834 and remained there for six months, writing about his impressions of southern Chile. Darwin listed the fauna which included many birds, and land mammals, the largest of which is now known as Darwin's Fox.

Day 188 10/03/2017: Covered 200k today through beautiful scenery but pouring rain. Need to get a new tent as present one is no longer rain proof.

Day 189 11/03/2017: Made it to Chaiten where I have to stay for the night as need to buy ferry tickets in the morning for onward journey. Two ferry trips, one for thirty minutes and a long one for three hours. Looking forward to these and being off the bike for a time. End of week 27.

For additional information visit the Press Archive and read the article under ADV Pulse or the piece on me in Motorcycle Explorer magazine.


Week Twenty Six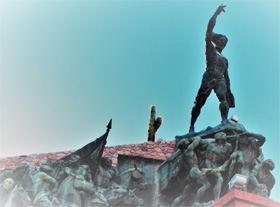 Day 176 26/02/2017: In Chile Chico and as I am now in Chile thought some information on this territory might be of interest.

The conquest of Chile by the Spanish began in 1540 and was carried out by Pedro de Valdivia who founded the city of Santiago in February 1541. Although the Spanish did not find the extensive gold and silver they sought, they recognized the agricultural potential of Chile's central valley, and Chile became part of the Spanish Empire.

Spain colonized Chile replacing Inca rule in northern and central Chile, but failed to conquer the independent Mapuche who inhabited south-central Chile. After declaring independence from Spain in 1818, Chile emerged in the 1830s as a stable republic. In the 19th century, Chile experienced significant economic and territorial growth, ending Mapuche resistance in the 1880s and gaining its current northern territory in the War of the Pacific (1879–83) after defeating Peru and Bolivia.

Days 177 27/02/2017: Trying to source parts for the bike so in the meantime staying on a campsite in Chile Chico.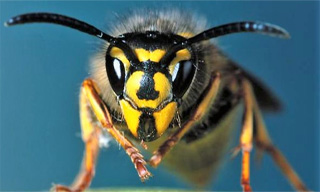 Day 178 28/02/2017: Had a life threatening scare!!! Stung by a Chilean killer wasp on the mouth with immediate swelling of the face to hideous proportions. Went into anaphylactic shock and lost consciousness. Luckily Cathy with me and raised the alarm and camp owners rushed me to hospital which was only a few minutes away. Doctors treated me with adrenaline shots and other drugs and restored breathing. Did not know much about it. Taken back to camp site where the owners kindly housed me and Cathy in a cabin. Have to be very careful and rest for a few days. Swelling going down but still have severe headache. Thanks muchly to the Chileans who helped me in hour of need. A really, really close call.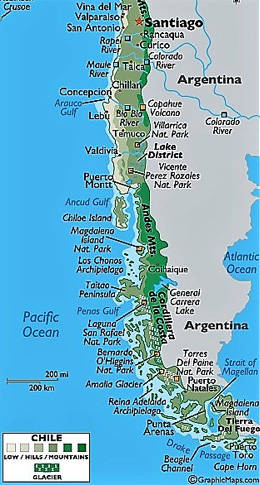 Day 179 01/03/2017: Still suffering from wasp sting. Not feeling too good. Hopefully will recover soon but unable to get an epi pen here to administer adrenaline which prevents shock. My stupidity as I failed to get one before leaving the UK and have tried in several places to buy one in South America but without success.

Day 180 02/03/2017: Sourced some ephedrine which hopefully will suffice till I can get to Santiago and find an epi pen. Must stay away from insects of all kinds.

Day 181/182 03/04/03/2017: Feeling a little better. Helped by an excellent mechanic to repair bike and now hopefully back on the road.

Day 182 04/03/2017: Off on a circuit of Lake Carrera heading further west into Chile. Not really a well used route and a very zig-zag dirt road marked by water ways. Have to use ferries at some points. Making some progress heading to Coihaique.

Thank you to all those offering sympathy as a result of my insect bite.


Week Twenty Five
Day 169 19/02/2017: Back to Rio Gallegos on the Argentine coast. From here will head to Piedra Buena.

Days 170 20/02/2017: In Piedra Buena and planning to head west on a very small road/track to Gobernador Gregores about 120k. Still attempting to get to the Argentine/Chile border.

Day 171 20/02/2017: Went very near a place with an intriguing name O'Higgins. I include here some information on Ambrosio O'Higgins for interest.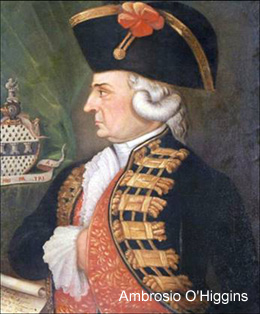 Ambrosio Bernardo O'Higgins, 1st Marquis of Osorno c. 1720 – March 19, 1801 born Ambrose Bernard O'Higgins (Ambrós Bearnárd Ó hUiginn, in Irish), was a member of the O'Higgins family and an Irish-born Spanish colonial administrator. He served the Spanish Empire as Captain General of Chile (1788–1796) and Viceroy of Peru (1796–1801).

His son led the movement for Chilean independence from the Spanish.

O'Higgins left Ireland in 1751 to venture into commercial enterprises in Spain. He settled in Cadiz where he was successful in business. As a Catholic he was able to emigrate legally to Spanish America, in 1756. Over a period of time he moved through Venezuela, New Granada, and Peru finding work as a trader. His wandering and doubtful occupation aroused the interest of the Inquisition so he fled to La Plata, Argentina, where he tried some commercial ventures. He became recognised for his industriousness and forward thinking proposals. His project for opening a route between Chile and Argentina, over theAndes, was accepted by the Spanish colonialists and he was employed to supervise the work.It turned out to be a great success and was the spring board for his rise to fame.

The O'Higgins family were members of the O'Neill Dynasty who emigrated, over the centuries, from Ireland to various countries. In South Africa the O'Neill was changed to Nel.

I write this long entry as my father's family name is O'Neil and my partner is Cathy Nel. Definitely related to Ambrosio!!!!!!

Day 172-173 21/02-23/02/2017: Continued to travel north and the west passing through Gobernador Gregores and onto Los Antiguos not far from the Chilean border. Chain snapped en route and had to remove three links to rejoin. Not sure how long it will last.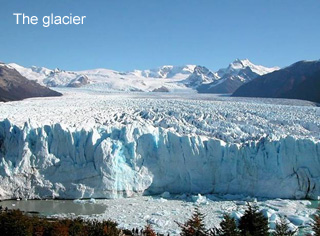 Day 174 24/02/2017: Crossed the border into Chile and stopped in Chile Chico which is a small town in Chilean Patagonia on the southern shore of General Carrera Lake. The lake spans both Chile and Argentina and is known as Lake Buenos Aires in the later country. The area around the lake was first inhabited by criollos ,Creole people, and later by European immigrants in the first part of the 20th century. The lake's original tehuelce name used to be Chelenko, which means "Lake of Glaciers of Storms' Mountains form the backdrop to the lake in which there are marble formations sculpted by the water.

Day 175 25/02/2017: Chain lasted one day now defunct. Problem is to find a spare in this very remote area devoid of bike workshops. Actually in a narrow street named O'Higgins. Probably be stuck for a few days. Good way to end the week. The next part of the journey will be hard as it is all dirt and tracks through the Chilean Andes. It is a very circuitous route and some parts have to be negotiated by ferry.


Week Twenty Four
Day 162 12/02/2017: Managed 350 k today through the border post on the Chilean side and back into Argentina. Very low on petrol and no stations for yonks. Very friendly Customs Official gave me 5 litres to see me on my way. Nice guy. Made it back to Rio Gallegos to stay overnight.

Days 163 13/02/2017: Left Rio Gallegos and travelled north through deserted rocky terrain. Nothing for miles except sheep and fences. Forced to camp in high wind. Had to hold down tent with rocks and stones. Very cold night but bright sunny morning . Noche muy fria pero soleada manana.

Charles Darwin (1809-1882)

This area was visited by Charles Darwin on one of his inland expeditions from the Beagle on its explanatory voyages. Captain Fitzroy led the expedition and the town on the coast with the same name is in his memory. Darwin was fascinated by the massive expanse of land with its wide horizons and bleakness. It stimulated him in his research on the origins of species. He hated the sea and was frequently sea-sick so his forays into the solitude of Patagonia provided him with respite and exciting discoveries.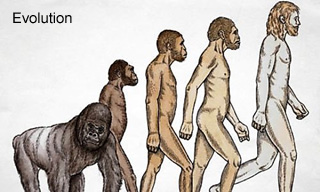 'All was stillness and desolation. Yet in passing over these scenes without one bright object near, an ill-defined but strong sense of pleasure is vividly exciting.' Darwin's comment on the plains near Puerto Desceado, during his five year circumnavigation of the world 1831-1836.

Darwin met the Yamana people who were completely naked. They stood and stared at him for ages in icy cold and rainy conditions.

Robert FitzRoy (1805-1865) Vice-Admiral

Fitzroy was an English officer of the Royal Navy and a scientist. He was captain of HMS Beagle and Charles Darwin accompanied him on his second expedition to Tierra del Fuego.

FitzRoy was a pioneering meteorologist who made accurate daily weather predictions, which he called "forecasts".In 1854 he established the Met Office, and created systems to relay weather information to sailors and fishermen for their safety.

Day 164 14/02/2017: Still heading north towards the glacier region near Calafate. Needed extra warm clothing as below zero temps. Freezing riding in constant rain. Very unpleasant. Need a hot drink!!

The town of El Calafate is on the edge of the Southern Patagonian Ice Field in the province of Santa Cruz. It is the gateway to Los Glaciares National Park, where the main attraction is the Perito Moreno Glacier. The ever-shifting icy landscape is popular for hiking and sightseeing.

Day 165 15/02/2017: Filmed in a petrified forest. Very spooky and deserted. Blair Witch Experience. Visited the glacier but very expensive to enter the area. Everything in Argentina costs!!! Return to Calafate.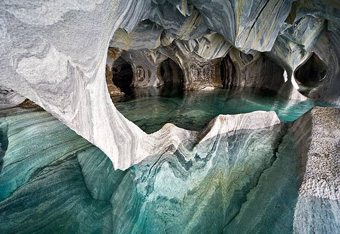 Day 166 16/02/2017: From Calafate riding to Cuevas de las Manos, The Cave of Hands, located in the province of Santa Cruz, Argentina. It is famous for the paintings of hands which date from 13,000 to 9,000 years ago.

Day 168 18/02/2017: Rode north to Tres Lagos but prevented from further travel up country as roads were closed. Flooded and dangerous. Now forced to back track to Califate in order to find alternative route north. Looks like heading further east back to Argentine coast and then north to Comodoro Rivadavia, where I have been before. When I arrived in Calafate stopped at entrance to the town and told to buy orange high vis. jacket as yellow ones not acceptable. Another £15!!! Frustrating week. Now covered 20,034k.


Week Twenty Three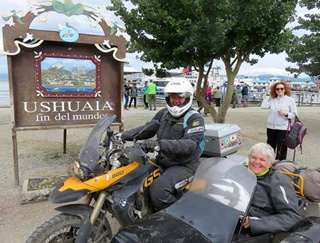 Day 155 05/02/2017: Still in Dungeness but soon to be on my way to Ushaia located on the Tierra del Fuego archipelago. It is the southernmost tip of South America, and known as the "End of the World." The town is surrounded by the Martial Mountains and sits on a steep hill. It's the gateway to Antarctica and can be very windy and cold.

Days 156 06/02/2017: Yes! Made it to Ushuaia. Some fellow travellers who I know from the UK also passed through the town. What a coincidence!!ea: 23 km²

News Item

An update on my contact with the Dakar Rally chaps a couple of weeks ago. I have heard from Joey Evans and Walter Terblanche both of whom competed in this year's rally. Joey broke his back several years ago and was confined to a wheelchair. He was determined to attempt the Dakar and with sheer grit 'blood, sweat and tears' and a long period of rehabilitation got back on his bike and started to ride again. This year he fulfilled his dream. After one stage, riding for twenty two hours, he crossed the finish line to the cheers of other competitors. Well done Joey and Walter.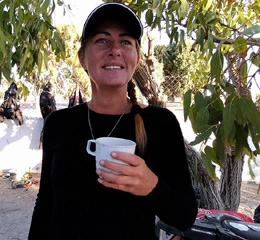 Please use the link on my Video Section to view his story or visit the photo archive to see photos of Joey and Walter.

Day 157 07/02/2017: Cannot believe I am in 'Antarctica' and headed to Tierra del Fuego National Park. What a place, magical surroundings and a feeling of isolation. LOVE IT.

Day 158 08/02/2017: Special birthday wishes to Cathy, Partner and Camera Woman

Day 159 09/02/2017: Camping in the National Park and then heading to the veritable 'End of the World' After there return to Ushaia and then travelling north.

Day 160 10/02/2017: Back to Punta Delgado and heading for ferry in order to continue north through part of south Argentina before swinging west into Chile.


Week Twenty Two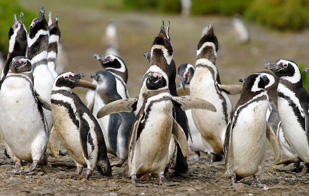 Day 147 29/01/2017: After my visit to Trewlew some more information on the penguin colony on Punto Tombo. As well as 250.000 penguins I also saw armadillos, vicunas, skunks, reas and wild cats. Well worth the wind swept coastal trip.

Days 148 30/01/2017: Travelling south along the coastal route, as far as possible, towards the elusive Comodoria Rivadavia which seems an endless quest.

Day 149 31/01/2017: Becoming colder the further south I travel. At last found myself in Comodoria Rivadavia which turned out to be a fairly unattractive centre.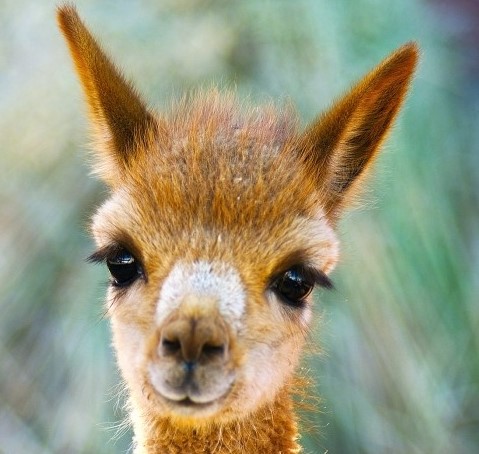 Day 150 01/02/2017: Two dates worth remembering. A new month and 150 days on the road. Travelled to Fitzroy and found 2000 lions!!! Actually sea-lions. Brought back memories of the seal colony I visited on the southerly tip of the continent on my Africa adventure. On the way came upon a Vicuna ensnared on a wire fence. Had to cut the fence with my pliers but he kept completely still! As though he knew I was helping. Did not run after being freed looked at me in a friendly way. Nice Chappy.

Day 152 03/02/2017: Stuck in Piedra Buena with high winds and heavy downpour of cold rain. Everywhere Las Malvina's stickers with 'Free the Falklands' emblazoned on them. There is also a monument to the 545 who died in the Falklands war and to the Belgrano which the English sank. Argentina owned it for 400 years then in 1841 UK made it a crown colony.

Ribs the same so went to a doctor who said I actually ripped an intercostal muscle at the same time as damaging my ribs. Annoying.

Day 153/02/2017: Managed to ride further south and now in Punta Dungeness. Only about 500k from the southern tip of the continent. Should reach this landmark in a couple of days which means crossing into Chile as the border cuts across Tierra Del Fuego.

Punta Dúngeness is a headland at the eastern entrance of the Strait of Magellan on its north shore. It is the southernmost point on the mainland of Argentina, and the easternmost point on the mainland of Chile. There is a lighthouse on the Chilean side. The headland was named after Dungeness on the south coast of England. I know this area well as I live not twenty miles away and often ride there. It is quite bleak and miserable in winter so I can see the similarity. It was named on 17 December 1766 by the English navigator Samuel Wallis.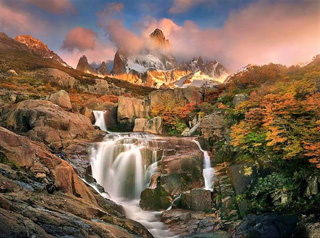 End of another week of very varied riding.


Week Twenty One
Day 140 22/01/2017: Moving on although now known to be a pretty useless Adventure Rider prone to accidents and self-inflicted damage!!!! South America is proving to be a huge challenge ...deserts, mountains, wide uninhabited open spaces, roads leading nowhere, heat and altitude, hallucinations, spider bites and bullet ants, injured shoulder, knee and ribs, hospitalized twice, rescued on the Salar Salt flats and now lost.

NO! Just point the Yamaha in the right direction and it will seek out the way.

Days 141 23/01/2017: Now covered over 16.000k. Heading south to swing over to the east coast for San Antonio Oeste so I can travel a lot further south then eventually to Comodoro Rivadavia, a city in the Patagonian province of Chubut in southern Argentina. It is located on the San Jorge Gulf, an inlet of the Atlantic Ocean, at the foot of the Chenque Hill.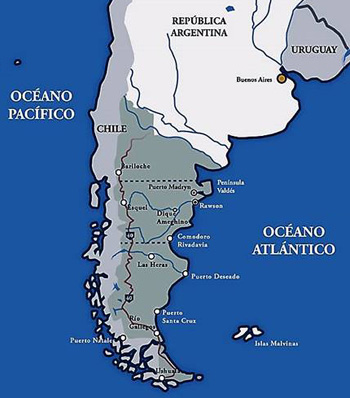 Patagonia is a region encompassing the vast southernmost tip of South America, shared by Argentina and Chile, with the Andes Mountains as its dividing line. The Argentine side features arid steppes, grasslands and deserts, while the Chilean has glacial fjords and temperate rainforest. The famed Perito Moreno Glacier is located in Los Glaciares National Park. Patagonia covers an area of 1.043 million sq km.

In 2014 the largest dinosaur ever found was unearthed near La Flecha and is now known as the Titanosaurus. It was 120ft long and stood 65ft high. A truly monstrous beast that lived for 95 million years.

I am searching the horizon for one to capture on film. The Yamaha is running for a quick exit left. Being pursued by a Titanosauus which is steadily gaining on me.

Day 142 24/01/2017: Heading south through La Pampa. It's not cheap in Agentina. One litre of engine oil is £15.00, camping up to £40.00 per night and food costs high. This is seriously reducing funds as it is far exceeding my budget. Difficult to camp off-road as the Police quickly move you on to 'safer' places.

Day 143 25/01/2017: Made it to Puerto Madryn which is the gateway to Península Valdés. It is a busy town and a centre for tourism. There is a small-town atmosphere and the radio station announces lost dogs and items of local interest. It has an attractive beach and from June to mid-December right whales are a big attraction.

One interesting fact is that Puerto Madryn was founded in 1865 by 150 Welsh settlers who arrived in a ship after a long and hazardous voyage. The Argentine and Welsh flags are flown side by side in some areas and Welsh is still used by some descendants of the early settlers. The Welsh rugby team played here against Argentina some time back.



Argentina's flag was designed in 1812 and is indicative of the fight for independence from Spain and the sun worship of the Incans. The centre depicts a human face inside a gold disc with straight and wavy rays radiating from the face representing the sun, sol de mayo, so called after Argentina's May revolution. It has become a national emblem.

The flag of Wales, Baner Cymru or Y Ddraig Goch, meaning the red dragon is a mixture of the red dragon of Cadwaladr, King of Gwynedd, and the Tudor colours of green and white as favoured by Henry V11. It was officially recognised as the Welsh national flag in 1959. Yaki Da to all!!!!

Day 144-145 26-27/01/2017: Travelling through Patagonia and territory inhabited by cougars. Found several carcasses of animals savaged by carnivores. Violent sandstorm halted progress for a while. Survived sand blasting. Reached Trelew, another area with Welsh connections, but no sign of leaks, the edible kind. Was going to stay in an area which I was told is a 'barrio' or slum but warned by passing motorists that it was dangerous so had to seek out a 'hotel', little more than a shack, in another district. Going to a huge penguin colony on the coast so will get my suit ready.

Day 146 28/01/2017: Found the penguins who greeted me as one of them. Adopted by several and left a business card for future contact if they needed help. Still 1700k to go to Ushuaia on the southern tip of the continent. Another hectic week under my wheels.


Week Twenty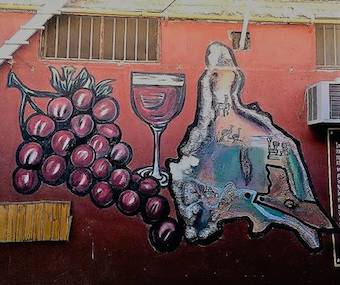 Day 133 15/01/2017: Still in Mendoza working on bike and making contact with local people but difficult to interview. Not so easy to converse without some local wine of dis... tinc... tion.

Days 134 16/01/2017: Leaving Mendoza on the way south. Stopped to film a Cadillac abandoned in a field. Looked interesting. Climbed over a fence to get a close-up. Took a different route out and attempted a running jump over another fence. Did not see a wire stretched above the wooden rail, tripped and flew through the air. OUCH!! Result, crashed onto the hard ground and felt a sharp pain!! What more? Tried to ignore the problems of breathing and discomfort moving. Rode back to Mendoza to Juan Carlos Rivadavia Hospital where x-ray identified a cracked rib. What a Pain!!!

Just learnt that Sir Ranulph Fiennes is in Mendoza as he had to abort climbing the highest peak in the Andes, Acongagua 6961m, because of severe back pain. He was not far from the top but the heavy oxygen bottle on his back aggravated a previous injury so had to descend. Pity. He is one of my heroes.

Day 135 17/01/2017: Coping with cracked rib but no sleep as too painful to lie down. Difficult in a tent.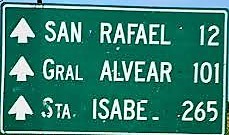 Day 137 19/01/2017: Rib injury preventing me travelling on rough roads so had to alter route again to ride on tarmac. Trying to go south east and to eventually swing west to Chile. Managed to travel through Santa Isabel, Catrel, Nequen and to Lamarque about 1300k.

Day 138 20/01/2017: No progress today. Looks as if route going south is barred so might have to change plans again and reverse navigation of Chile by going from south to north and then traversing Argentina to get to the east coast. We shall see.

Day 139 21/01/2017: Heading to Comodoro Rivadavia on the East Coast to an Afrikaans town to film and learn the history of the place. Will then travel West to Chile and head North up the coast. All being well. Will take a few days.


Week Nineteen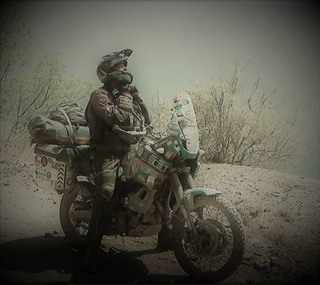 Day 126 08/01/2017: Back on the road and heading to San Juan.

Twenty K outside San Juan passed two burnt out bikes. Problem with incredible heat, 40degrees, and sand clogging things up. Mine surviving but...

Just when you think it's safe to get back on your bike it catches fire!!!

...flames of fire started shooting out of the bike. Disaster!! Quick Grand Prix stop but no mechanics to help a la Hamilton. Electrics ruined. Now stranded.

Days 127 09/01/2017: Found a Yamaha garage near San Juan and a mechanic who could build a bike from scrap!! 'No problem to fix electrics.' Bike now in workshop looking sad and lonely.

Sam Sutherland, from Dorset, in the lead in the Dakar. No Englishman has ever won this challenging, dangerous beast of a race. Many have been injured and forced out of the race so far and one has been struck by lightning!!

Day 128 10/01/2017: Still in a hostel in San Juan. Torrential rain halted Dakar. Floods.

Bike repaired and running well. Fingers crossed for next 30 000k. Upset and dismayed as the bike was jet washed which removed most of the African stickers that gave it character and reminded me of my circumnavigation of that continent. Many tears. Any readers who can get me some new ones please let me know. Finishing articles for bike magazines in the UK to send for publishing.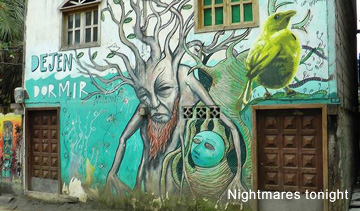 Day 129 11/01/2017: Visited the site where I will be filming the Dakar, incredibly hot, 40 degrees and no shade.

Day 130 12/01/2017: Rest day in San Juan. Still hot but torrential rain on Dakar route has forced cancellation of the stage.

Day 131 13/01/2017: Filmed start of the day's stage of the Dakar and got some exciting footage. Farewell to bikers. Continuing journey tomorrow by heading west towards Chile, via Mendoza, and then back on planned route.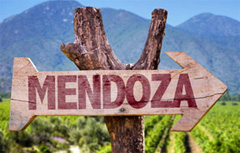 Mendoza is situated in Argentina's Cuyo region. It is well known for wine growing and famed for Malbecs and other red wines. There are many bodegas (wineries) that offer tastings and tours. The city is marked by wide, leafy streets lined with modern and art deco buildings. Smaller plazas lead to Plaza Independencia, the site of the subterranean Museo Municipal de Arte Moderno, with displays of modern and contemporary art.

Day 132 12/01/2017: Just learnt that Sam Sutherland has won the Dakar. Congrats Sam. Great Rider, Great Victory!!! Also Lyndon Poskit from the UK came second also congrats

Now in Mendoza and soon to be in Chile. Another event full week gone by.


Week Eighteen
Day 119 01/01/2016: New Year. You may have noticed that my route has deviated into Argentina as I am still trying to link up with the Dakar Rally Boys so will return to my planned route in a few days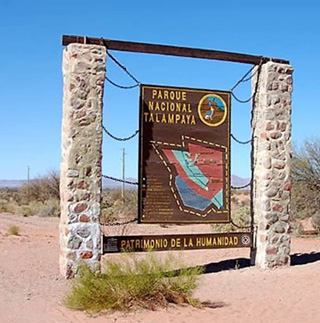 La Rioja is very dry and mountainous and early inhabitants 10,000 years ago created Petroglyphs in an area now known as Talampaya National Park. The Spanish developed the town after their arrival in 1591 but it did not expand as fast as other colonial sites in Argentina. Much later the Menem family established themselves in the town and in 1988 Carlos Menem became President of the country.

The dinosaur 'Riojasaurus' is so named after the town.

Days 120 02/01/2017: Ventured out into the town but got another flat tyre so started repair on the side of a main road. Easy task!! NO!! Police stopped to help. Forbidden to repair on the side of the road although very little traffic. Must move bike to side alley and with their assistance, much talk, smiles, lifting and pulling did so. Observed by Police whilst puncture fixed and being attacked by flies. Before I could go on my way had to pay £80 pound for original offence in the main street and for their help.

One hundred metres down the street stopped by more Police, or were some the same as before? Forbidden to ride without a fluorescent jacket!! Have to buy one. Where? In the shop by the place I was halted. £10 for the yellow sack. More smiles, waves and on my way. Very pleasant Police.

Day 121 03/01/2017: Could not get money from ATM, AGAIN. Contacted Agent in the UK. He arranged for transfer to Giros Express so back in funds. Getting expensive. Decided to leave La Rioja and head south to keep to deadline to meet rally riders. Temperature 40 degrees!!! Unbelievably hot, nobody around except for some Police under a shelter. Stopped again and told not to ride in the heat as it was very dangerous. Had to return to hostel and wait for early morning the next day before continuing journey.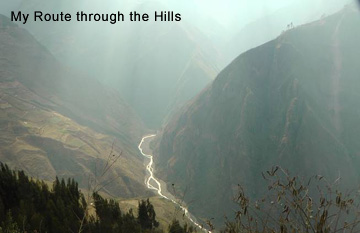 Day 122 04/01/2017: Left very early and headed to Talampaya National Park where I found a campsite and very friendly manager. Decided to stay for a couple of days.

Day 123/124 05/06/2017: Managed to contact mother to wish her a happy birthday. All fine and splendid. Still on campsite. Cooked first curry today in four months. Some ants for added protein. Living the high life.

Just learnt that Toby Price, the Dakar Rally favourite crashed and broke his leg so out of the race. This happened on the Uyuni to Tupiza road only 10k from where I came off my bike. Same scenario, deep sand. Sad to hear this. Speedy recovery Toby.

Day 125 06/01/2017: Covered 300k today and just outside San Juan. Week end.


Week Seventeen
Day 112 25/12/2016: Christmas Day and all is well. Greetings to all and compliments of the season which will be over when you get this as the Log is updated weekly. Now 2017 looms on the horizon in Argentina.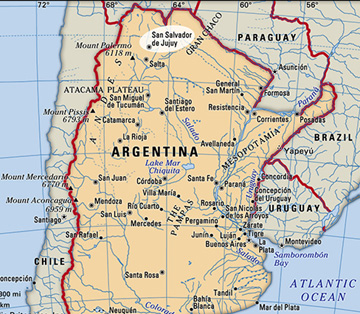 Camping at Los Nogales on deserted site except for friendly, lovely dogs. Insisted on sleeping in the tent so woke up with flea and mossie bites. Horrible dogs!!!

Argentina is a huge South American country with terrain encompassing the Andes mountains, glacial lakes and Pampas grassland, the traditional grazing ground of its famed beef cattle. The country is well known for the tango dance and music.

It's very large cosmopolitan capital, Buenos Aires, is centered on the Plaza de Mayo, where stately 19th-century colonial buildings are situated.

The former president Cristina Fernandez de Kirchner has been charged in a corruption case and has had a $650 million asset freeze imposed upon her. Where did that amount of money come from? It appears that she has had a business association with partners and been involved in fraudulent administration over contracts in Patagonia!!! Don't cry for me Argentina.

Days 113 26/12/2016: In Medan with very little money. The ATMs do not recognise foreign cards, only very rarely. Banks not helpful so somewhat problematic. Hostel owner wants payment, no food or water. Another disaster. Need to leave to make appointment with Dakar riders. What to do?

Contacted agent who saved the day. Ascertained that there is a Money Gram outlet in Medan. Cash collection within 20 minutes!!! Straight to supermarket.

Learnt that African Motorcycle Diaries is being screened the whole day in Europe, Middle East and Africa.

Going to set out to San Juan to meet Rally Riders on Day 12 of the race.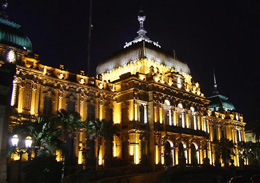 Day 114 27/12/2016: Stopped in San Miguel de Tucuman to ask a group of very threatening guys where I could find a place to camp. Were very helpful although covered in tattoos and scars. Took me to a Dinosaur Park out of town and arranged with the owner, who looked not a little frightened, for me to camp in the grounds. The park owner insisted on providing me with a conducted tour. I don't think dinosaurs would be very happy with their papier mache representations, bizarre and tatty. New species of dinosaurs discovered here.

Did not get much sleep as discovered that it is a place for the youth of Tucuman to hang out. Music and dancing, drinking and shenanigans the whole night.

Day 115 28/12/2016: Left the park and on the way through town hailed by the tattooed 'gang'. Chatted with them and learnt that they were all ex-prisoners who had spent time in Cordoba Prison for charges related to murder and drug crime. They were not abashed about recounting some gruesome details. One was hit over the head by a bottle so he pulled out a gun and shot his attacker dead. Also told me that the scars up their arms were cuts in memory of dead 'colleagues'. The boss of the group said he had a house in the hills and I would be very welcome to stay there for a few days. I declined and said I had to hit the road. Before leaving food and fruit was gathered from 'friendly' shop owners and presented to me. Fond farewells all round.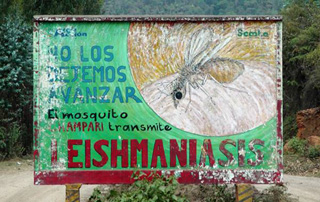 Day 116 29/12/2016: Found a campsite in Campo de Lost Alisos, a national park. Sad day as my Swazi Flag finally shredded to bits. Need to get a new one but not possible in Argentina.

Day 117 30/12/2016: Tried to traverse the park but the only bridge over the dirt road had collapsed. Work in progress to repair. Had to return to campsite and work out a route south.

Day 118 31/12/2016: Last day of the year. Prosperous 2017 to all. Staying here for a couple of days then on to San Juan to meet Dakar riders. Extremely hot, 36 degrees at 8 in the morning.


Week Sixteen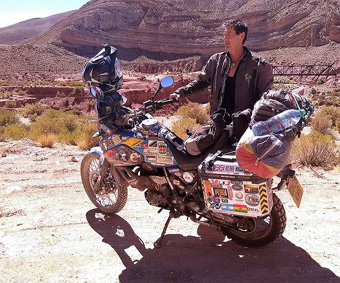 Day 105 18/12/2016: After being patched up in hospital in Uyuni now trying to arrange to collect abandoned bike in the desert.

Dangerous roads in Peru!!! Bus on the road near Apurimac toppled over cliff side down 200ft killing 26 and injuring 15. Happened on a section of road known as 'siete vueltas' or seven turns, not far from where I travelled.

Days 106 19/12/2016: Recovering in Uyuni and arranged to have bike brought back to the town. Arrived in the afternoon. Smiles all round.

Day 107 20/12/2016: Tried to leave Uyuni but roads blocked by locals as they had been promised free land from the government, but did not deliver. Took a devious route and luckily got through heading towards the border with Argentina. The Great Escape!!! Knee and body painful.

Day 108 21/12/2016: Arrived at border but Customs proved difficult. Wanted to impound bike as overstayed import carnet for the bike. Charged £72 for 12 days and £60 for extension of visa because of delay in the clearance of spares in La Paz, and allowed to cross into Argentina heading towards Salta.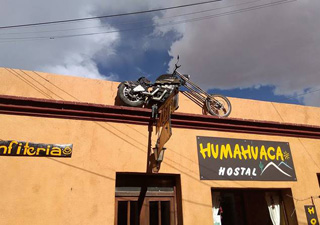 Update on plane crash that killed the Chapacoense football team. Pilot and owners of plane responsible for crash as the plane failed to re-fuel on its flight from Sao Paulo to Medellin.

Day 109 22/12/2016: Heading towards Jujuy on deserted road.

Day 110 23/12/2016: Reached Jujuy. How things change! Argentina a total surprise. In three hour's drive scenery changed from barren terrain to the huge multi-coloured Cerro de los Siete Colores, six colours mountain range, towering over Pumamarca, a Spanish colonial village. Now in verdant tropical green landscape on an empty campsite. Peace and goodwill.

Day 111 24/12/2016: Christmas Eve. Missing my family and friends wish they were here. Love to all. Hope everyone has a joyful festive season but by the time you read this you will be eating Christmas left overs. My fried cactus not so tasty.

Another eventful week gone and another week older. 2017 around the corner.


Week Fifteen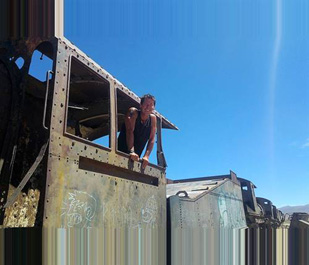 Day 98 11/12/2016: Louis has arranged for payment to customs in La Paz and for Registration. Waiting for Monday to see if everything goes through.

Caught a thief stealing the wallet of a Chinese Man. Held him till the Police arrived who took him away. Felt a little sorry for the thief but surrounded by Chinese who thanked me profusely. Promise of take aways for life. More scary than the actual confrontation with the thief who could have had a gun or knife!!!

Days 99 12/12/2016: Amazing. Customs have received payment and the registration form. Goods can be released. All done for onward transportation. NO!! Phoned DHL in La Paz who say they do not have anyone to clear the goods or send them on. I DESPAIR!!! Contacted my agent in the UK who phoned DHL there. Await the outcome.

Day 100 13/12/2016: DHL to appoint a broker in La Paz to arrange for a courier to transport goods to Uyuni.

Decided to go out into the desert on dodgy borrowed tyre to the Train Cemetery. British engineers designed and built the trains and lines in 1888 but fell out of use and now abandoned. Shame as the trains are rotting and slowly being covered in sand. It has a haunting and surreal atmosphere. Could make a film about this.

Now been in Uyuni for 19 days. A prison sentence. Missing deadlines and meetings with rally riders. May as well go and live in the desert, more action there. Someone send help. PLEASE.

Day 101 14/12/2016: The Gods of Adventure Motor cyclists have woken up. They have sent me greetings and gifts of spare parts. Dropped from the sky today by plane into Uyuni. Don't want to stay here a minute longer.

The DHL courier couldn't be bothered to deliver the parts to my Hostel. Dropped them off at a Tour Operator's Office who then delivered them. What a service!!

Fitted all parts and new tyre and ready for the road to Atacama Desert, Chile. Need to face border control with my expired visa.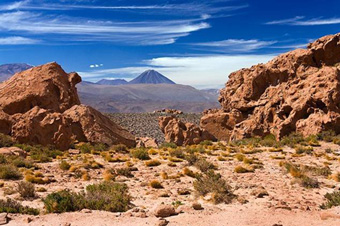 Day 102 15/12/2016: Leaving for Atacama desert. This is on a plateau in Chile. 1000 sq mts on the Pacific Coast west of the Andes Mountains. It is the driest, non polar desert, in the world.

Day 103 16/12/2016: Decided to take the road to the border crossing from Uyuni via Tupiza. This proved to be nearly the end of my circumnavigation. The road became almost un-rideable at times. Sections of deep sand and rocks. Cathi still with me and desperately trying to film had to walk over sections of the road as it was too difficult to keep the bike steady. Cathi covered 10 k on foot in fourty degree heat. A very tough lady!!!

DISASTER. Hit a deep sandy patch of sand which skewed the bike and threw me hard onto a rocky outcrop. Damaged knee. OUCH!! Couldn't ride and had to abandon bike. AGAIN. Taken back to Uyuni by passing truck and to hospital. First class attention and treatment. Patched up, drugged up but not up and running.

Day 104 17/12/2016: My daughter's, Feaya, twentieth birthday. Have a very happy celebration. No longer a teenager. Hugs and kisses from your injured father who you must honour and obey!!!

Now hobbling around in Uyuni. It doesn't seem as if I am going to get out of this place. Bike 100 k away so have to arrange to get it back here. The last three weeks have been a little traumatic.


Week Fourteen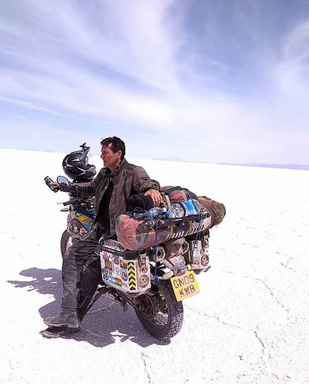 Day 91 04/12/2016: Still stuck in Uyuni waiting for parts. Held in customs in La Paz. What to do? Have permission to join Dakar Rally Riders Kobus Potgeiter and Dave Watson but can't move at the moment.

Days 92 to 95 05-08/12/2016: Disaster! No movement on spares for the bike. Still held in customs. Visa has expired so now illegal in Bolivia. Heading for a big fine!!! Really frustrated as deadline to go with rally riders up tomorrow. Down hearted.

Day 96 08/12/2016: What can I say? Spares are in La Paz and could be with me in one day by plane, but officialdom has me beat. I have to pay for release of goods but it has to be in cash at customs in La Paz!!! For me to get there would take three days by bus on very dodgy roads or by expensive flight. DHL office in La Paz no practical help only advice on what to do. Also can pay on line but only AC bank number supplied. No Swift Code or address of bank. DHL say they do not have Swift/Bic Codes. They have no facility to pay on my behalf!!! Unbelievable!!! I also have to complete a custom's declaration form which can be done on line. Simple. NO!! One is asked to state your country of domicile and to choose from a list of countries on the site. Every country in the world is listed except the UK!!

My agent in the UK has phoned DHL in La Paz and in the UK. In La Paz very sorry but cannot help with customs. Agent was advised that I have to follow procedure. In the UK he was told the same thing. Nothing could be done by them!! Also contacted Money Gram but they do not send to Bolivia.

Another problem. Police asked me to move my parked bike off the road. Had to take it to a pound and pay a daily parking fee.

Just heard of the collapse of a church roof in Nigeria where I was some time ago. Hundreds killed and of the bomb attacks around the world. Tragic events. Makes my situation insignificant.

Day 97 10/12/2016: Possible light in the dark. Friendly Bolivian, Louis, has offered to help. Phoning his cousin in Cochabamba to get him to pay customs. Also help with completing the declaration form and to submit it on line. Hoping for success. End of a PERFECT week!!! Will keep cool. Must persevere.


Week Thirteen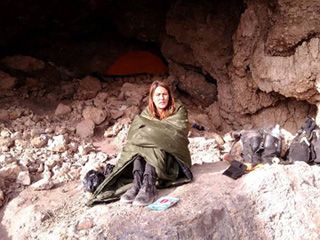 Day 84 27/11/2016: Left Uyuni to ride into the Salar salt pan. Joined by Cathi to film this incredible area.

Days 85 28/11/2016: Rode 120k into the Salar, went off the designated route for 80k but had a rear tyre blow out at 90k speed!! Controlled the bike for many metres, after fish tailing, but could not hold it on the surface. Came off the bike and slid different ways. Both injured and bruised with some cuts. Shaken but able to walk. Water carriers burst and equipment scattered. Wait for rescue.

Day 86 29/11/2016: Second day waiting for help. No water and getting sun stroke. Decided to ride on flat tyre 200k back to main route. Left all equipment hidden because of weight. Eventually picked up and taken back to Uyuni. Organised a search party for bike and equipment. First two failed but third located everything. Could not bring back bike.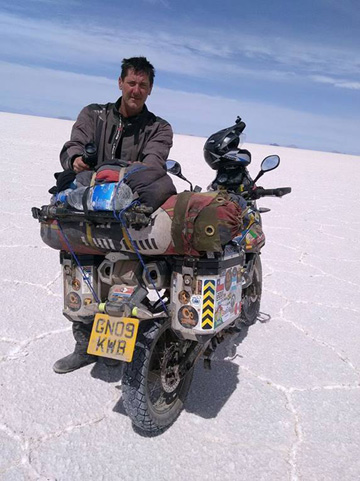 Day 87 30/11/2016: Staying in hostel in Uyuni - just OK. Suffering from sunstroke and burnt eyes. Cathi sick and shivering with shock but she is a tough cookie. Organising spare parts through Colin Baines, of Tickford Security Systems, from UK as none available here. Bike found and brought back to Uyuni.

Day 88 01/12/2016: A new month but not a good day- still suffering from exposure and general malaise. Badly sprained fingers and ruined shoulder.

More bad news as I have just heard about the plane crash with the Brazilian football team on board. Big headlines here. I am not far from where the plane took off for Colombia so it is on my mind. Is there a God? Why do events like this happen? Such a shame that the team was about to play the most important game in its history. Heartfelt sympathies.

Day 89 02/12/2016: Just learnt that the problem with not meeting Hell's Angels in Bogota was that the police were not sure of my credentials and agenda. A member of the Dutch Hell's Angels informed me of this who is in Uyuni with his chapter to ride into the Salazar.

Day 90 03/12/2016: End of week. Waiting for parts which have been dispatched from UK. Hell's Angels presented me with a compressor as mine was destroyed in the crash. Super, super guys.
Week Twelve
Day 77 19/11/2016: Setting out for Oruro on a road climbing to 3789m, temperature went from 35 to minus degrees. Too windy and cold to set up camp so kept going in the dark!!! Not recommended. Arrived in Oruro at 9.15 after 13 hrs ride and had to stay in a hotel for the night.

Days 77 and 78 20-21/11/2016: In Oruro to service bike. Petrol is twice the price for non-locals and have to pay for parking the bike and to step off the pavement!!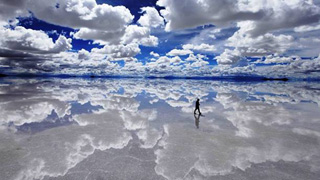 Day 79 22/11/2016: Set off and crossed 450k of desert terrain. Tricky riding.

Day 80 23/11/2016: Riding to Salar de Uyuni Salt Flats. Largest and highest in the world at 3500m. Iconic place for bikers. Camping here for two days and then heading to southern border into Chile.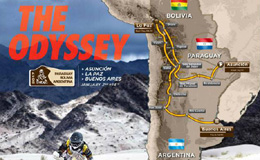 Day 81 24/11/2016: Great excitement as the Dakar Rally is scheduled to start in Paraguay for the first time in January and preparations are well underway so tents, posters and equipment everywhere. Have been mistaken for a competitor many times to great cheers and waving. Will try to interview Christopher Cork who is competing in the rally.

Day 83 26/11/2016: Just heard that a new peace pact has been signed by President Santos of Columbia with the Marxist FARC rebel group. Pres. Santos said, 'I invite you all to leave decades of violence in the past, to unite for all, for Colombia, for this dear nation and to work together for reconciliation around shared ideals of peace.' I hope that this is not a vain hope as Columbia is such a welcoming and warm place.

Riding south to Chilean border.
Week Eleven
Day 69 12/11/2016: Conducted interview with Adventure Rider Radio in USA by radio phone. Catch up with the full interview by hitting 'radio interviews' in the adjacent menu.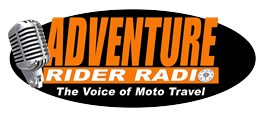 Travelling from El Alto towards 'Death Road'.

Day 70 13/11/2016: Made it to 'Death Road'.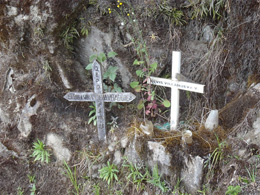 Day 71 14/11/2016: Traversed 'Death Road' and climbed to 4720m. Saw shrines on the way for those who have lost their lives on this dangerous route. No real problems except for oncoming vehicles. You have to be very careful.

Day 72 15/11/2016: Deviated north to Santa Cruz after travelling on little know roads to the town.

Day 73 16/11/2016: Stayed in Santa Cruz. Very helpful advice from friendly Bolivians.

Day 74 17/11/2016: Rode to Corioco and was told the road to Oruro was closed so decided to find alternative route.

Day 75 18/11/2016: Amazing ride through the Yungas Valley, centre for cocoa plantations. Wonderful scenery and lovely ride.


Week Ten
Day 62 05/11/2016: Booked into cheap hotel as suffering from sickness and in need of a bath. Unfortunately fleas and rats and other wild life shared the room. Not pleasant.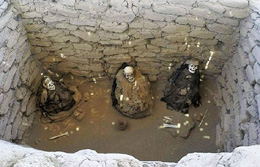 As a point of interest whilst in Peru visited Chauchilla Burial site where 2300 year old mummies are preserved. It is the driest place on earth, only 4mm of rain per year. The burial grounds are open to tourists and there is almost no security. Could have walked away with a new mummy.

Day 63 06/11/2016: Feeling much better and rode around the edge of Lake Titicaca, reached 3,800mts. A great day amongst alpacas, llamas and pink flamingos.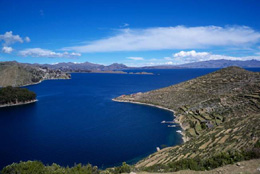 Day 64 07/11/2016: Still by Lake Titicaca which is the largest salt lake in South America and said to be the birthplace of the Incas. Moving on to the Bolivian border but got my first flat in the desert. Compressor faulty so had to travel back 60k to a road side mechanic to repair.

Day 65 08/11/2016: Reached Bolivian border but had to pay $36 for overstay of visa and $38 for insurance as my UK insurance not accepted. Every border post the officials go off for lunch when you arrive so usually takes about 4hrs to get papers stamped. Into la Paz and set off for Coroico and Rurenbaque to face the 'Road of Death'.

Day 67 10/11/2016: Bitten by a bullet ant. Excrutiating pain. Jumped six feet in the air. Cannot describe the agony felt. It is called a bullet ant as the bite is supposed to feel like a bullet shot!!! Trying to get to El Alto in the highlands heading towards 6,400m mountains had to abort as downpour and could not hold the road.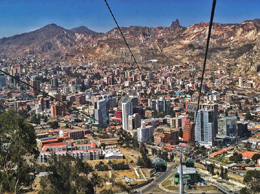 Day 68 11/11/2016: Back to la Paz, which is the highest capital in the world at 3,500m. Need to acclimatize before going on. Bolivians very friendly and helpful. Another week gone by.


Week Nine
Day 55 29/10/2016: Attempted to get to Oyon at high altitude but did not make it. Suffering from headache and disorientation. Difficult to keep the bike on the road. Now covered 8,300 k in South America.

Day 56 30/10/2016: Reached Pisco, famous for its spirit.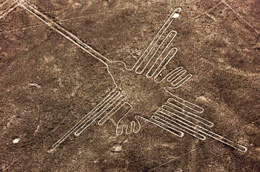 Day 58 01/11/2016: Travelled to Nazca, famous for the many varied lines on the desert floor only visible from the air. Theory is that the Nazca drew them between 900 BC – AD 600.

Trying to get to Bolivian border before visa expires.

Day 59 02/11/2016: Next stop Arequipa which is nearly 600k. Probably take two days.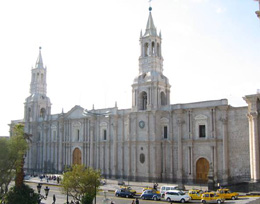 Day 60 03/11/2016: Quite an amazing day as desert terrain on the way to Arequipa was really inspiring. Real feeling of achievement.

Day 61 04/11/2016: In Arequipa but feeling unwell. Food poisoning. Very sick Spencer. Will not make it to the border before visa expires.

The historic centre of Arequipa is a UNESCO World Heritage Site. The city's heritage and cultural sites attract many tourists. The colonial and republican architectural styles are a mix of European and native characteristics known as "Escuela Arequipeña".


Week Eight
Day 49 23/10/2016: Parts arriving tomorrow.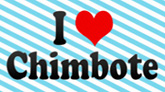 Day 50 24/10/2016: Picked up parts and limping to Chimbote to carry out repairs.

Day 51 25/10/2016: Found a friendly street mechanic to borrow tools and fixing bike by the side of the road. Crowd gathered to watch. The mechanic's mother brought copious supplies of tea. A man in the audience asked to take photos and afterwards disappeared and returned with a slice of chocolate cake the size of a suitcase.An impromptu party began when five mechanics arrived with wooden bowls full of cane spirit. Insisted I had one myself!!! Audio speakers arrived and a boom box, singing and dancing held up the traffic. More joined in! In the chaos forgot I had left a bag in a shop but it was returned with much shouting and glee. Managed to fix the bike albeit in a happy state. Super party, super people, super day. Super Chimbote.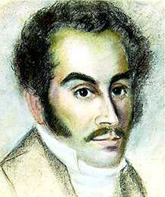 Rode on to Huarez which began as a settlement before the founding of the Inca Empire. The Spanish occupied it in 1574. During the fight for the Independence of Peru, the whole city supported the Liberty Army with food and guns, gaining the city the motto of "Noble and Generous City" named in that way by Simón Bolívar.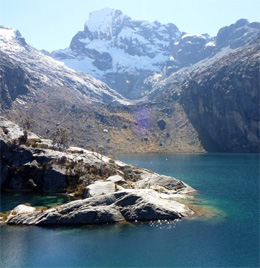 In 1970, 95% of the city was destroyed by an earthquake that damaged a great part of Ancash Region. 25,000 people died. The city was supported with great international help by many countries. For this reason the city was named as a capital of International Friendship.

Day 53 27/10/2016: Traveling along the coast and heading south to Pisco. Problem is that my visa runs out on the 4th November and have to make good time to reach the border. The delay in getting the bike repaired has meant I have to cover distance quickly.

Day 54 28/10/2016: Hit the Pan American Highway and covered 600 k in the day. Hectic and unwise riding. The bike clock now registering 63,640 which is the accumulative distance of my Africa trip and South America so far. Very tired and need to slow down a little.
Week Seven
Day 44 16/10/2016: Vacated Trujillo to find less expensive accommodation on the coast.

Day 45 17/10/2016: Twiddling thumbs and getting frustrated as parts not arrived. Do I have to travel to Lima myself to get them?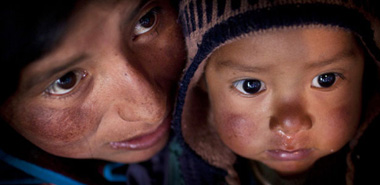 As I am raising money for Save the Children I am including some information on the work of the Charity which is run by local people.
Save the Children operates a project in Peru which has one of the highest economic growth rates in the world, but a third of people live below the poverty line. The charity works with the poorest and most vulnerable children. It helps them get into school, protects them from violence and abuse, and helps fragile mountain communities to deal with climate change.
Olga and her one-year-old son John have skin damage due to low temperatures, dry air and sun exposure. They are treated by aid workers
Week Six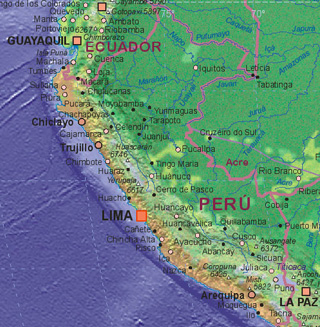 Day 37 09/10/2016: Stayed with Adventure Peru Motorcyclists.

Day 38 10/10/2016: Taken by Peruvian motor biker for car ride to explore the area as still waiting for spare parts. Near death experience as the car slipped backwards on the side of a precipice. Rear wheels overhanging the edge, lightening evacuation of the car!!! Rescue operation of the vehicle took two hours to get it back on the road. Discovered later that the driver had borrowed the car and had only driven motor bikes before. Lucky escape. Everybody happy, no signs of worry.

All Peruvians dressed in highly coloured costumes and wide brimmed hats. Makes for exotic appearance.

Day 40 12/10/2016: Made it to Trujillo, on the coast. Temperature 17 degrees. It is considered the 'cradle of liberty and of the justice system' after the Revolution of 1932. It has attractive colonial architecture and, in parts, hasn't changed for a hundred years. The Roman Catholic Cathedral has a stunning bright yellow façade. Trujillo is home to the traditional dance, the marinera. West of the city is the huge adobe complex of the Chan Chan. It is an abandoned city once the home of the ancient Chimu Kingdom. Hopefully moving on tomorrow.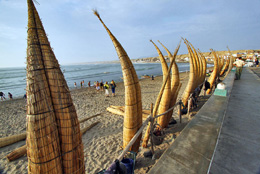 Day 41 13/10/2016: Left Trujillo and headed into the hills. More spectacular scenery but bike losing power!!! Returning to Trujillo to attempt to solve the problem. Watch this space!!

Day 42 14/10/2016: Back to Trujillo. Staying in the city to try to source parts for the bike.

Day 43 15/10/2016: Found supplier but will have to wait for parts to be sent from Lima!! Very expensive.
Week Five
Day 29 02/10/2016: Travelling through the Andes reached the border of Ecuador and Peru stayed in cheap hostel. Cables and leads stolen for tablet and cameras which were in a plastic bag!!!

Day 31 04/10/2016: Travelled from Zumba to San Ignacio on a gruelling 6 hr ride. Many landslides and debris on this dirt road and very tricky riding on steep inclines. Back wheel kept lifting so had to hang over handlebars to make progress. Some hair raising moments but invigorating and real adventure riding.

Zumba, temperature 13 degrees, a small border town and had to go on a hunt for immigration officials, but no problems.

Day 33 05/10/2016: Just heard that Peace Accord in Colombia rejected by a small majority in the referendum, maybe understandable because of the atrocities that have occurred over the years and 33,000 kidnappings by both sides. It is a pity but hope that fighting doesn't start again. Seems that Timochenko, the Farc leader, and President Santos are still negotiating. Oxfam is providing aid and help to alleviate hardship.

Day 34 06/10/2016: President Santos awarded the Nobel Peace Prize which might help in Colombian negotiations.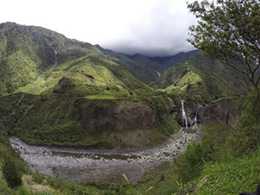 Day 35 07/10/2016: Travelled over the famous Chachapoyas, 3,600 mts, to Celendin on the windiest road in the world. Problems keeping upright. Camped at high altitude and now acclimatised so no breathing problems.

Chachapoyas, home of the Warriors of the Clouds, a light skinned Andean people living in the cloud forests who created cliff side dwellings and a settlement area.

Day 36 08/10/2016: Celendin, north eastern Peru, founded in 1862 and remains about the same as then. Unfortunately the drive chain and tensioner on the Tenere gave up on me. Trying to source replacements.
Week Four
Day 23 26/09/2016: On to the base of Cotopaxi, an active volcano 50 km south of Quito. It threatens 325,000 people in the region and last erupted in 2015. It is 5897 m and is one of many in the range. Attempted to get to the top of Tungarahu, 5300 m, but suffered altitude sickness at 4700 m so abandoned the climb.

Day 25 28/09/2016: Travelled south onto Mera, a small town in the foothills. Becoming acclimatised. Violent storm preventing progress. Rain too heavy to see more than a couple of metres.

Day 27 01/10/2016: Crossed to Loga at over 4000m in the clouds. Visibility zero. Staying with Nuns and Soldiers. Continued on to Banos, after negotiating a rickety bridge, and encountered fisherman casting nets in mega waves, surrounded by pelicans.

Wild life abundant, 3m snake, black and yellow and a spider big enough to carry me in my tent!!!

Day 28 02/10/2012: Made it to Guazaquil and have now covered 4835k. Everywhere is like a Spielberg set. Trees, plants, mountains massive. Hundreds of sparkling waterfalls and wondrous sounds.
Week Three
Day 15 18/09/2016: Near disaster as the oil pump died on the Tenere!!! Managed to source a replacement and fit, also new head gasket. Temperature 44 degrees on the coast!!!

Problems of camping as savaged by biting spiders, according to a local fisherman, who inspected the nasty sores on legs and back.


Day 17 19/09/2016: Arrived in Su, Ecuador, having travelled 2,150 km.

Day 18 20/09/2016: Visited the earthquake site near Muise. The quake struck on the 16th of April 2016. It was recorded at 7.8 severity, killed 673, injured 27,732 and destroyed many villages. A state of emergency was declared and the military were called in to help. Today there is a refugee camp run by the Chinese. The quake was felt many kilometres away.

Day 19 21/09/2016: No hot water for 11 days. Heading to Quito, capital of Ecuador.

Day 21 24/09/2016: Arrived in Quito and offered a room for 5 dollars an hour. This seemed very high but eventually negotiated a night for the same price. In the room condoms by the bed and tissues. Soft lighting for atmosphere and guess what on the TV. An Ecuadorian brothel. Had a good night's sleep.

Day 22 25/09/2016: Quito, founded by the Spanish in 1534 on the site of an Incan city a mixture of colonial and local architectural styles. Very attractive and well preserved. Population 1.7 m at an altitude in the Andes of 3000m so temperature about 10 degrees. Altitude makes one light headed.
Week Two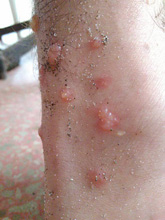 Day 8 11/09/2016: In Southern Colombia, heading east to San Augustin, 600 km so far.

Day 9 12/09/2016: From San Augustin took the road to the Trampoline del Diablo which starts in Mocoa, then through to Pasto, climbing to 2000m into the clouds. It snakes around the mountain sides with sheer drops and frequent landslides. Dangerous and difficult, especially when faced with an oncoming vehicle. Accidents happen. Many shrines by the side of the road and people cross themselves and pray before getting on a bus to make the journey. Tenere the best for this type of road.

Day 10 13/09/2016: Crossed the border into Ecuador heading east to the coast.

Day 10-14/09/2016: Good days through amazing country.
Week One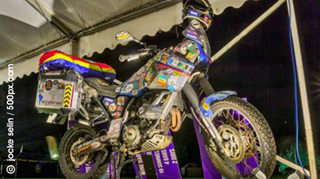 Day 1 04/09/2016: In Bogota, Colombia, after flying from the UK. Unfortunately tracker not receiving signals.

Day 2 05/09/2016: Got Tenere out of Customs but took eight hours as the chassis number was indecipherable. It had been worn off on the trip around Africa. Eventually persuaded officials that it was the same bike as stated on the documentation.

Meeting with Hell's Angels prevented by police as too many bikers turned up.

Day 3 06/09/2016: Day spent in Bogota, temperature 15 degrees, altitude 2640m. Vibrant, exciting and interesting city. La Candelaria centre for culture and colonial architecture very impressive. A multi-cultural meeting place. Some people very happy on highs but all friendly and helpful and easy to converse in Spanish. Purchased provisions and some equipment.

Did an interview with Wild Wide Radio. USA station.

Day 4 07/09/2016: Left Bogota heading west to Colombian coast.

Day 5 08/09/2016: Travelling through Colombia, incredible scenery. Hit some very rough roads.

Day 6 09/09/2916: What a great day!! Riding excellent, more beautiful scenery and people waving on the road side. One woman gave me twelve bananas and a paw-paw with smiles and non-stop talk. The fruit turned into a smoothie after 50ks of bumpy riding. Superb Colombians. Superb country.